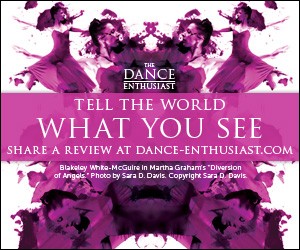 Noche Flamenca's Explosive Return To: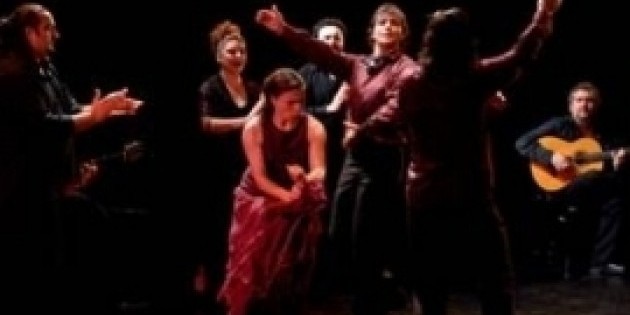 Joe's Pub: Jan 3 - 8
THE "EXPLOSIVE" (NY TIMES) SPANISH FLAMENCO DANCE ENSEMBLE
NOCHE FLAMENCA RETURNS TO JOE'S PUB AT THE PUBLIC


SIX-DATE RUN BEGINS JANUARY 3 – JANUARY 8
New York, NY—The world-renowned Soledad Barrio & Noche Flamenca will celebrate its tenth residency at Joe's Pub at The Public with eleven performances of spectacular dance, savage passion, cathartic song, and virtuosic guitar from January 3 – January 7, two performances a night (7:00 PM & 9:30 PM), leading up to the finale on January 8 at 7 PM. January marks over 100 performances for Noche at Joe's Pub where audiences have the unique opportunity to experience the Spanish dance ensemble's raw passion in an intimate environment. Noche Flamenca made its Joe's Pub debut in 1998. Tickets are available at http://www.joespub.com/.
Noche Flamenca was founded by artistic director Martin Santangelo and his Bessie award-winning wife Soledad Barrio. Writing in the New York Times, the chief dance critic Alastair Macaulay has called Barrio "an intensely dramatic dancer", noting that her skilled footwork expresses "the brilliance and color of flamenco rhythm". Although deeply rooted in the beautiful Flamenco culture of Madrid, Noche Flamenca's authentic gypsy heritage has become reborn in New York City. Watch this video for a glimpse into Noche's explosive artwork: http://bit.ly/VkJyo6
The company maintains the essence, purity and integrity of one of the world's most complex and mysterious art forms, creating powerful performances that radiate off the Joe's Pub stage. "There is an intimacy we can achieve in terms of the work, the audience, the partnership, at Joe's Pub which could not exist anywhere else," said Santangelo. In this pared-down, skillfully shaped show, Santangelo calls on the critically acclaimed talents of guitarists Salva de Maria and Eugenio Iglesias, singers Manuel Gago and Jose Jimenez, and dancers Soledad Barrio and Alejandro Granados. Noche Flamenca will also be a part of the 2013 season of the Joe's Pub New York Voices commission series during which the company will debut the world premiere of Antigona, an imaginative retelling of Sophocles' ancient Greek tragedy. For more information on New York Voices, visit: http://bit.ly/QgQvv0
_______
Visit us at www.joespub.com for a complete list of shows
TICKETS ON SALE NOW
ONLINE at joespub.com
PHONE 212-967-7555,
IN PERSON at The Public Theater Box Office (1 PM to 6 PM) located at 425 Lafayette Street, NYC
For all press inquiries, please contact Lauretta Charlton at lcharlton@publictheater.org or (212) 539-8563.
ABOUT JOE'S PUB AT THE PUBLIC: Joe's Pub is one of New York City's most celebrated venues for emerging and legendary performing artists. Named for Public Theater founder Joe Papp, Joe's Pub debuted in 1998 and plays a vital role in The Public's mission of supporting new artists while providing established artists with a safe, intimate space to develop new work. Joe's Pub presents talent from all over the world as part of The Public's programming downtown at its Astor Place home. Open seven days a week, dinner and drink service is available during every performance. www.joespub.com
ABOUT THE PUBLIC THEATER AT ASTOR PLACE: Under the leadership of Artistic Director Oskar Eustis and Executive Director Patrick Willingham, The Public Theater is the only theater in New York that produces Shakespeare and the classics, musicals, contemporary and experimental pieces in equal measure. The Public continues the work of its visionary founder, Joe Papp, by acting as an advocate for the theater as an essential cultural force, and leading and framing dialogue on some of the most important issues of our day. Creating theater for one of the largest and most diverse audience bases in New York City for nearly 60 years, today the Company engages audiences in a variety of venues—including its landmark downtown home at Astor Place, which houses five theaters and Joe's Pub; the Delacorte Theater in Central Park, home to its beloved, free Shakespeare in the Park; and the Mobile Unit, which tours Shakespearean productions for underserved audiences throughout New York City's five boroughs. The Public's wide range of programming includes free Shakespeare in the Park, the bedrock of the Company's dedication to making theater accessible to all, new and experimental stagings at The Public at Astor Place, and a range of artist and audience development initiatives including its Public Forum series, which brings together theater artists and professionals from a variety of disciplines for discussions that shed light on social issues explored in Public productions. The Public Theater is located on property owned by the City of New York and receives annual support from the New York City Department of Cultural Affairs. www.publictheater.org