Now in Previews - "The Fortress of Solitude"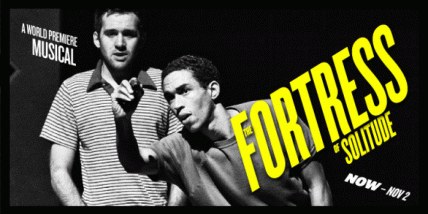 Company:
The Public Theater
NOW IN PREVIEWS!

THE FORTRESS OF SOLITUDE is the extraordinary coming-of-age story about 1970s Brooklyn and beyond — of black and white, soul and rap, block parties and blackouts, friendship and betrayal, comic books and 45s. And the story of what would happen if two teenagers obsessed with superheroes believed that maybe, just maybe, they could fly…

Tickets start at $80* (Member price: $50)

Book by Itamar Moses
Music and lyrics by Michael Friedman
Conceived and directed by Daniel Aukin
Based upon the novel by Jonathan Lethem
Choreographer Camille A. Brown

Our friends at Flavorpill have the hookup. Enter to win a pair of tickets!

All orders are subject to a $2 per ticket facility fee, plus an additional $5 per ticket service fee on phone and online orders.

Pictured above: Adam Chanler-Berat and Kyle Beltran. Photos by Karen Almond and Joan Marcus.