OUTLINES, BODIES & BLANK SPACES: IMPROVISATIONAL PRACTICES THROUGH MOVEMENT & VOICE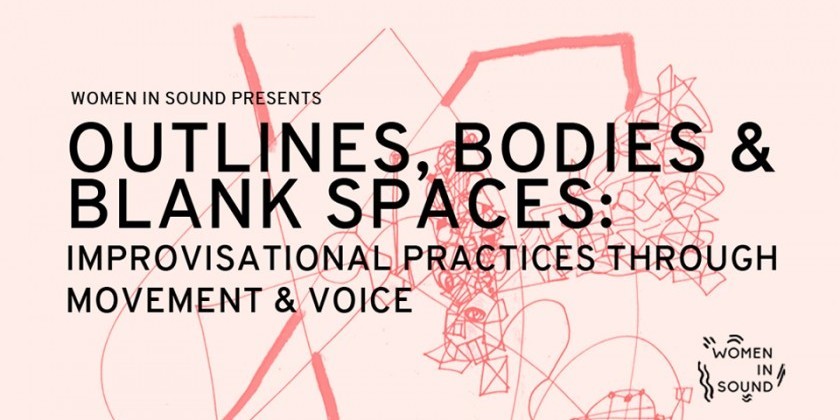 Company:
Women in Sound
OUTLINES, BODIES & BLANK SPACES:
IMPROVISATIONAL PRACTICES THROUGH MOVEMENT & VOICE
for women-identifying and non-binary artists
Using multimodal approaches to live composition, instructor Eleni Arapoglou will guide participants as they use shapes, fluidity and stillness in the body as a source of vocal expression.

Attendees will work as a group to develop spatial and physical awareness; examine links between body, voice and breath; and experiment with imagery, rhythm and form to create improvised sounds.

The workshop adopts practices and methodologies from Action Theater, 5Rhythms, Gaga movement, Alexander Technique, and Circlesongs.

Open to all levels––no experience necessary. Participants should wear comfortable clothes.

---
Instructor Bio:

Eleni Arapoglou is a singer from Athens, Greece. A musician and performer, her practice has been influenced by her background in theater set design, directing and modern dance. In 2014, Eleni obtained her Professional Diploma in Vocal Performance from Berklee College of Music where she focused on traditional music from South America, the Balkan Peninsula, and the Mediterreanean region. Inspired by the philosophies and sounds of jazz, blues and RnB, Eleni uses improvisation in her work as a means of vocal experimentation. In addition to performing, Eleni has facilitated various workshops with Global Music Foundation (London), ISWiB (Serbia), Luna Monti Estudio (Buenos Aires) and Triskelion Arts (New York). She continues to teach voice lessons in Brooklyn, working with improvisation, breath work and movement.
°。°。°。°。°。°。°。゜。°。°。°。°。°。°。°。°。°。°。゜。°。°。°。
Sunday, July 21
2:00pm - 5:00pm
@

The Windjammer
552 Grandview Ave,
Ridgewood, NY
°。°。°。°。°。°。°。゜。°。°。°。°。°。°。°。°。°。°。゜。°。°。°。
Questions: hi@womeninsound.org
Light refreshments will be provided.