OceA Wilderness Choreography Workshop: An On-Site Residency at The Yard, Martha's Vineyard, September 19 to 28th, 2015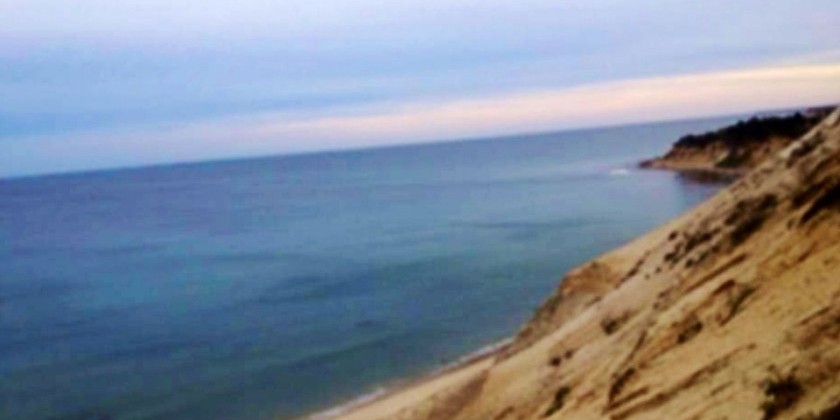 Company:
Pathways Projects Institutes
Marianne Goldberg, Artistic Director of Pathways Living Room Studios, in collaboration with The Yard on Martha's Vineyard, invites you to join us for a site-specific choreographic workshop and residency to explore oceans expedition and embodiment.
Inspired by coastal terrain, utilizing  improvisational structures in perception, space, time and live presence, Goldberg will choreograph movement for a work in process, in collaboration with invited dancers. This exploration evolves from kinesthetic qualities as can only be experienced at ocean's edge: aqua-terrestrial wind, sensing of movement on surfaces of sand/stone/water, 360 gravity and flow of breath from sunrise to starlight. Along with collaborating artists, we will then take those experiences into the architecture of the theater. With resources of modulated light, amplified sound, scrim, fabric, raised platforms, and projection of images, text, and photography, we will transform the interior space into an as yet unknown shoreline to be performed for the Martha's Vineyard community in a work-in-process showing at The Yard. 
Schedule 

Most mornings are open on your own, to explore the coastline in relationship to artistic process. Afternoons and evenings participants rehearse with Goldberg, as she  builds choreography in the studio/theater or in a daily practice of physical improvisation, movement meditation, and invention on-site at ocean environments.  Travel costs, room, groceries and a small stipend are provided, along with morning studio space for personal choreographic time. 

Invitation to found dance and performance company

Selected dancers from the workshop will be invited to return to Martha's Vineyard to participate in founding a dance and performance company directed by Marianne Goldberg at Pathways Living Room Studios.

Marianne Goldberg 

A choreographer, writer, and visual artist, Goldberg is  founder of Pathways Gathering Space for Arts & Oceans in Chilmark, where she directs collaborative arts community events. She initiated the OceA Wilderness Festival in 2010 and in 2015 MAKE WAVES Martha's Vineyard, a spring festival of light across our waters. UNFURLING/ To Inhabit Together, Goldberg's oceans choreography and photography project since 2012, has been performed at Pathways Gathering Space and at The Yard. Works in her invented genre, the Performance Piece for Print, have been published in Artforum International, Women & Performance, and Writings on Dance (Australia). Her choreography and installations have been performed across the US and internationally, from Grand Central Station to Washington Square Park, from urban cafes to conference podiums, from dirt field to blooming garden.

Goldberg received her PhD in Performance Studies from New York University, her MFA in Choreography from Smith College, and BA in Aesthetic Education/Dance from UC Santa Cruz. Her essays  on contemporary choreography and arts are published in numerous journals and anthologies. Years of travel, interviews and writings in conversation with Trisha Brown have brought an appreciation of structure, geography, and geometry and in depth somatic studies in Alexander training for dance and in kinetic awareness  enhance resources in anatomy, improvisation, and intermedia.

To Apply

Please send a Vimeo or YouTube link of up to 10 minutes of yourown dancing--including sections from improvisation, from work you have choreographed, or excerpts of passages you performed with other choreographers. Please include an attached word document containing a two page resume, a 250 word bio, two photographs of your dancing, and responses to the following:
1) Describe your experience and interest in site specific or environmental work.

2) Outline your training and performance background in dance technique, in alternate movement/ somatic forms, and in movement improvisation and invention.
3) Detail experiences you have appreciated in rehearsing new work with a choreographer, including the focus and challenge that interests you. 
4) Describe your interest in this residency.

Dates: September 19 - 28, 2015
Where: The Yard on Martha's Vineyard
Costs: Covered by the residency
Application deadline:Rolling submissions reviewed sequentially upon receipt, workshop limit 8 to 10 dancers.

Email requested materials to: residency@oceadance.org, to receive response and further residency information.

SUNRISERS OceA photography, Marianne Goldberg 2014.