On The Other Side of Silence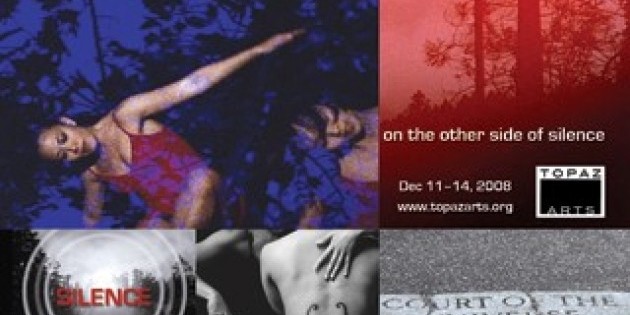 Company:
Topaz Arts
Hey Guys,

Please come to my first performance in New York - will be a great show with some dancers i really admire!

Tickets are 2 advance or 5 at the door - limited seating available!

Hope to see you there!

Robin Wyllie.
Venue:
Topaz Arts,
55-03 39th Avenue,
Woodside, Queens - Google map here.

Feel free to invite friends through our facebook event page too!

See the beautiful Paz (choreographer) dancing here.

--------

December 11th-14th 2008 at 8pm

Topaz Arts Dance Productions Presents

on the other side of silence

Choreography: Paz Tanjuaquio
Music & Film: Todd Richmond
Prelude by Guest Choreographer: Molissa Fenley
Performers: Chia Ying Kao, Uta Takemura, Paz Tanjuaquio
with Rebecca Bone, Niles Ford, Yuki Nitta, Robin Wyllie
Costumes: Jeffrey Wirsing
Lighting Design: Mark T. Simpson

TOPAZ ARTS Dance Productions is excited to invite you to a premiere evening-length work featuring dance, film, new music and interactive installations.
Based on "Soundless Music" a 1952 manuscript by Yoko Ono, the dance draws inspiration from whimsical imagery of distorted environments and infinite space, exploring movement ideas of imbalance, investigating the shift of space and finding lucidity in uncertainty.
The large-scale work offers an intimate experience, creating participatory environments for the audience in TOPAZ ARTS' gallery. The performance features SILENCE (2006), accompanied with a 16mm black and white dance film, plus a special prelude by guest Molissa Fenley, commissioned to choreograph a new solo to John Cage's silent score "4:33" to be performed by Tanjuaquio. Followed by the premiere of on the other side of silence culminating in an ensemble that weaves dance throughout the entire space.
In development since 2006, Tanjuaquio and Richmond have conducted artistic research travel – from Hiroshima & Nagasaki, Japan to desert terrain & nuclear test sites in the U.S. West Coast – creating new choreography, music and dance on film, rendering dancers amidst the expanse of isolated landscapes, balancing on alternating surfaces and skewing the sense of scale & gravity.