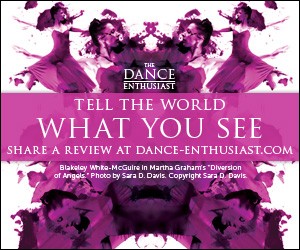 Other Angles
Company:
Dance New Amsterdam
Other Angles
with Joe Levasseur
Lighting Designer & Artist
Friday, December 21
10:00am - 1:00pm
Fee: 0 advance payments, 5 at the door
To pre-register/FMI: Contact Hannah Seidel at hseidel@dnadance.org or 212.625-8369 x206
Workshop Description
This class offers a technical tutorial and discussion about the process of creating lighting design cues for dance. We will explore the basics of light theory, including the qualities and functions of light. We will discuss how to look at dance material from the perspective of both a lighting designer and a stage manager, how to notate stage management paperwork and dance tracking sheets, how this information can help you approach design choices, and how important it is to stay organized and flexible. This class is designed for anyone interested in dance lighting including dancers, choreographers, and stage technicians. Bring a pencil.
Joe Levasseur is a New Hampshire native and a graduate of North Carolina School of the Arts with a degree in Lighting Design. His primary focus is lighting and production for contemporary dance and performance. His designs have been seen all over the United States, Europe, and South America. He has worked with many choreographers not limited to: Ishmael Houston-Jones, Jodi Melnick, Alex Escalante, David Dorfman, Beth Gill, Jennifer Monson, RoseAnne Spradlin, Maria Hassabi Megan Sprenger, Christopher Williams, Sarah Michelson, Michael Portnoy, Daniel Linehan, and LeeSaar the Company. Levasseur was the touring lighting director from 2002 until 2010 for John Jasperse Company, for which he co-designed just two dancers, CALIFORNIA, Prone, Becky, Jodi, and John, Misuse liable to prosecution, and Truth, Revised Histories, Wishful Thinking and Flat Out Lies. He has also designed a number of plays including Jenna is Nuts, In a Strange Room, and Françoise Changes Her Mind at the Brick Theater, as well as the off-Broadway play Edge. He is the lighting designer for the work in progress piece A Lighting Design by Branden Jacobs-Jenkins. Levasseur received a 2008 New York Dance and Performance 'Bessie' Award "for lighting a vast range of work this season and providing deeply integral visual environments, textures, moods, and effects, in projects of every scale, at nearly every venue in the city." That year, he was a collaborator in Basic Assembly (with Ashleigh Leite, Ben Asriel, and Keith Skretch) creating the content, design and performance of Game On, a new multimedia performance piece at the Chocolate Factory, NYC. In 2009 his Drop Clock installation was featured in the lobby of Dance Theater Workshop (New York Live Arts). He won a second 'Bessie' in 2010 for his work on Big Dance Theater's Comme Toujours Here I Stand, and showed a collection of original paintings at Performance Space 122. Ongoing engagements include Jennifer Monson, Wendy Whelan, Big Dance Theater, and Palissimo.