PEEKS-Works in Progress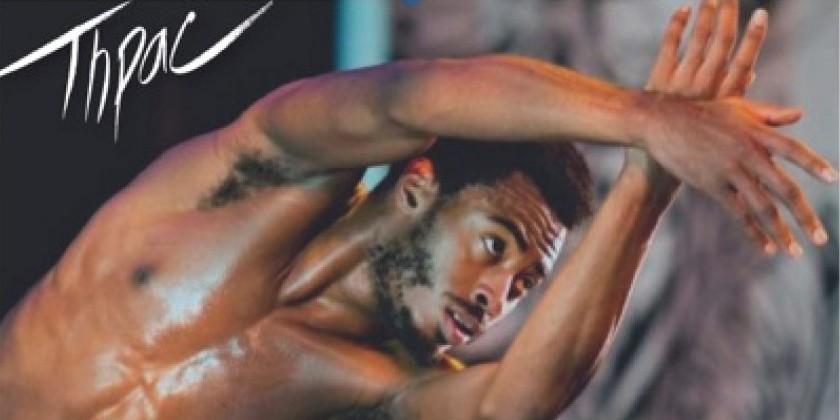 Company:
Thelma Hill Performing Arts Center (THPAC)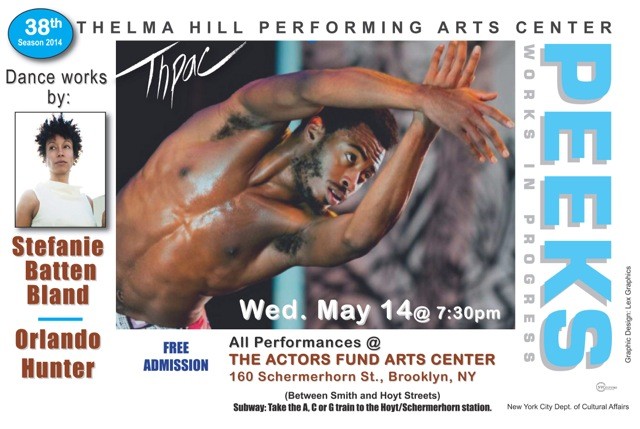 THELMA HILL PERFORMING ARTS CENTER (THPAC)
PRESENTS
PEEKS-Works in Progress
Performances Run May 1 and 14 @ The Actors Fund Arts Center, Brooklyn, NY
(April 21, 2014 – New York) – Thelma Hill Performing Arts Center (THPAC), presents its on-the-edge PEEKS-Works in progress dance programming on 2 evenings May 1 and 14 at The Actors Fund Arts Center, 160 Schermerhorn St., Brooklyn, NY 7:30pm. All PEEKS performances are free to the public. This on-going, year-round program presents works-in-progress by emerging, New York City-based choreographers and dance companies of color; LGBT choreographers and women of color choreographers, some of which are presented later  in one of the dance programs that make up the annual Souls of Our Feet: People of Color Dance Festival program. PEEKS was designed to give THPAC a year round presence on the dance scene and give it a leg up on seeing and presenting  new talent and new work. It has now become a showcase venue for THPAC to see work in progress and access new talent for our annual dance festival.
This season's offerings will be stellar with all the artists bringing an edge of difference to their works. Ranardo-Domeico Grays and William Isaac will present works in early development on May 1.This program is curated by THPAC artistic consultant, Walter Rutledge. Stefanie Batten Bland and Orlando Hunter will bring their creations to the THPAC stage on May 14. This program is curated by choreographer, Germaul Barnes. All of these artists are being presented for the first time at THPAC. PEEKS gives artists a chance to experiment and receive feedback on works they are developing from a live audience.  It gives THPAC audiences a peek into the incubating creative process of our artists.
This anxiously anticipated programming has earned a reputation for pushing the boundaries and showcasing a wide array of established, emerging and new choreographers and dance companies.
 "THPAC is evolving along with dance as it continues to change and innovate. Dance artists are finding new ways of expressing movement, drama and passion and in so doing, discover fresh ways of communicating that to audiences," says Alex Smith, Jr., THPAC's Executive Chairman.
About Thelma Hill Performing Arts Center (THPAC)
The Thelma Hill Performing Arts Center (THPAC) was founded 38 years ago to support the creative ideas of choreographers and dance companies of color.  Our mission is to offer performance opportunities to artists so they can share their work with diverse communities, furnish rehearsal and "incubation" space for choreographers and dancers, and serve as a bridge between artists and the community.
Over the years, THPAC has supported and attracted emerging and established dance artists of color who seek out the organization's experimental, yet historically aware environment. THPAC has become a viable institution for communities that have traditionally celebrated and reflected on their social and cultural issues through the rituals of music, dance, literature, and performance.
THPAC's founder Larry Phillips began working as a dance therapist in Brooklyn at a community center that sponsored children's education and support programs for single parents attending New York Technical College.  The programs were the forerunner of THPAC. In 1977, he renamed the organization after his deceased but renowned and highly influential teacher, Thelma Hill. Ms. Hill is remembered as a positive force in the dance world of New York City and beyond. She also danced with the Alvin Ailey Dance Theater and the historically significant New York Negro Ballet Company.  She was a member of the dance faculty at the American Dance Festival and devoted herself to teaching dance most notably at the Clark Center. She succumbed tragically to a fire in November 1977 but her passion in nurturing talent lives on in the organization that proudly bears her name.