PHILADELPHIA and UNITED KINGDOM: Grounded Aerial® Bungee Training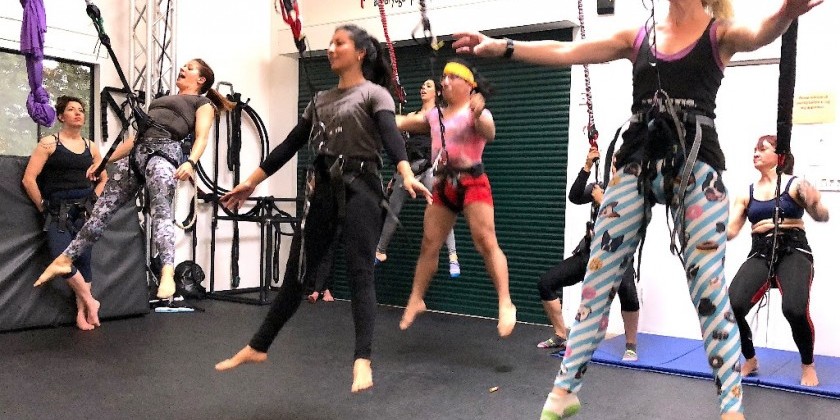 Company:
Grounded Aerial
What is ​GABT?

Grounded Aerial® Bungee Training.  In our 16-hour GABT certifications, clients can learn over 40 phrases, aerial and rigging safety, spiritual mindset and application, teaching strategies, maintenance of the systems, lesson ​plans, pedagogy for all levels, the business of bungee dance, hands on corrections, harness education with a variety of suppliers/types, and much more.  We guide students artistically and pragmatically to be able ​to teach bungee with an informed and clear eye. 

​Click here for more GABT information
But wait, what is this about?

Our expertise and experience has made us the pioneers and leaders in bungee movement. We have created and honed the GABT system slowly, mindfully, and with fine-tuned mastery.  It ​is our​ passion, it's crazy fun, and it is spreading like wildfire.​​  People from all over the world are becoming certified ​in GABT. ​Lyon- ​​France, Sao Paolo​-​ Brazil, ​​NYC, Halifax​-​Canada, ​all through out ​Los Angeles-​ California​, Mexico, Israel, South Africa…It is a craze.  Not just for fitness, but it is a way of life.  

If you can fly, what else can you do?
NEXT CERTIFICATIONS:

--April 28th and April 29th at Montco gym, Harleysville, PA 
(35 minutes outside of Philadelphia)

--May 19th and 20th we are off to Studio 17 Wales, United Kingdom 


SIGN UP HERE
(they will sell out)

More about us at Grounded Aerial®
Karen A. Fuhrman is a NYC and Philadelphia based dancer, choreographer, and aerialist for the last 18 years.  She has toured the world with Pilobolus Dance Theater as a performer and educator, and has her MA in Dance Education from NYU. She is the Founder and ​Artistic ​D​irect​or​ of Grounded ​A​erial®, and she also is an adjunct​ ​dance ​professor at a​t DeSales​ University.​  ​
 
Jason Heartsfield is our technician, website developer, equipment specialist, and also a professional ​photographer (​perk: ​photos ​are available to participants​ of all classes!). Jason ​has been coaching ​gymnastics ​for the last ​16​ years.
Photo: Flying in Los Angeles at Aeriform Arts.