PRACTICE PRACTICE PRACTICE at the New Museum from January 28 - Feb 15, 2015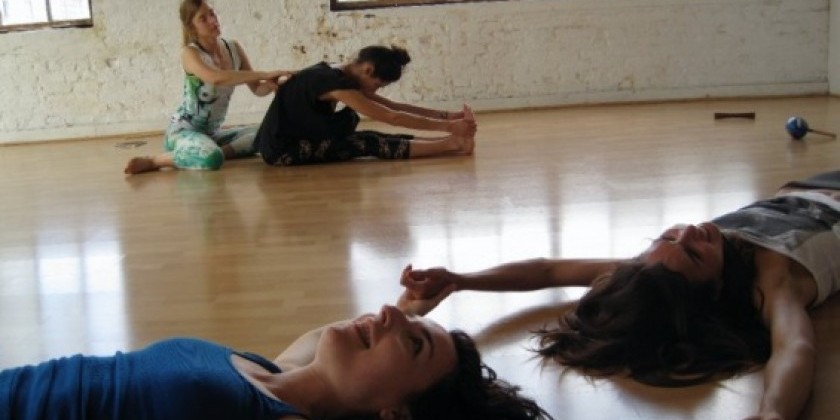 Company:
Before Your Eyes
CLASSCLASSCLASS announces PRACTICE PRACTICE PRACTICE, a series of nine days of classes, workshops, and discussions at the New Museum on the Bowery from January 28 - February 15, 2015.
Looking to the past, present and future, PRACTICE PRACTICE PRACTICE brings together a diverse group of dance practitioners who have all led their movement practice with CCC over the past six years.  It is intended as a platform that supports the ongoing learning of artists as teachers. In doing so, we acknowledge and invite the necessity of collective sharing in the development of ideas.

CLASS is, as always, $8. No pre-registration required. Students, come as you are.

Classes take place on Wednesdays and Thursdays, with lunch provided between classes. Lunch provides a time for conversion from one movement practice to the next and allows for conversation between all CCC participants. Come for both classes, come for one, or just come for lunch! Sundays & Saturdays implement a longer workshop format. 

Teachers:  Beth Gill, Ethan Cowan, Zena Bibler, Katie Schetlick and Brandin Steffensen, Belinda He, Jaamil Kosoko, Jen Rosenblit, Jessie Gold, Lorene Bouboushian, Diana Crum, Wendell Cooper, Aretha Aoki, Ni'Ja Whitson Adebanjo, Colin B. Stilwell, Julie Goldberg, Maria Bauman & Nicholas Powers.

Schedule: Weds (Jan 28, Feb 4 & 11) & Thurs (Jan 29, Feb 5 & 12) 
Morning Class 11-1:30, Lunch 1:30-2:30, Afternoon Class 2:30-5pm;
Saturday (Feb 7) and Sunday (Feb 1 & 15) Workshops 1-5pm.

Full Schedule, Class Descriptions & Bios: www.classclassclass.org

Location: New Museum on the Bowery: 235 Bowery, NYC.
About CLASSCLASSCLASS
CLASSCLASSCLASS is a blank slate for movement artists to experiment with their artistic practice in some form of student-teacher relationship.  CCC values inclusivity as well as the willingness to investigate ideas without the pressure of product; students, come as you are.  
Since 2009, CLASSCLASSCLASS has operated as an artist-run, artist-initiated platform.  CCC addresses the needs of emerging artists to develop their ideas in the form of pedagogy, both as an artistic and professional tool. CCC has also provided an opportunity for more established artists to teach "outside of the box" or experiment with new teaching formats.  Organizers seek out spaces that include independent artist-run studios such as The Woods, Barn, and Brazil.  CCC has also partnered with institutions including Movement Research, Abrons Art Center, Brooklyn Art Exchange, Gibney Dance Center and Arts@Renaissance (in collaboration with AUNTS), among others.  CCC is organized by Lindsay Reuter and Tatyana Tenenbaum.
CLASSCLASSCLASS is a program of Before Your Eyes, a non-profit organization.
About New Museum R&D Season
PRACTICE PRACTICE PRACTICE is presented as part of the "New Museum R&D Season: CHOREOGRAPHY." through special invitation from artists-in-residence Gerard & Kelly (Brennan Gerard and Ryan Kelly). Organized by the New Museum's Department of Education and Public Engagement, R&D (Research and Development) Seasons connect various projects across multiple platforms around a new organizing theme each fall and spring. This R&D Season leads an investigative examination of choreography via a range of activities, anchored by residencies with Gerard & Kelly and AUNTS. Here, choreography is mined for its potential to negotiate the systems of value that govern intimacy, transmission, and exchange alongside an interrogation of the systems of control specific to different mediums and the politics of space.
 For more information, and for full schedule of events: http://www.newmuseum.org/pages/view/choreography