PREMIERE WITH POLITICAL VOICE - CHERYLYN LAVAGNINO DANCE RETURNS TO DANSPACE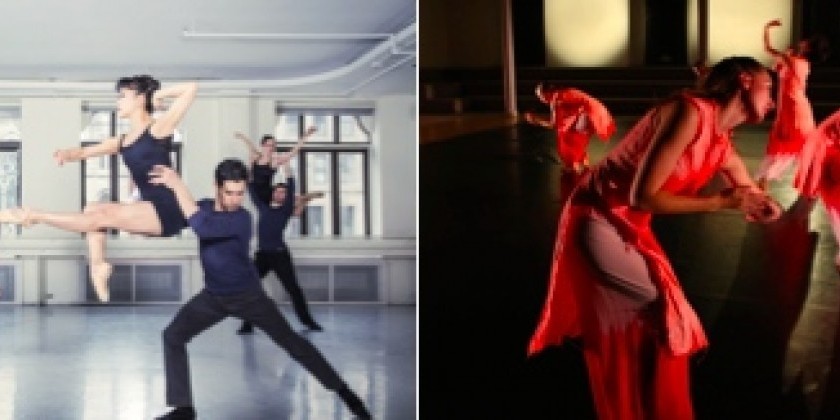 Company:
CHERYLYN LAVAGNINO DANCE

CHERYLYN LAVAGNINO DANCE
PRESENTS WORLD PREMIERE OF "NADĚJE"
Choreography Inspired by Czechoslovakia's Velvet Revolution  

 May 14 through May 16 (8pm) – Danspace Project

L-R – Cherylyn Lavagnino; Cherylyn Lavagnino Dance; RU, Danspace 2014


New York, NY, April 14, 2015 – Cherylyn Lavagnino Dance will present the world premiere of Naděje (Hope), one of four works performed each evening during the company's season at Danspace (inside St. Mark's Church), Thursday, May 14 through Saturday, May 16 at 8pm. Leoš Janáček's Violin Sonáta for violin and piano will be performed live by Egyptian pianist Mohamed Shams and CLD resident musician and composer, violinist Jane Chung. The company's core group of 13 dancers will perform.

The rich cultural and political background of the Czech people served as inspiration for Naděje, according to choreographer/artistic director Cherylyn Lavagnino. Author/playwright Vaclav Havel's, Letters to Olga, visual artist Alphonse Mucha's Slavic Epic and Leoš Janáček's Violin Sonáta for violin and piano provided research materials to create a layered play of repression and freedom expressed through movement motifs. A loosely based narrative has shaped this dance grounded in movement and music, referencing the many images and poetic reflections of these exceptional Czech artists and their aspirations for a free Czech society.

According to Ms. Lavagnino, "I feel compelled as a choreographer to the speak to the courageous efforts of victims of oppression - a current theme in our world today.  I created RU (2014) in response to the plight of Vietnamese political refugees. The choreography for Naděje reflects the struggle of the Czech artist/leaders who fought tirelessly for their culture's identity and autonomy."

In addition to the world premiere of Naděje, the CLD spring season will include three works from the company repertory:
RU (2014), a contemporary ballet conceived and directed by Cherylyn Lavagnino in collaboration with composer Scott Killian. Inspired by Kim Thúy's novella, RU describes a young woman's life as a political refugee. The choreography draws its emotional tone from the girl's struggles for identity resulting from her cultural dislocation. T'ai Chi is referenced as a gestural motif, to suggest passive resistance as a basis for strength. The dancers, in costumes reminiscent of the traditional Vietnamese áo dài dress, move inside a shadowy landscape with movement suggestive of the contrast between struggle and grace, stoicism and despair.
SNAPSHOTS (2010), a wildly investigative piece in which the women harness warrior-like strength while the men cascade across the space in virtuosic flashes of escape. Kyle Olson's percussion score supports the choreography's extreme physicality and the subtle emotional undertones: a truly gripping piece that fleshes out layers of human dynamics and interaction.
WILL (2009), a work in which an angular, taut movement vocabulary explores the uncompromising aspects of ourselves that extend to our most personal relationships; the plaintive and dissonant original score for a solo violin, composed by violinist Jane Chung and performed live by the composer, will build on the dancers' unnerving sense of detachment. Ultimately, we recognize that the conflict will not be resolved, yet the isolation of this impasse is eerily harmonious.
Cherylyn Lavagnino's mission is to create movement that engages an audience by aligning the rigor of ballet with the humanistic performance values of contemporary dance. Her choreography uses the physically, limiting state of dancing "en pointe" as a platform to delve into the range of human interaction and emotion. The exaggerated classical ballet form is directed to express sensitive and honest portrayals by her dancers. Music is paramount to Lavagnino's creative process, and its influence pushes and prods her imagery.

"Eloquence must be something Lavagnino asks of her dancers," said Deborah Jowitt, dance critic and author. "You often feel the movement as it courses through their bodies gently or fiercely.  The distortions don't look like examples of the new virtuosity, and at their best, they seem to proceed from emotional states.  The dancers gaze intently at one another and the space, while the choreography bends the ballet choreography to suit whatever possesses them, or invades them from the music."

Cherylyn Lavagnino Dance will be presented as part of DANCE: Access, a self-production series administered by Danspace Project that serves independent choreographers and dance companies.

Cherylyn Lavagnino Dance has presented work through Danspace Project's DANCE: Access series for seven seasons. The company has performed at the Baryshnikov Arts Center, the Kaatsbaan International Dance Center, Dance Now/NYC Festival, The Joyce Theater's Evening Stars series in Battery Park, Symphony Space's Dance Sampler, the Field's Uptown/Downtown workshop and performance series and three times at Inside/Out at Jacob's Pillow.

Cherylyn Lavagnino Dance has been supported by space grants from the Baryshnikov Arts Center, company residencies at The Yard, SILO and Catskill Mountain Foundation, and has continually received corporate matching support. The company has received funding from the American Music Center's Live Music for Dance grant and from the Lower Manhattan Cultural Council in support of its Salon Series. This series of informal showings, for the past year occurring at the OK Harris Works of Art, integrates live music and visual art to create dialogues among enthusiasts of dance, music and visual art.

CHERYLYN LAVAGNINO DANCE AT
DANSPACE PROJECT
DANCE: Access
May 14 – 16, 2015
Thursday-Saturday at 8:00PM
$20 General | $15 Danspace Project members

General Admission and Member Tickets: www.danspaceproject.org
Tickets by Telephone - (866) 811-4111

St. Mark's Church in-the-Bowery
131 East 10th Street
New York, NY 10003
General information – (212) 674-8112
www.danspaceproject.org

ABOUT CHERYLYN LAVAGNINO

EVENTS

REPERTORY

VIDEO