Contribute
Your support helps us cover dance in New York City and beyond! Donate now.
PREMIERES BY MIRO MAGLOIRE and CONSTANTINE BAECHER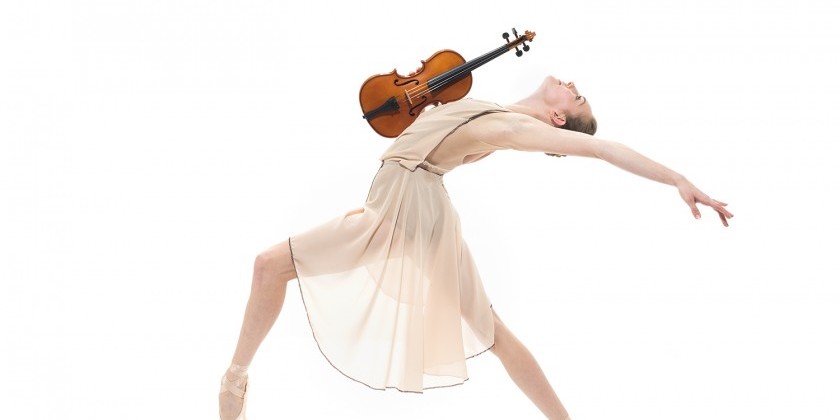 Company:
New Chamber Ballet
PREMIERES  BY  MIRO  MAGLOIRE  and  CONSTANTINE  BAECHER
                           Guest Dancers: Christin Hanna and Constantine Baecher

Friday & Saturday June 12 & 13 at 8 PM
City Center Studio 5, 130 West 56 Street
Tickets: $29; $16 for students/seniors
Reservations: 212.868.4444  or  www.smarttix.com

Dancers: Sarah Atkins, Elizabeth Brown, Holly Curran, Traci Finch, Amber Neff
Guest Dancers: Constantine Baecher, Christin Hanna
Musicians: Melody Fader, piano          Doori Na, violin

For the final performances of the 2014-15 season, Miro Magloire presents his New Chamber Ballet in premieres by Magloire, set to music by contemporary composer Richard Carrick, and the company's resident choreographer Constantine Baecher, who will also appear in his new duet with guest Christin Hanna, June 12 & 13, 8 PM, in the City Center Studio 5, 130 West 56 Street.

The Company welcomes back special guest Christin Hanna, one of the original members of New Chamber Ballet.  Christin will appear with Constantine Baecher in the premiere of his new duet to a solo violin fantaisie by Telemann.   The work is co-commissioned by the Lake Tahoe Dance Festival, founded and directed by Christin in her home town of Lake Tahoe, Ca.

Magloire's premiere, Friction, is a commission from the Center for Faith and Work in New York City, which offers annual artist residencies.  The score, In Flow for solo violin, is by NYC-based composer, 2015 Guggenheim Fellow Richard Carrick, whose music has been described as "charming, with exoticism and sheer infectiousness" and "organic and restless" by The New York Times.  Carick is co-founder and co-artistic director of the contemporary music ensemble Either/Or, recently taught composition at Columbia and New York Universities, and is a cornerstone of the teaching artist faculty for the New York Philharmonic.

The program will see an extended version of Baecher's recent premiere Two Tauri And A Tiger, a colorful trio in which the dancers listen, react, cooperate, and respond to Mozart's sublime music in ways sometimes planned, sometimes entirely spontaneous.

Another repeat premiere from the April concerts is Magloire's La Mandragore, named for the piano work by contemporary French composer Tristan Murail.   Two "creatures" are unleashed in this duet, which is alternately friendly and aggressive.

As a tribute to Pierre Boulez's recent 90th birthday, Magloire will present the solo In A Simple Black Dress, set to the composer's Anthemes for solo violin.   Indeed, dancer Amber Neff appears in a chic little black dress, wearing one pointe shoe and one ballet slipper.  Philip Gardner found that Neff "made a vivid impression with her expansive, questing performance.   Musician and dancer together crafted a nuanced, intriguing dance experience."  (oberon's grove, September 6, 2013)

From 2013 is Magloire's The Letter, in which "a tussle around the piano is between two domestic servants over billets-doux, and the lightness is comedic."  (Brian Seibert, The New York Times, September 9, 2013)

New Chamber Ballet's City Center Studio performances are made possible in part with public funds from the Manhattan Community Arts Fund, supported by the New York City Department of Cultural Affairs in partnership with the City Council and administered by the Lower Manhattan Cultural Council.   Miro Magloire's "Friction" was commissioned through an Artist Residency with the Center for Faith and Work, New York City.

 
Photo by Tom Caravaglia