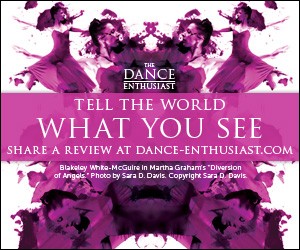 Park Dances: Up & Down
Company:
Kinesis Project dance theatre
FOR IMMEDIATE RELEASE
Kinesis Project dance theatre
presents
Park Dances: UP&DOWN
4th Annual FREE dance performances in Ft. Tryon Park & The Battery Bosque Gardens
PARK DANCES - DOWNTOWN
Date:
Saturday September 18, 2010
Time:
2:00 PM, 3:00 PM and 4:00 PM

Place:
Bosque Gardens of Battery Park (Southern most tip of Manhattan)

Transportation:
1 to South Ferry (exit towards "Battery Park")
4,5 to Bowling Green
R, N to Whitehall St/Staten Island Ferry

Information:
212-942-1413
Park Dances DOWN
- The Battery Bosque
In its 4th year Kinesis Project sets loose PARK DANCES, a physical and dynamic experience for all ages at
2:00 PM, 3:00 PM and 4:00 PM
in the historic Battery Bosque Gardens. Dancers play in the fountains, along the waterway and amongst the flowers…all in view of the Statue of Liberty.
Melissa Riker, the company's artistic director says: "Dances are to be shared, and what better place for dancing and surprises than in the middle of gardens that were built with renewal and life in mind!"
Kinesis Project
is an audience favorite and creator of the critically acclaimed "…captivating, comical and charming." (
CriticalDance.com
)
Pressing Empty
at Judson Church in February 2010. The company again takes its dances out to the park. Weaving movement through knowing audience, unsuspecting visitors and transfixed passers-by.
Park Dances
includes
Kinesis Project
dancers Zoe Bowick, Hilary Brown, Madeline Hoak, Benjamin Oyzon, Jun Lee and Rebecca Patek. Choreography for this series is by Melissa Riker in constant collaboration with the dancers.
This performance is part of Kinesis Project's dance outreach programming series placing free dance in parks around New York City. In 2010 the series has grown to be an UPTOWN/DOWNTOWN event with performances on both ends of Manhattan Island. The Company has performed in Battery Park annually since 2006 and is proud to be pairing the first performance in Ft. Tryon Park with the park's 75th Anniversary.
find out more about Kinesis Project by visiting www.kinesisproject.com
Kinesis Project dance theatre was founded in 2001 by Melissa Riker (A/D) as a choreographic vehicle for the constantly changing art of Dance and how it communicates the human experience. Kinesis Project dance theatre produces work that makes the soul dance and feet fly. The company pushes the boundaries of what changes space and people by placing movement and stillness in unusual and inspiring spaces.
---
Please help us spread the word via Press, Social Media and Blogs…
Your words of praise are our treasures
Join Kinesis Project on Facebook, or follow us on Twitter
Melissa Riker, Director
www.kinesisproject.com - 212-492-1413