Parsons Dance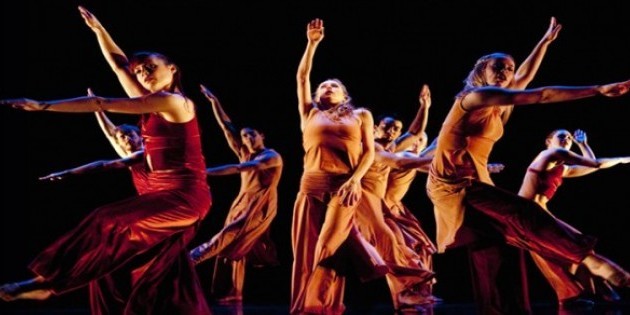 Company:
Parsons Dance
Parsons Dance
returns to The Joyce Theater from January 10-22, 2012, with a program that includes two World Premieres,
Round My World,
a new piece by David Parsons, and
A Stray's Lullaby,
by emerging choreographer and former Parsons dancer Katarzyna Skarpetowska. The company will also present a family matinee program that features kid-friendly Parsons classics on Saturday, January 14 at 2pm. Both programs include David Parsons' stroboscopic masterwork
Caught
. The Joyce Theater is located at 175 Eighth Avenue (at 19th Street), NYC. Tickets range in price from 0-9. Ticket prices are subject to change. Tickets are available by phone at 212-242-0800 or online at Joyce.org.
"One of the great movers of modern dance" (The New York Times) and "one of modern dance's great living dance-makers" (New York Magazine), David Parsons and Parsons Dance return to The Joyce Theater with two World Premieres.
Round My World is set to intriguing, multi-dimensional, digitally-layered music by renowned solo cellist and composer, Zoe Keating. Keating makes intricate, complex and entrancing ribbons of sound which David Parsons wraps and unwraps around six dancers. Frequently creating circular shapes, the dancers propel, twist, tangle and flow; they rise and fall, forcibly rush and gently meander. They encounter and separate, connect and disconnect, to each other, to the music and to audiences who are mesmerized by their fluidity and athleticism.
A Stray's Lullaby is a collaborative work of choreographer Katarzyna Skarpetowska and composer Kenji Bunch, whose working relationship dates back to their years at The Juilliard School. A Stray's Lullaby is an intimate work, set for four dancers who portray down and out characters on the margin of society. Their journey is a personal one and presented without comment, yet it is clear they are on a quest for salvation. Their stories are the rich and wise examples of our own vulnerable natures.The piece offers no clear solution, it only opens awindow on the way we face our private demons and how we strive to improve our human condition.
"Kate's work with Parsons Dance begins a whole new artistic initiative that will expand both the mission and impact of Parsons Dance. This initiative will move Parsons Dance away from its single-choreographer model and will support the creative development of emerging American choreographers," said David Harrison, executive director of Parsons Dance.
Program A also includes David Parsons' 2003 classic, Swing Shift, with music by Kenji Bunch; a duet excerpted from David Parsons' 1994 hit, Step Into My Dream, set to music by Dr. Billy Taylor, with costumes by Missoni and David Parsons' stroboscopic masterwork, Caught.
PROGRAM A:
Tue-Wed 7:30pm; Thu-Fri 8pm; Sat 2pm (Jan 21 only) & 8pm; Sun 1pm & 5pm
World Premiere, A Stray's Lullaby,
by Guest Choreographer Kate Skarpetowska, commissioned by The Joyce Theater, Step Into My Dream
(excerpt), World Premiere, Round My World
by David Parsons, Caught
, Swing Shift
PROGRAM B
(Family Matinee): Sat, Jan 14 2pm
Envelope, Hand Dance, Step Into My Dream
(excerpt), Slow Dance, Caught, Swing Shift