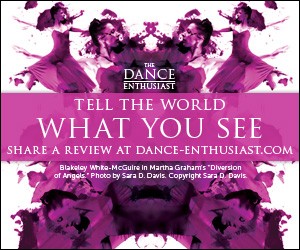 Parsons Dance at Bryant Park Fall Festival
Company:
Parsons Dance
Parsons Dance
The Bryant Park Fall Festival stage is located on the Upper Terrace. Seating is available on the Lawn, with tables and chairs available; picnics and blankets are also welcome. For a complete up-to-date listing of Bryant Park Fall Festival, presented by Bank of America, visit
Parsons Dance
creates American works of extraordinary artistry that are engaging and uplifting to audiences throughout the world. It is the goal of Parsons Dance to make contemporary dance accessible to the widest possible audiences. In addition to choreography and performance, Parsons Dance positively impacts children, students, and communities through student performances, lecture-demonstrations, master classes, post-show discussions and more. Parsons Dance has a company of ten full-time dancers and maintains a repertory of more than 70 works choreographed by David Parsons, twenty of which feature originally commissioned scores by leading composers and musicians, including Dave Matthews, Michael Gordon and Milton Nascimento. Parsons Dance has collaborated with many other leading artists, including Julie Taymor, William Ivey Long, Annie Leibovitz, Donna Karan and Alex Katz (to name a few).
The New York Times
called David Parsons
"one of the great movers of modern dance."
New York Magazine
referred to him as
"one of modern dance's great living dance-makers."
Parsons Dance receives support from Bank of America, The Cowles Charitable Trust, Ellsworth Kelly Foundation, The Fan Fox & Leslie R. Samuels Foundation, The Friars Foundation, The Harkness Foundation for Dance, Lila Acheson Wallace Theater Fund of the New York Community Trust, New York City Department of Cultural Affairs, New York State Council on the Arts, New York State Office of Parks, Recreation & Historic Preservation, Nina W. Werblow Charitable Trust, The Shubert Foundation.
will take part in the 3
rd annual Bryant Park Fall Festival, presented by Bank of America, a free performing arts series held from September 13 – 20 in Bryant Park, Sixth Avenue between 40th and 42nd Streets, NYC. Parsons Dance will perform on Sunday, September 19, 2010 at 6pm, featuring last season's sold-out, rock dance opera "Remember Me" with the music and lead vocalists of East Village Opera Company, as well as the stroboscopic master work "Caught" (lighting conditions permitting). The company's appearance also includes "Inside Parsons Dance" at 3:30pm, where audience members can learn about what's in store for the Parsons Dance 2011 New York City season at The Joyce Theater (Jan 25 – Feb 6) during an intimate discussion with David Parsons.
www.BryantParkFallFestival.org
. For more information please call 212-869-9275.