Paul Taylor News- Tickets, Anniversaries, Classes Begin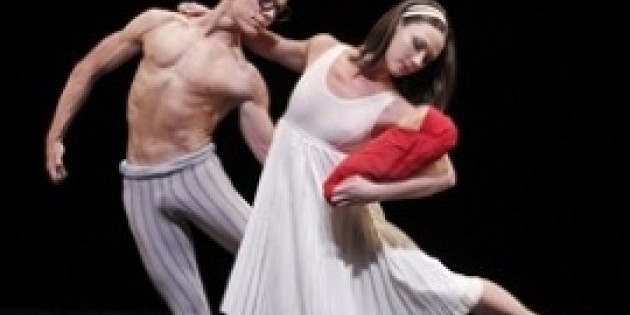 Tickets, Classes, The New Season begins.
LINCOLN CENTER TICKETS:
GET 'EM WHILE THEY'RE HOT!
ON SALE SEPTEMBER 3 FOR DONORS,
SEPTEMBER 17 FOR ALL
Last season's three-week engagement at Lincoln Center was the Paul Taylor Dance Company's best seller ever. The spectacular 2013 season -- March 5 - 24 -- features 21 Taylor masterworks. Secure the best seats by ordering as soon as they go on sale. Donors of 0 or more to the Company may pre-order seats by calling 646.214.5829 from September 3 through September 16, between Noon and 7pm. To become a donor and take advantage of this donor benefit, click here. Tickets will go on sale to the general public at 10am on Monday, September 17.
IN THIS ISSUE
2013 LINCOLN CENTER TIX ON SALE SEPT. 17, EARLIER FOR DONORS
MARCH 6 PERFORMANCE CELEBRATES "SPEAKING IN TONGUES" & "BRANDENBURGS"
2013 SEASON ALSO FEATURES "SACRE" AND WORK FROM 7 DECADES
FIVE MORE DANCES SAVED FOR THE FUTURE
TAYLOR SCHOOL CLASSES RESUME
MARCH 6TH PERFORMANCE CELEBRATES 25TH ANNIVERSARIES; ALL SEATS
1988 WAS A SPECTACULAR TAYLOR YEAR!
1988 was a very good year for Taylor fans. No fewer than four works had their premieres -- Brandenburgs, Counterswarm, Danbury Mix and Speaking in Tongues. The 25th Anniversary of two of those dances will be equally memorable. All seats for the March 6 performance of Speaking in Tongues and Brandenburgs will be just ! Speaking in Tongues, the hour-long drama dealing with religious hypocrisy, intolerance, love and redemption, garnered an Emmy Award after it was first broadcast on PBS. In Brandenburgs -- part of Mr. Taylor's magnificent collection of works set to the music of Johann Sebastian Bach -- the choreography brilliantly matches the exuberance of the score, one of Bach's best loved creations. Tickets to this special performance will go on sale at various Manhattan locations to be announced at ptdc.org on January 14, 2013.
TAYLOR'S SACRE IS REVIVED 100 YEARS AFTER THE NIJINSKY / STRAVINSKY
LANDMARK BALLET PREMIERED
SEVEN DECADES OF WORK ALSO ON VIEW
The 2013 season at Lincoln Center will also include the revival of Mr. Taylor's Le Sacre du Printemps (The Rehearsal) from 1980, marking 100 years since the Stravinsky/Nijinsky collaboration on the original Sacre. That groundbreaking dance, for Diaghilev's Ballets Russes, nearly caused a riot at its Paris premiere in 1913. All told, the season will feature 21 Taylor dances spanning an extraordinary seven decades, from 3 Epitaphs of 1956 to the world premiere of a new work to be completed in 2013. To read about all of the dances in the 2013 repertoire and hear brief music excerpts from each, click here.
FIVE MORE TAYLOR DANCES
PRESERVED FOR THE AGES
JUNCTION AND BRANDENBURGS ARE AMONG
DANCES NOW VIDEOTAPED
Preserving Paul Taylor's works so that new casts of dancers can perform them as originally intended, and future audiences can enjoy them, has always been a priority of Paul Taylor's. Since 1992, when the Taylor Foundation launched the Repertory Preservation Project, the process has been as easy as R-P-P. In July, the Taylor Company travelled to SUNY Purchase to capture five more dances for the ages. Color-coded leotards, as shown in the photo at right, facilitate the process. To read more, click here.
Brandenburgs photo by Paul B. Goode
TAYLOR SCHOOL CLASSES RESUME SEPT. 10
REGISTER NOW FOR CLASSES FOR ALL AGES
Classes for all ages at The Taylor School will resume on September 10. The Youth Program serves youngsters from 4 to 18 and is divided into four age groups. The new Taylor Tots, for 2- and 3-year-olds accompanied by adult, will give youngsters an introduction to creative movement. The new Paul Taylor Teen Ensemble will give non-professional dancers the chance to perform Mr. Taylor's repertoire during studio showings and at neighborhood venues; auditions for the Ensemble will be held on September 15 at noon. AM Smartfit classes for all ages combine Pilates and cardio-fitness. All classes are held at the Taylor Studios, 551 Grand Street. For more information, click here.