Peridance Contemporary Dance Company Seeks Dancers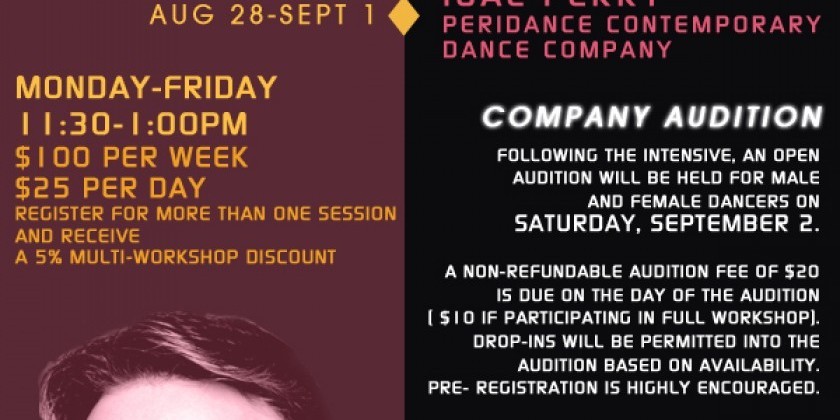 Company:
Peridance Capezio Center
The Sessions: Peridance Contemporary Dance Company Workshop and Audition with Igal Perry will be held the week of Aug 28, 2017 - Sep 2, 2017.

Their "THE SESSIONS" workshop will be Monday - Friday: August 28th - September 1st. Auditions for the company will be held on Saturday, Sept 2ndwith callbacks on Monday, Sept 4th.

Single day rate for PCDC's "THE SESSIONS" is $25 a class throughout that week from 11:30 AM - 1:00 PM or the full one week workshop is $115. 

About Peridance Contemporary Dance Company:

Peridance Contemporary Dance Company (PCDC) has been a powerhouse of energetic and evocative dance since its inception in 1983. The Company, known for Artistic Director Igal Perry's timelessly elegant and brilliantly musical choreography, has an illustrious performance history at venues including the Joyce Theater, the Rose Theater at Lincoln Center, and internationally in Italy, Israel, South Korea and Bulgaria. PCDC is housed within Peridance Capezio Center in the Union Square area of New York City, with the Salvatore Capezio Theater as its resident performance venue.The dancers are all classically trained - they hail from Japan, Korea, USA, Spain, Italy, and Brazil. The Company's annual NY Spring Season serves as a launch pad for over 30 annual performances, new works, and programs each year. We invite you to visit the Company's website to learn more.

Workshop Fees:
Full Week Workshop: $115
Single Class: $25 

Drop-in students are allowed but registration for the full workshop is highly encouraged. 

Students who pre-register for the workshop in full will be able to take Igal's 10am daily Ballet class for the professional rate of $17/class that week. If you do not plan to attend Mr. Perry's class, please be warm for the workshop.


AUDITION:
Following the Intensive, the Company will conduct an open audition for male and female dancers on Saturday September 2nd, 2017. 
A Non-Refundable Audition Fee of $20 is due on the day of the audition ( $10 if participating in full workshop).
Drop-Ins will be permitted into the audition based on availability. Pre- Registration is highly encouraged.

Audition Schedule:
Group A: 9:00am - 10:30 
Group B: 11:00 - 12:30
Please be prepared, if invited, to stay for the repertory portion 1:00pm - 2:00pm 
2nd Callbacks will be held on Monday September 4th, 2017 11:30am - 2:30pm 

Dancers must have excellent ballet and contemporary technique, versatility, musicality and stage presence. Interested dancers should e-mail their resume, headshot, and dance photo to pcdc@peridance.com with PCDC AUDITION as the subject line. Rehearsals are paid hourly and performances are paid per performance. The Company is not a Union Company. Full-year contracts begin Fall 2017. Apprenticeships and paid company positions are available. 
URL for registration: https://buff.ly/2i8scmT