Peter Kyle Dance premieres Move-Remove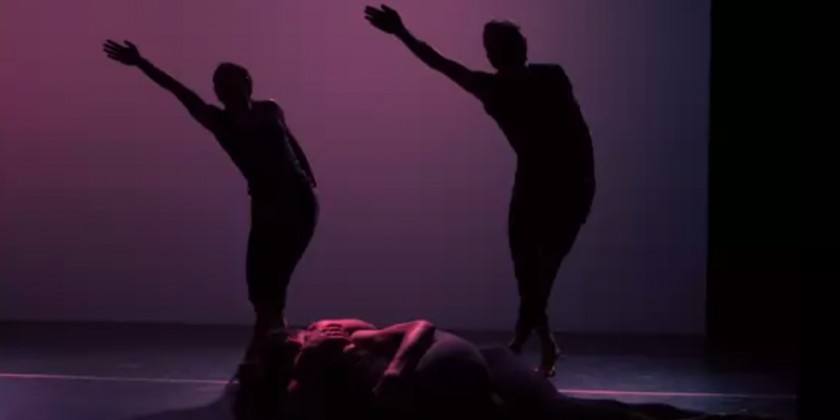 Company:
Peter Kyle Dance
PETER KYLE DANCE

at Triskelion Arts' Aldous Theater
118 North 11th Street, 3rd floor (between Berry and Wythe)
Brooklyn, NY 11249
May 9-11, 2014 at 8pm
PETER KYLE DANCE PRESENTS WORLD PREMIERE OF MOVE-REMOVE WITH DYNAMIC TEAM OF COLLABORATORS
New York, April, 4, 2014 - Triskelion Arts presents Move-Remove, Peter Kyle's latest choreographic exploration comprised of two companion pieces for three dancers. In these works the simple act of adding and subtracting elements brings new awareness to what is both seen and unseen. The work features original music played live by composers William Catanzaro, and Brad Wentworth, costumes by Garo Sparo, East Village couture designer and star of "Unleashed by Garo" (Sundance Channel), lighting design by Andrew Dickerson, and mirrored mosaic sculpture and visual design by artist Caleb Nussear. All performances take place at 8pm in the Aldous Theater at Triskelion Arts, located at 118 N. 11th Street, 3rd Floor, Brooklyn, NY 11249 (b/t Berry and Wythe). Tickets are $15 (general admission) and may be purchased at the door or online at brownpapertickets.com. Move-Remove runs approximately 75 minutes with an intermission.
Kyle's critically acclaimed work has been hailed by the Pittsburgh Post-Gazette as "vibrantly rich", by Timeout NY as "exquisitely choreographed", and in 2013 The Dance Enthusiast wrote "His work reminds us how magnificent this set up of flesh and bones is with its countless possibilities and unexpected nobilities." Peter Kyle's work reveals a unique appreciation for the theatricality of human movement. His dances appeal to seasoned dance fans and new audiences alike. In Move-Remove Kyle explores the use of addition and subtraction to bring fresh awareness to how we experience space; to the dynamic of leaving and returning, to suspension and gravity, to silence and sound, and to how the addition of one body to another can create a palpable affect that is at turns poignant and electric.
Known for bringing together dynamic creative teams, Kyle's latest project is no exception. In Move-Remove the veteran performer, hailed by Clive Barnes as "splendid" will dance with PKD regulars Christina Amendolia and Marielis Garcia, both stellar and versatile dancers. Kyle has commissioned composers William Catanzaro and Brad Wentworth to create separate scores that will be played live. Catanzaro, a mulit-instrumentalist will use the electric slide guitar as a central element in his composition, while Wentworth, a percussionist, will bring a different guest soloist to play with him live each evening. The guest musicians include Michael Bellar (keyboards), Eivind Opsvik (bass guitar), and Jonathan Powell (trumpet). Garo Sparo will design costumes for Move-Remove, his third project, to date, with PKD. Lighting design is by Andrew Dickerson, also a regular collaborator with Kyle. New to the creative team is visual artist Caleb Nussear, whose mirrored mosaic sculpture(s) will create an array of fractured reflections that seem to bend the fabric of space.
Peter Kyle is a dancer, choreographer, teacher, filmmaker and Artistic Director of Peter Kyle Dance, which he founded in 2006. His critically acclaimed choreography has been commissioned/performed across the United States and internationally in Scotland, Norway, Germany, Cyprus and China. In New York City his company has performed at One Arm Red, Abrons Arts Center, Chez Bushwick, Joyce SoHo, Symphony Space, DNA, 3LD Art & Technology Center, the 92nd Street Y Harkness Dance Center, and Triskelion Arts, where he serves on the Board of Directors. Outside of New York, PKD has performed at SUNY New Paltz, University of South Carolina, University of Nevada-Las Vegas, Bates College, Wesleyan University, Kaatsbaan International Dance Center, Museum of Glass: International Center for Contemporary Art, Sandnes Kulturhus in Norway, DanceBase in Edinburgh, Scotland, and RSTR4 in Munich, Germany, among others. Kyle toured as a soloist with Nikolais and Murray Louis Dance between 1992-1999, and remains an active proponent of that company's legacy, including as the only performer Murray Louis has selected to revive his 1984 solo, Frail Demons, which he continues to perform regularly. Kyle has also performed with Mark Morris Dance Group, Erick Hawkins Dance Company, Gina Gibney Dance, Works/Laura Glenn Dance and the theater company P3/east, among others. His ongoing Tiny Dance Film Series (www.tinydancefilms.com) has been installed internationally since 2006, most recently during a tour to China. He has received awards or grants from Concours Internationale de Danse de Paris, Walter Chapin Simpson Center for the Humanities, the Washington State Arts Commission, 92nd Street Y Harkness Dance Center, American Music Center, and New York Foundation for the Arts, among others. In addition, Kyle is on the Fulbright Specialists Roster. He is a highly regarded teacher of dance and movement for actors and has taught at numerous colleges and university faculties including University of Washington, Cornish College of the Arts, and many others as a guest artist. Currently, he serves on the faculties of Marymount Manhattan College, Sarah Lawrence College, and Bard College, while conducting residencies and workshops internationally. Kyle holds a BA in Dance and German Area Studies from Kenyon College, and an MFA in Dance from University of Washington.
Purchase tickets in advance at Brown Paper Tickets (http://pkd2014.brownpapertickets.com)
Walk-up guests may purchase tickets at the door. Seating is limited
Transportation: L train to Bedford Ave. or G train to Nassau Ave.
Please visit www.triskelionarts.org for more information

 
Information about Peter Kyle Dance is available at the company website, www.peterkyledance.org.
FACT SHEET: PETER KYLE DANCE PRESENTS WORLD PREMIERE OF MOVE- REMOVE WITH DYNAMIC TEAM OF COLLABORATORS
CONTACT: Peter Kyle, Artistic Director, Peter Kyle Dance
347.218.1820, info@peterkyledance.org, www.peterkyledance.org
WHAT: Choreographer Peter Kyle premieres Move-Remove, an evening of two companion pieces for three dancers. In these works the simple act of adding and subtracting elements brings new awareness to what is both seen and unseen.
WHEN: Friday, May 9-Sunday, May 11, 2014 8:00pm
WHERE: Aldous Theater: Triskelion Arts: 118 N. 11th Street, 3rd Floor (b/t Berry & Wythe), Brooklyn, NY 11249
WHO: Choreographed by Peter Kyle
Danced by Christina Amendolia, Marielis Garcia, Peter Kyle
Music by William Catanzaro, Brad Wentworth and guests
Costumes by Garo Sparo
Lighting by Andrew Dickerson
Sculpture by Caleb Nussear
Visual Design by Peter Kyle and Caleb Nussear
OVERVIEW: Peter Kyle Dance is a New York City based contemporary dance company founded in 2006 to further the art of dance and all the arts through collaboration. Creating innovative performances, education and outreach programs the company celebrates a fundamental belief in the power of the imagination and the beauty of humans in motion.
TICKETS: $15 at the door or in advance at Brown Paper Tickets
http://pkd2014.brownpapertickets.com
Seating is limited.
INFO: Triskelion Arts, 718.599.3577 or info@triskelionarts.org
Peter Kyle Dance, 347.218.1820
Transportation: L train to Bedford Ave., G train to Nassau Ave.
COLLABORATOR BIOS
William Catanzaro (composer) is an eclectic composer and multi-instrumentalist based in New York. His style is an amalgam of sources where classic meets contemporary, jazz and world music. Since arriving from his native Buenos Aires in 1989, Mr. Catanzaro has composed musical scores for renowned choreographers such as Anna Sokolow, Steve Paxton, Viola Farber, Sara Rudner and Milton Myers. His work has been presented nationally and internationally with The Alvin Ailey American Dance Theater, New Danish Dance Theater Denmark, TanzFabrik Berlin, Amsterdam Theatreschool, Cyprus Festival, Irish Modern Dance Theater, Architanz Tokyo, Kyoto Arts Center, Teatro San Martin Buenos Aires, Institute for Contemporary Art Boston, Philadanco, Player's Project, Dallas Black Theater, Jacob's Pillow and more. He has received recognition and funding from the NEA, The Samuel S. Feld Fund, New York State Council on The Arts, Harkness Foundation, NYU Humanities Council, and NYU Service/Learning Fund.  Mr. Catanzaro has composed scores for many off-Broadway theater productions. He is the Composer and Conductor of MinM Musicians in Masques and the Music Director for the Young Dancemakers Company. He has worked at The Juilliard School, Marymount Manhattan College, Merce Cunningham Studio, Limon School, Martha Graham School, New York University and Skidmore College. He is currently on faculty at The Alvin Ailey School, Sarah Lawrence College and Steps on Broadway. He has developed the music score for Dario Vaccaro and Lois Greenfield's work titled "Projected" and for their production of "Zonco". He has several recordings as bandleader on major labels and many independent editions of his theater and dance works. His CDs "Percussion Works, Compositions For The Choreography Of Milton Myers", "Evolution Suites" and "Percussion For The Dance Technique of Lester Horton Vol. I and Vol. II" have been received with great acclaim. His most recent CDs "Piano Works" and "About Time" co-produced with Jerome Morris have been released by CatStudio Productions and are available at WilliamCatanzaro.com. This is Mr. Catanzaro's second collaboration with Peter Kyle—in 2012 he composed the music for Kyle's solo, "100 DAYS".
"The marvel lay in the changing imagination with which music was juxtaposed against dance..." Alastair Macaulay, NY Times (on Sara Rudner's choreographic opus)
Andrew Dickerson (lighting designer/technical director) is the Resident Lighting Designer and Technical Director at Triskelion Arts, where his recent credits include Peter Kyle Dance's 100 DAYS, Abby Bender's This Title Will Not Change; Jessica Gaynor Dance's One; Becky Radway Dance Projects' Palisade; launch movement experiment's The Supper; among many others. Outside of Triskelion Arts, his recent credits include Gaby Munoz's Perhaps, Perhaps, Quizas... at the Brick Theater in Williamsburg; Stefanie Nelson dancegroup's Prolegomena II at The Joyce SoHo; The Merrymakers' Adventures in Anytown at the Gene Frankel Theater; and Michael Patrick Flanagan Smith's It Ain't No Sin at The Theater for the New City. He is also the the co-founder and director of Cirque This, a clown and "circus" troupe in residence at Triskelion Arts whose recent production of Machinations was recently seen in Triskelion Arts' Zoo Theater and the New York Clown Theatre Festival at the Brick Theater. More information at www.andydickersonlightingdesign.com
Caleb Nussear (sculpture/visual designer) is an American artist living in New York. He received a B.A. in Philosophy and Religion from Bard College at Simon's Rock and an M.A. in Social Sciences from the University of Chicago. Mr. Nussear's work is based on the overlap between complex formal geometries, physical and mathematical concepts of higher dimensionality, the natural landscape as it is found, and finally, the sensual, tensile quality of line drawing. He is comfortable working in drawing, sculpture, photography, and installation. Mr. Nussear exhibits his drawings and sculptures regularly in New York City and the surrounding environs.
Garo Sparo (costume designer) was born to a family of creativity; Garo Sparo has design in his blood. He comes from a long line of old world artisans skilled in beadwork and lacemaking. His creative inclinations began early as a child on the South shore of Long Island where his fascinations with the reality of nature and the fantasy of Science Fiction began to mold his unique artistic sensibility. Garo's career in clothing construction started at age eleven. He began working for a Native American costume designer on Long Island. At fourteen he designed his first dress on the body. In his teen years Garo relocated to North Carolina and soon after started making hats that were sold in local shops and nightclubs. In 1995 Absolut Vodka sponsored a Garo Sparo Collection, bringing him to New York City. This began a series of fashion shows at venues such as the Limelight, Webster Hall, and underground club nights Click+Drag and Jackie 60. In 2000 the Garo Sparo Boutique began its three-year run on St. Marks Place. In 2003 Garo designed a monumental couture gown for a Vatican Wedding, which led to designing corsetry for the couture eveningwear line Pratis. Soon after, Garo made a concentrated decision to focus strictly on couture and costuming. His industry projects have been featured in commercials, film, dance, and performance art throughout the world. Garo Sparo collection pieces and designed to order projects have been worn by a long and growing list of dedicated clients from all walks of life. Garo is the resident designer for New York production company and sister organization Screaming Queens Entertainment. Currently Garo continues to design and collaborate with fantastic clients and artists around the world. He also starred in a TV reality series on the Sundance Channel, "Unleashed by Garo." Garo continually creates inspired pieces for his own collections, which can be seen in his semiannual fashion shows, and by appointment. More information at www.garosparo.com.
Brad Wentworth (composer) is a freelance drummer in New York City. He has been lucky to perform with Oliver Wood, Melissa Ferrick, Aretha Franklin and Zs and currently performs with Michael Bellar's As-Is Ensemble, Howie Day and The Sweet Remains. In 2007 Brad composed and performed the music for choreographer Peter Kyle's Nearer at the Joyce Soho. He has also worked with Doug Varone and Dancers, Parson's Dance and The Nikolais-Louis Foundation for Dance among others. Brad is on faculty teaching drum set and percussion at Hunter College and the 92nd St Y. He received a Bachelor's Degree from The Manhattan School of Music in 2002, where he studied with John Riley.