Platform 2022: "The Dream of the Audience" (Part II)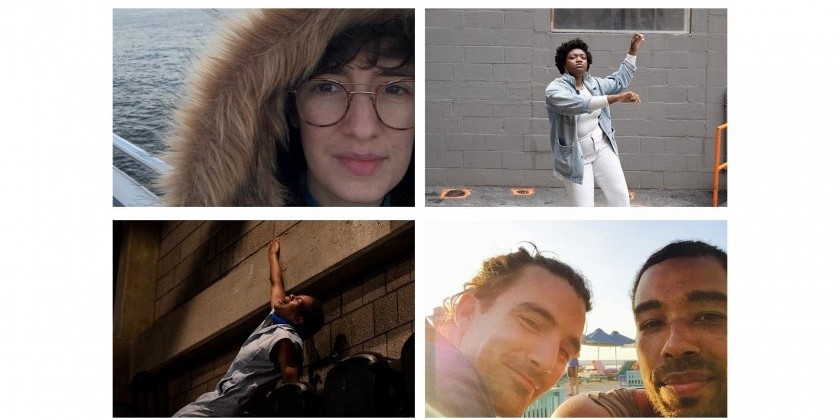 Company:
Danspace Project
PLATFORM 2022 AT DANSPACE PROJECT

Conversations Without Walls: The Dream of the Artist
Saturday, April 23, 12pm-3pm (Parish Hall will open at 12pm; conversation begins at 12:30pm)
 
Admission: Free with RSVP
Location: The Parish Hall
Accessibility: Projected CART captioning will be provided.
  
An opening conversation and catalogue launch with facilitator Christopher "Unpezverde" Núñez. This afternoon of conversation between Judy Hussie-Taylor, mayfield brooks, Rashaun Mitchell, iele paloumpis, Silas Riener, and Ogemdi Ude, focuses on the Platform works and the artists' experience of making work during times of pandemic, precarity, and ambiguity. 
 
Conversations Without Walls (CWW) was designed to bring together voices of artists, curators, scholars, writers, and more, into long-form roundtable discussions. The content of these conversations are intentionally wide ranging and artist driven—they can provide further context and insight into an artist's research, reflect on a Danspace Project program, unpack methodologies and practices, or reflect on larger systemic and structural issues that impact artists today.

Rashaun Mitchell + Silas Riener
RETROFIT: a new age
Thursday, April 28, 4-8pm
Friday, April 29, 4-8pm
Saturday, April 30, 2-6pm
Please note:
This is a four-hour performance installation.
A limited number of timed-entry tickets will be sold in advance, and walk-up tickets will be sold at the door as space becomes available. 
Once admitted, you may stay as long as you like. 
If you leave the sanctuary, you must rejoin the line in order to be readmitted.
Accessibility: Audio Description (AD) will be provided on Saturday, April 30, from 2pm-3:20pm
Building a site for dance and working on a house in upstate NY for the last five years has shifted Mitchell and Riener's approach to time and choreography. The collaborative duo have developed an improvisation-based practice they call desire lines, which teases apart the experiential and spiritual cores of both dancing and watching dance. In their newest work, RETROFIT: a new age, they consider when and how dance slips into 'something else'.
 
This site-specific immersive work, created for St. Mark's Church's architecture and surrounds, imagines dance as "an everyday ritual, the body as a prism and the audience as a dream," in their words. Through an adaptive system of choices, relational structures, and material constructions, a group of long-standing and new collaborators (Silas Riener, Rashaun Mitchell, Cori Kresge, Eleanor Hullihan, Mina Nishimura, Jennifer Gonzalez, Morgan Amirah Burns, Savannah Gaillard) build a world for collective action and transformation.

Ogemdi Ude
I know exactly what you mean
Thursday, May 12, 8pm
Friday, May 13, 8pm
Saturday, May 14, 8pm
Accessibility:
American Sign Language (ASL) interpretation will be provided on Friday, May 13, 8pm. 
Audio Description (AD) will be provided on Saturday, May 14, 8pm. 
I know exactly what you mean playfully explores the roles of storytelling and lying in recovering cultural memory, establishing kinship amongst Black folks, and processing personal grief. Devised by Ude in collaboration with performers Selah V. Hampton, Symara Johnson, and Rochelle Jamila Wilbun, this evening-length dance calls on nostalgic Black music and personal narratives to draw the audience into the work.
I know exactly what you mean evolves from research into novelist Toni Morrison's themes of "rememory" and "remembering," and playwright Suzan-Lori Parks' call to Black Americans to "make" history, when much of it has gone lost or unrecorded. "We are addressing the fissures in personal and collective memory that a traumatic event creates. When we don't remember, we fabricate to make sense out of what we do," Ude writes. "I want to make a space for my collaborators and audiences to experience the healing and protective power of storytelling and the ways lying can often help us make sense of an essential truth."


iele paloumpis
In place of catastrophe, a clear night sky
Thursday, May 26, 3pm
Saturday, May 28, 3pm
 
Accessibility: Audio Description (AD) will be provided for every performance. 
The house will open at 2pm for Blind and Visually Impaired audiences.
 
What vitality allowed our ancestors to survive generations of trauma and what wisdoms have been passed down to us? What embodied magics are all our own? iele paloumpis' In place of catastrophe, a clear night sky – a work almost five years in the making – traverses these questions through voice and movement, exploring transgenerational resilience within a disability justice framework. Incorporating vocalization, audio description, scent, and tactile elements, paloumpis creates an immersive, multi-sensory landscape that invites blind, visually impaired, and low vision audience members into the poetics of movement, de-centering sight as a primary mode of experiencing dance, prompting nuanced forms of perception. A multi-disciplinary cast of artists and collaborators, including Marielys Burgos-Meléndez, Seta Morton, Alejandra Ospina, iele paloumpis, M Rodriguez, Ogemdi Ude, Krishna Washburn, Marýa Wethers, andAdrien Lorenzo Weibgen, moves through the work with varied relationships to disability, race, class, gender and sexuality, each embodying a unique history. 
 
To address the needs and safety of disabled and immunocompromised cast members and audiences who remain at the margins as New York "re-emerges" from the ongoing global pandemic, paloumpis will create a film version of the live experience – dates to be announced.
 
 
Conversations Without Walls: The Dream of the Audience
Saturday, June 4, 12pm-3pm (Parish Hall will open at 12pm; conversation begins at 12:30pm)
Admission: Free with RSVP
Location: Parish Hall
Accessibility: Projected CART captioning will be provided.
  
A day of conversation with the audience led by a panel of selected audience members, deep listeners, and thoughtful witnesses. Together we will ruminate on questions around what it means to be an audience during pandemic times. What wisdoms, archives, and responsibilities do audiences carry? How do we learn or unlearn how to witness, as a practice of care?
 
Conversations Without Walls (CWW) was designed to bring together voices of artists, curators, scholars, writers, and more, into long-form roundtable discussions. The content of these conversations are intentionally wide ranging and artist driven—they can provide further context and insight into an artist's research, reflect on a Danspace Project program, unpack methodologies and practices, or reflect on larger systemic and structural issues that impact artists today. 
 
 
mayfield brooks
Sensoria: An Opera Strange
Thursday, June 9, sunset*
Friday, June 10, sunset
Saturday, June 11, sunset
Accessibility: Audio Description (AD) will be provided. More details to be announced.
*June sunsets will be between approximately 8-8:30pm. The exact time of each performance will be sent via email prior to the event.
mayfield brooks is a performer, artist, urban farmer, and originator of the interdisciplinary movement project, Improvising While Black. Sensoria: An Opera Strange is a continuation of brooks' Whale Fall Cycle – a series of written, digital and live provocations based on a whale's decomposition process when its body falls to the ocean floor and feeds thousands of sea creatures. the first of which was a Bessie Award nominated film entitled Whale Fall.
 
Sensoria: An Opera Strange is an invitation into different auditory fields inspired by whale songs, laments, acoustic uprisings, and revolutionary chants. "Questions emerging from this stage of the Whale Fall Cycle are: 'Who am I feeding?,' 'How am I listening?,' and 'What ghosts am I dancing with?,'" writes brooks. "When the continual hum of extraction dominates the auditory field, how does one attune to the ancestor's whisper, and feed the hungry disembodied ghosts of our time?"
Artist Bios
mayfield brooks improvises while black and is based in Lenapehoking, the homeland of the Lenape people also known as Brooklyn, New York. brooks is a movement-based performance artist, vocalist, urban farmer, writer, and wanderer. They are on the faculty at Movement Research NYC and the 2021 recipient of the biennial Merce Cunningham Award from the Foundation for Contemporary Arts. brooks' dance film, Whale Fall was nominated for a 2021 Bessie Award and they will be a 2022-23 Hodder Fellow at Princeton University this year. brooks is an international teacher and performer whose entire body of work arises from their life/art/movement practice, Improvising While Black or IWB.

Rashaun Mitchell + Silas Riener are New York-based dance artists. Their ongoing work involves the building of collaborative worlds through improvisational techniques, digital technologies, and material construction. Together they have been artists-in-residence at LMCC, Mt Tremper Arts, pieter, Jacob's Pillow, New York City Center, The Watermill Center, MANCC, Headlands Center for the Arts, BOFFO, New York City Center, The Center for Ballet and the Arts, and Baryshnikov Arts Center. Their work has been commissioned by Danspace Project, Madison Square Park, The Joyce Theater, BAM/Next Wave, The Barbican, EMPAC, The Walker Art Center, MCA Chicago, REDCAT, The Wexner, On The Boards, The LAB, Marfa Sounding, Culture Summit Abu Dhabi, SFMOMA, and MoMA PS1.
iele paloumpis is a visually-imapired dance artist, herbalist, astrologer and end of life doula living in Canarsie/Munsee territory in Lenapehoking. iele's work is rooted in kinesthetic awareness, trauma-informed griefwork, and ancestral re-membrance practices that reflect fragmented lineages across queer, trans and crip aural histories, alongside their Greek, Anatolian and Irish-American diasporic bloodlines. Most recently, iele has been exploring intergenerational trauma and resilience related to centuries of occupation, forced displacement, and eventually the 1923 population exchange between Greece and Turkey, known to Greeks as "The Catastrophe." iele comes from a long line of mystics, and is grateful to have studied with many teachers who have influenced their path. Under the direction of Donna Faye Burchfield and Jeffery Bullock, iele received a BA in Dance from Hollins University in 2006. As an end of life doula, they have received certifications from Valley Hospice, Mount Sinai's Palliative Care Institute, and Deanna Flores Cochran's Accompanying the Dying program between 2014-16. iele has practiced Tarot since 1995, most recently with the mentorship of Eva Yaa Asantewaa. In summer 2014, iele studied herbology with Rosemary Gladstar, and more recently iele has deepened their connection to ancestral plant medicine across the Mediterranean & SWANA regions with guidance from Layla K. Feghali & SWANA Ancestral. Following in the footsteps of their Anatolian ancestors, iele is mostly a self-taught astrologer, though studying the teachings of Demetra George on Traditional Astrology has been particularly impactful. iele will always be a student of the more-than-human world, and is in endless gratitude to the forests, mountains, rivers, stars and animal-kin who offer so much wisdom. As a disabled, trans, queer survivor from a working class background, iele empathizes across multiple axes of oppression and brings this awareness to their work as an artist, educator, doula and intuitive healer.
Ogemdi Ude is a Nigerian-American dance artist, educator, and doula based in Brooklyn, New York. Her performances focus on Black femme legacies and futures, grief, and memory. She aims to incite critical engagement with embodied Black history as a means to imagine Black futurity. Her work has been presented at Issue Project Room, Recess Art, Brooklyn Arts Exchange, Gibney, Center for Performance Research, Streb Lab for Action Mechanics, and for BAM's DanceAfrica Festival. As an educator, she serves as Head of Movement for Theater at Professional Performing Arts School and has taught at Sarah Lawrence College, MIT, and University of the Arts. In collaboration with Rochelle Jamila Wilbun she facilitates AfroPeach, a series of dance workshops and talks birth work specialists for Black postpartum people in Brooklyn. She is a 2021 danceWEB Scholar, 2021 Laundromat Project Artist-in-Residence, and 2021 Lower Manhattan Cultural Council Creative Engagement Grantee. She graduated Magna Cum Laude with a degree in English from Princeton University.
Ticketing:
Seating Sections:
$25 General Admission (unless otherwise noted)
$15 Wheelchair Accessible
$15 Early Bird Tickets (limited supply)
Danspace Member Pricing:
$10 Solo and Annual Patron Members Tickets
FREE Platform Season Pass for Catalysts and Leadership Circle
Other Discount Tickets:
$20 Student / Senior (with ID)
$10 Child (12 years and younger)
Tickets will be on sale at danspaceproject.org or via telephone (through OvationTix/TheaterMania) at (866)-811-4111.

Location:
All events will take place at Danspace Project in St. Mark's Church in-the-Bowery, 131 East 10th Street (at 2nd Avenue), New York, NY in Manhattan's East Village neighborhood.
Nearest Accessible Subway stations:
L to 1st Avenue
L, N, Q, R, W to 14th Street/Union Square

Accessibility:
 
Danspace Project's venue comprises two primary spaces inside St. Mark's Church: the Sanctuary & the Parish Hall.
For events located in Danspace Project's main sanctuary space:
The 10th Street entrance is wheelchair accessible via a permanent ramp. 
A same-level, one stall restroom is available near Danspace Project's main performance space in the church Sanctuary. The doorway of that bathroom is 33 inches wide. 
 
For events located in the Parish Hall (at the back of the church): 
The Parish Hall entrance is accessible through a slightly irregular, stone pathway and one (8 inch high) step.
To use the permanent ramp at 10th Street, ticket buyers will receive a phone number to call. 
In order to access the same-level restroom from the Parish Hall, please note that there is a corridor to pass through with the narrowest corner being 29 inches wide.
 
Program accessibility:
Detailed accessibility information specific to each program will be provided on individual event pages at danspaceproject.org and in this release below. 
Chairs and wheelchair accessible seating will be provided for all events and performances.
Audio description will be present for select Platform performances 
ASL interpretation will be present for select Platform performances
CART captioning will be present for all Conversations Without Walls programs. 
 
For further information on our location and accessibility, visit: danspaceproject.org/accessibility/


COVID-19 Safety (as of February 24, 2022)
All guests aged 5 years and older are required to show proof of vaccine and booster against COVID-19 with valid photo ID before entry to Danspace Project.
All guests and staff must wear a surgical face-mask while inside Danspace Project (KN95 or N95 recommended). Masks will be provided if needed.
Please stay home and take care of yourself if you have any COVID-19 or flu-like symptoms, have been in contact with someone who is confirmed with COVID-19, or have tested positive for COVID-19 in the past 7 days. If you would like to refund your ticket or process it as a tax-deductible donation to Danspace Project, please contact us info@danspaceproject.org.
Funding for Platform 2022
Platform 2022: The Dream of the Audience (Part II) is supported, in part, with funds from The Andrew W. Mellon Foundation, the National Endowment for the Arts, and the New York City Department of Cultural Affairs. Click here for more information about Danspace Project's supporters.
Clockwise from top left: iele paloumpis. Photo: courtesy the artist; Ogemdi Ude. Photo: Sophie Schwartz; Silas Riener + Rashaun Mitchell. Photo: Rashaun Mitchell; mayfield brooks. Photo: Maria Baranova.
Share Your Audience Review. Your Words Are Valuable to Dance.
Are you going to see this show, or have you seen it? Share "your" review here on The Dance Enthusiast. Your words are valuable. They help artists, educate audiences, and support the dance field in general. There is no need to be a professional critic. Just click through to our Audience Review Section and you will have the option to write free-form, or answer our helpful Enthusiast Review Questionnaire, or if you feel creative, even write a haiku review. So join the conversation.