Premier of ARTERIES OF A NATION
July 21st (Sunday) at Brooklyn Bridge Park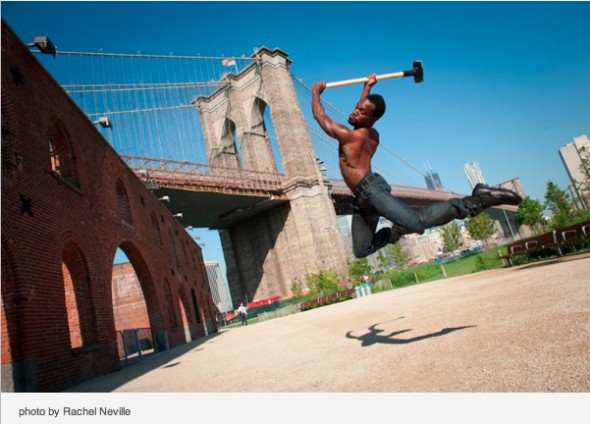 ARTERIES OF A NATION
Site-specific debut performance and re-investigative enactment on the
150th Anniversary of Civil War events in July 1863.
At 7:30pm on July 21, 2013, Brooklyn-based dance company Renegade Performance Group
(RPG) will transform Brooklyn Bridge Park with their interactive performance of "Arteries of a
Nation," intended to immerse audience members within the deeper historical context of the Civil War.
In this latest project by RPG Artistic Director, André M. Zachery (choreographer) and
collaborators Charles Vincent Burwell (composer) and Brook Stephenson (writer) will create a
multi-disciplinary site-specific performance examining the legacies from three events of the
American Civil War in July 1863: the Battle of Gettysburg, the New York City Draft Riots and the
54th Massachusetts Colored Regiment attack on Fort Wagner. The troupe's immersive artistic
performance will start at Squibb Playground (entrance on Everit Street) and culminate on Pier 1,
under a backdrop of spectacular panoramic views of the Manhattan waterfront.
In honor of the 150th Anniversary of the three Civil War events, "Arteries of a Nation"
investigates a quintessential era in the United States and presents a site-specific work,
grounded upon the practice of equality for all to engage in, and a discourse to re-examine this historic time.
The purpose of placing the work outdoors and in the public domain is to enable viewers to
experience the physical and emotional dynamics of the period, as performers
occupy a space that was once a Civil War hot zone. The Brooklyn bank of the East River was a
landing point for citizens fleeing the horrors of the New York City riots, as well as the launching
point for soldiers and sailors fighting in the Union Army.
Over 150 years ago, when Americans were fighting one another in the Civil War, the freedom of
African men and women held in bondage was at stake, as was the preservation of a Nation built
on ideals expressed and forged in the original Declaration of Independence. "Arteries of a
Nation" tackles the violent themes prevalent in the era, examines the horrors of the bloody
battles, and address the issues subsequently shaping America's emerging identity.
About the Artists
Renegade Performance Group is Brooklyn-based dance performance company founded in
2007 investigating urban artistic aesthetics and expression. Co-Founder/Artistic Director, André
M. Zachery has choreographed and presented works in several NYC venues, nationally in
Chicago, and internationally in Portugal. Charles Vincent Burwell (composer/lyricist), a graduate
of NYU/Tisch-MFA, has worked on several independent and commercial projects, including the
score for an HBO documentary on dancer/educator Jacques D'Amboise. Brook Stephenson
(writer) is a Detroit native now Brooklynite who has published works and interviews in several
major publications and was a 2010 Artist-in-Residence at the Chashama North Artist Residency
in Pine Plains, New York.