Prolegomena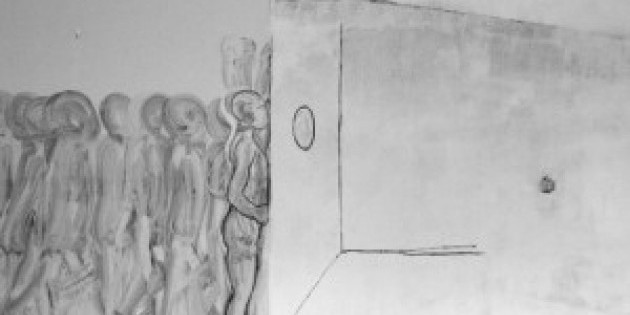 Company:
Stefanie Nelson Dancegroup
Triskelion Arts presents
Prolegomena
, a new work by New York choreographer Stefanie Nelson for seven dancers, created in collaboration with visual artist Karolien Soete and composer Alexander Berne.
The compositions for movement, stop-motion mural animation and soundscapes were created as part of an ongoing exploration of camera obscura techniques and a fascination with inner and outer spaces. Hailed for work that is "
instinctual, untamed and edgy"
(Infinite Body), with Prolegomena, Nelson weaves "
subtly humorous touches
" (Oberon's Grove) into this "
disturbing, sensual and provocative
" (Luxury Spot) new work.
Featuring dancers:
Gierre Godley, Daniel Holt, Sarah Matry-Guerre, Stefanie Nelson, Sarah Parker, Hunt Parr and Yin Yue
.
Original sound scores: composer
Alexander Berne with special musical guests Jaik Miller, Harold Bott Jr., Sholeh Dalai, Chuck Fertal, and 'The Beast.'
Violin improvisations are by Regina Sadowski.
Lighting design:
Andrew Dickerson
.
Live mural painting & music starts at 7:30pm - Dance at 8pm
November 4-6, 2011
Tickets: 5. To reserve tickets: email info@triskelionarts.org or onsite one-half hour before curtain.
Triskelion Arts is located at 118 North 11th Street (between Berry & Wythe), 3rd Floor, Brooklyn, NY 11211. (Take the L to Bedford Avenue. Walk north along Bedford 4 blocks to N. 11th. St. Take left onto N. 11th Street. 118 is on the left, between Berry and Wythe).