Punk Yankees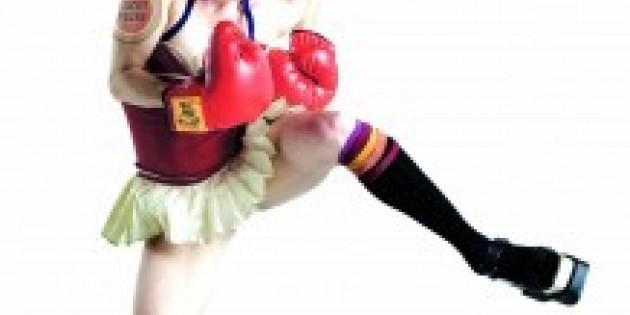 Company:
Lucky Plush Productions
Lucky Plush Productions
presents
Punk Yankees
PUNK YANKEES is a provocative and entertaining dance theater work that combines live performance, video, and the internet to unpack ideas about authenticity, originality, and the ownership of dance in the digital age. The Chicago-based dance theater company, Lucky Plush Productions, is led by Artistic Director Julia Rhoads, who teams up with music sampling artist Stefen Robinson (Yea Big) and media artists John Boesche and Julie Ballard.
With the controversial nature of dealing with issues of intellectual property, the piece takes on difficult questions such as: What defines "fair use" in dance? Is it permissible to "borrow" choreographic devices or spatial patterns if the movement is reinvented? If someone stylistically references a choreographer, should it be credited, or is it what naturally occurs through dance education? As dance is passed from body to body, how does personal lineage fit into ideas about authenticity? Punk Yankees addresses this murky terrain with transparency and humor.
WHERE Joyce SoHo
155 Mercer Street (Houston/Prince)
B/D/F/M to Broadway-Lafayette, R to Prince or 6 to Bleecker
New York, NY 10012
WHEN January 13-14, 2012 @ 7:30pm (Post-performance discussion: Jan 13th)
TICKETS 8 (2 students/seniors)
* Approximate run time: 85 minutes. Purchase tickets in advance at joyce.org or 212-242-0800 or onsite one-half hour before. There are no service fees for tickets to Joyce SoHo performances purchased at joyce.org!
LUCKY PLUSH PRODUCTIONS is known for its witty commentary, surprising immediacy, and artful integration of dance, theater, and visual design. The company is led by choreographer Julia Rhoads, one of Dance Magazine's "25 to Watch" in 2010, who has received a fellowship from the Maggie Allesee National Center for Choreography, a Chicago Dancemakers Forum Award, a NEFA National Dance Project grant, and an NPN Creation Fund Grant for her work with Lucky Plush. Features in publications include The Chicago Reader's "Best of Chicago 2010"; Time Out Chicago's "The Decade's 10 Best Original Dance Works" for Endplay; and a Time Out Chicago feature cover story "5 reasons to love dance in Chicago". Rhoads was also included in NewCity's 2010 feature "The Players: The 50 people who really perform for Chicago". For more information, please visit http://www.luckyplush.com/.