RAHWAY, NJ: Fresh, Family-friendly Fare: "Ballets with a Twist" at Hamilton Stage‏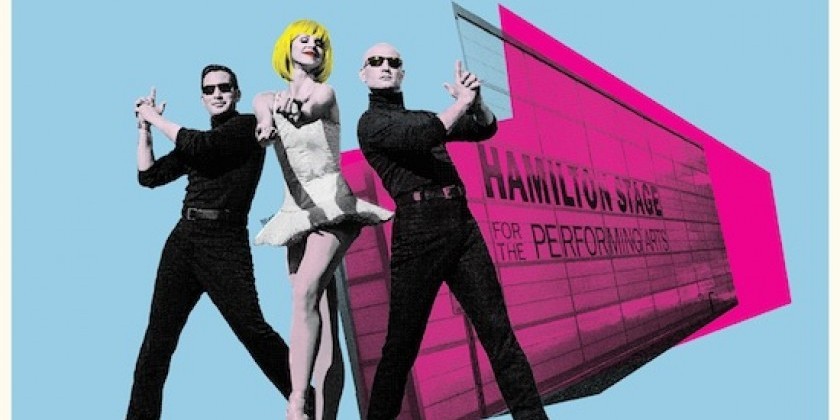 Company:
Ballets with a Twist

Ballets with a Twist
Stirs Up Fresh Spirits and Celebrates a Legend
with Cocktail Hour at Hamilton Stage
"Ballets with a Twist sparkles… sexy, brainy and elegant…" (Dance Informa)
Sneak peek Video: http://vimeo.com/70799758


Rahway, New Jersey (April 28, 2014) — Suffering from spring fever? Ballets with a Twist has just the remedy! Join New York City's next-generation dance company for a refreshing batch of cool cocktails at Hamilton Stage on Friday, May 30 and Saturday, May 31 at 8:00 pm and Sunday, June 1 at 3:00 pm.
 
The company's fourth season at Hamilton will feature a pair of polar opposite Cocktail Hour premieres: "Eau de Vie," a breathtakingly bright, frothy spirit fresh from the finest Continental salon, and "The Boilermaker," a quintessentially American quaff with a touch of true grit. In celebration of the 60-year anniversary of The Tonight Show, the company will also pay tribute to the King of Comedy with a revival of The Johnny Show, a beguiling blend of "honky-tonk, circus and comic revue" (Mainzer Rhein Zeitung, Germany). Cameo appearances by young New Jersey dancers will add a touch of local flavor to the production.
 
True Twist fans, prepare for a special treat! Enhance your evening of entertainment with complimentary apéritifs (and Shirley Temples for the kids) in the Hamilton lobby before each show. For tickets and venue details, visit http://ucpac.org/html/event.cfm?id=402.
 
The Show
Hailed as "pure pleasure" by BroadwayWorld.com, Cocktail Hour is a sassy suite of dances conceived and choreographed by celebrated dance-maker Marilyn Klaus. The family-friendly show infuses ballet with an irreverent pop sensibility while paying respect to the rich creativity of cocktail culture. You've never seen cocktails like these!
 
Klaus, whose background ranges from vaudeville and show dancing to Isadora Duncan and classical ballet, created The Johnny Show in the 1980s. This playful precursor to Cocktail Hour celebrates the heyday of late-night television, blending ballet with big band to riotous effect.
 
The program features original music by Stephen Gaboury, who has collaborated with Klaus for over 20 years. His music has been heard in film and on television, and he has performed with many A-listers, including Patti Labelle, Suzanne Vega and Ute Lemper. In 2004, he received a Grammy nomination for his work with pop/rock legend Cyndi Lauper. Gaboury also contributed as co-writer for selections in Lauper's Broadway musical, Kinky Boots, which earned thirteen Tony nominations and six wins (including Best Original Score and Best Musical) in 2013.
 
Catherine Zehr is the artistic force behind Cocktail Hour's glamorous costume design. Her exquisite creations evoke the origins and spirit of each libation with vivid colors and embellishments.
 
Critics and audience members agree: Cocktail Hour is an artistically seductive must-see. The Huffington Post raves that Klaus is "blasting the boundaries between high art and entertainment," and that her style is a distinctive mix of "Hollywood glitz and New York polish," while The New York Times praises her as "witty and fantastic." Ballets with a Twist has also caught the attention of The Wall Street Journal, New York City's PIX11 Morning News, and WKYC-TV in Cleveland.
 
Craving more cocktail culture? Visit http://balletswithatwist.com.
 
The Venue
The Union County Performing Arts Center's Hamilton Stage, located at 360 Hamilton Street, hosts an extraordinary group of performers-in-residence and presents a year-round roster of concerts, plays, dances, readings, films, art openings, benefits and classes featuring a scintillating blend of international, national and local talent.
 
For more information, please visit http://www.ucpac.org/html/hamilton_stage.cfm.
 
Calendar Listing:
Who
Ballets with a Twist, New York City's next-generation dance company
What
Cocktail Hour, an evening-length dance experience choreographed by Marilyn Klaus and featuring live music by Grammy-nominated composer Stephen Gaboury
Where
Hamilton Stage (360 Hamilton Street, Rahway, NJ)
When
Friday and Saturday, May 30 and 31 at 8 pm and Sunday, June 1 at 3 pm
Tickets
$25 General Admission

Full information and tickets available online at http://ucpac.org/html/event.cfm?id=402.