RIOULT Dance NY celebrates 20 years with performances at The Joyce Theater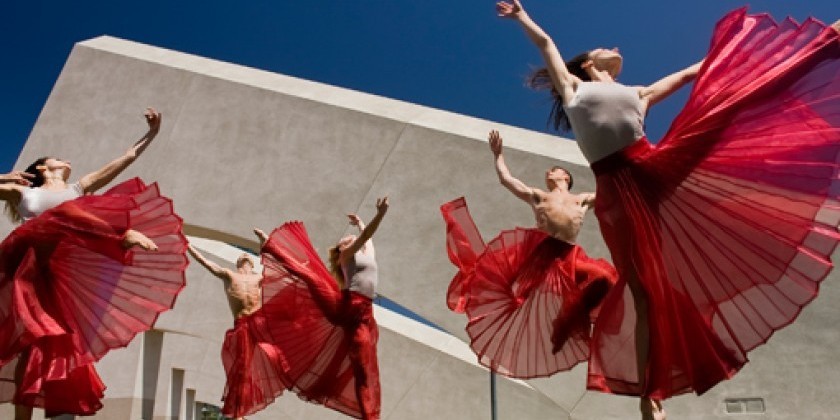 Company:
RIOULT Dance NY
Photo: Basil Childers


Celebrate 20 Years with
RIOULT Dance NY
at The Joyce Theater
June 17-22, 2014

 
RIOULT Dance NY, a leading American modern dance company with a classic sensibility, will present two unique programs during its June 17-22, 2014 New York Season at The Joyce Theater, 175 Eighth Avenue (at 19th Street), NYC.  The schedule runs: Tuesday at 7:30pm; Wednesday at 7pm; Thursday and Friday at 8pm; Saturday at 2pm & 8pm; and Sunday at 2pm & 7:30pm.  Tickets start at $10 and are available at JoyceCharge at 212-242-0800, in person at The Joyce Theater Box Office, or online at joyce.org.
Described by The Huffington Post as "captivating" and "intensely musical," the company celebrates its 20th Anniversary with two programs highlighting Pascal Rioult's powerful choreography, profound humanity, and extraordinary dancers.  In Program A, Martha, May & me, Rioult pays homage to his mentors with a performance of May O'Donnell's classic Suspension, created in 1943, and Martha Graham's iconic El Penitente (1940).  Rioult's Black Diamond (2003) and Views of the Fleeting World (2008) round out the program.  Program B features a World Premiere set to music of Pytor Ilyich Tchaikovsky, the powerful Wien (1995), and last year's premiere,  Iphigenia.
RIOULT's 2014 Gala benefit will take place on Wednesday, June 18.  For more information and tickets, please call 212-398-5901 or email gala@rioult.org.
In Suspension, dancers move in a state of suspended balance and order where harmony is maintained by the independent patterns which join, separate, energize, and become tension points for each other to maintain the order and balance of the whole. The idea and ideal of Suspension uses the dance as a medium where harmony and balance are maintained between individuals. It might be said that Suspension is like the planetary system existing in space and eternity, where each planet maintains a position of independence and balance in relation to the whole. "...at the still point of the turning world, there the dance is..." - T.S. Eliot.  Suspension (1943) has been set on the company by former May O'Donnell Dance Company dancers Lynn Frielinghaus, Nancy Lushington, and Barbara Allegra Verlezza. 
El Penitente premiered in 1940 at Bennington College in Vermont, part of the Bennington School of the Dance, now the American Dance Festival.  The dance has the look of primitive folk art come to life. Born out of Martha Graham's fascination with the American southwest and specifically a sect of Penitents who believed in purification through severe penance, the dance has a simple formalism, episodic structure and naïve, archaic gestures. Constructed as a play within a play, El Penitente opens with the entrance of a troupe of strolling players. They don their costumes and enact a series of vignettes from the Bible. Audiences see a childlike pageant that includes flagellation, revelation, seduction, repentance, crucifixion, and salvation - a stylized meshing of dance of celebration perhaps meant to inspire the generosity of the onlookers. El Penitente (1940) is set to music by Louis Horst.  The piece was set for RIOULT with Pascal Rioult, Joyce Herring, and Kenneth Topping all teaching their former roles to current dancers.
An abstract piece for two female dancers, Black Diamond (2003) achieves poetry through dance; every movement translates to qualities embodied by a black diamond - strength, beauty, purity, and mystery.
Views of the Fleeting World (2008) was inspired by the ancient woodblock prints of the Japanese master Hiroshige and the ingenious structure of Bach's musical score. The ephemeral quality of all living things and the eternal cycle of life are the themes that Rioult found common, and explored in this contemporary dance work. Each of the nine short vignettes - "Orchard," "Gathering Storm," "Wild Horses," "Dusk, Rain," "Night Ride," "Summer Wind," "Moonlight," and "Flowing River" - captures a moment in time and nature through the colors, lines, and rhythm of the dance. These moments reflect the depth of emotion that can be found in such seemingly spare and simple elements.
Iphigenia (2013) is a dance drama chronicling a young woman's transfiguration from innocent child to transcendental heroine. Based on Euripides' "Iphigenia in Aulis," it focuses on King Agamemnon's decision to sacrifice his daughter - much to the horror of his wife, Clytemnestra and his daughter's betrothed, Achilles - and Iphigenia's ultimate acceptance of her fate. Through dramatic dance scenes weaved together with a recurring ensemble-the Greek chorus, the part-narrative, part-abstract piece unfolds, reintroducing audiences to this beautifully tragic story.
Wien (1995) turns the Viennese waltz's revered image of grace, clarity, and social refinement inside out, using it as a metaphor to expose the decadence and moral disintegration of a society. Six dancers create the illusion of an entire city, moving continuously in a large, clockwise path, alternating in their portrayal of victims violently swept to humiliation, imprisonment, and death, to aristocrats aloof and detached from the horrific reality.
RIOULT Dance NY, celebrating its 20th Anniversary in the 2013-2014 Season, fast became an established name in modern dance with a reputation for bringing the sensual, articulate, and musical dance works of Pascal Rioult to audiences worldwide. The twelve-dancer company, based in New York City, is led by husband-and-wife team Artistic Director/Choreographer Pascal Rioult and Associate Artistic Director Joyce Herring - both former Martha Graham Dance Company principal dancers. With an established repertoire of over 40 dances that expands each year, RIOULT Dance NY presents an annual New York Season and tours nationally and abroad. In addition, in-school arts education and community outreach have been integral to the company since its inception, introducing students and families to the art of modern dance. www.rioult.org
Major supporters of RIOULT Dance NY's 2013-2014 20th Anniversary Season include: Shana Alexander Charitable Foundation; Assured Guaranty; The Atlantic Philanthropies Director/Employee Designated Gift Fund; Berkshire Taconic Community Foundation; Fund for New Works, a Kenneth French Legacy; Gordon & Harriet Greenfield Foundation; The Geoffrey C. Hughes Foundation; Harkness Foundation for Dance; Jana Foundation; Kendall-Parker Associates LLC; Kingsborough Community College; LaGuardia Community College; National Endowment for the Arts; New York City Department of Cultural Affairs; New York State Council on the Arts with the support of Governor Andrew Cuomo and the New York State Legislature; The O'Donnell-Green Music and Dance Foundation; The Shubert Foundation; Sidley Austin LLP; TAG Creative; Target; and Viking River Cruises.
THE JOYCE THEATER FOUNDATION, INC., a non-profit organization, has proudly served the dance community and its audiences since 1982. The founders, Cora Cahan and Eliot Feld, acquired and renovated the Elgin Theater in Chelsea, which opened as The Joyce Theater in 1982. The Joyce is named in honor of Joyce Mertz, beloved daughter of LuEsther T. Mertz. It was LuEsther's clear, undaunted vision and abundant generosity that made it imaginable and ultimately possible to establish the theater. One of the only theaters built by dancers for dance, The Joyce Theater has provided an intimate and elegant New York home for more than 290 domestic and international companies. The Joyce has also commissioned more than 130 new dances since 1992. In 1996, The Joyce created Joyce SoHo, a dance center providing highly subsidized rehearsal and performance space to hundreds of dance artists. New York City public school students and teachers annually benefit from The Joyce's Dance Education Program, and adult audiences get closer to dance through pre-engagement Dance Talks and post-performance Humanities discussions. The Joyce Theater now features an annual season of approximately 48 weeks with over 340 performances for audiences in excess of 135,000.
RIOULT DANCE
The Joyce Theater, 175 Eighth Avenue (at 19th Street), NYC
June 17-22, 2014: Tue 7:30pm; Wed 7pm; Thu-Fri 8pm; Sat 2pm & 8pm; Sun 2pm & 7:30pm
Program A, Martha, May & me: Wed. at 7pm, Thur. at 8pm, Sat. at 8pm, Sun. at 7:30 pm
Program B: Tues. at 7:30 pm, Thur. at 8pm, Sat. at 2pm, Sun. at 2pm
Tickets start at $10. Ticket prices are subject to change.
JoyceCharge: 212-242-0800, joyce.org