RIOULT Dance NY introduces New Modern Classes for Dancers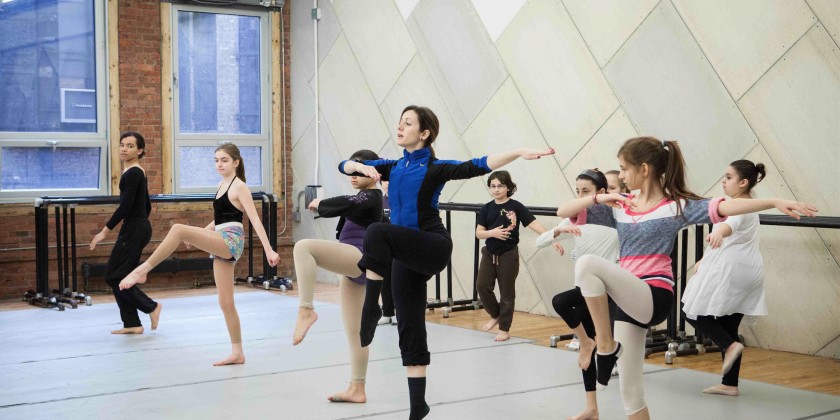 Company:
Rioult Dance NY
RIOULT Dance NY, a leading American modern dance company with a classic sensibility, introduces new modern classes for young Dancers, ages 10-14.  Classes offered will range from Advanced Beginner-Intermediate Modern Class.  The Fall Semester classes will run October 4-January 17 on Saturdays from 10am-12pm at Pearl Studios, 500 8th Avenue (b/t 35th & 36th Streets).  Tuition is $540 per semester.  There is a 10% discount for early registration from now until September 20th.  Scholarships are available and space is limited.  To register, download the flyer and registration form at:
http://www.rioult.org/site/wp-content/uploads/2013/11/flyer_reg_form_msyd classes Aug2014.pdf or call 212.398.5901 or email Anastasia@rioult.org.
Visit http://www.rioult.org/school/kids-camp/ for more information.
Classes are led by Marianna Tsartolia and Anastasia Soroczynski - professional dancers who have over 20 years of combined experience teaching dance to children.  The classes are designed to introduce new students and advance returning students to fundamental modern technique and vocabulary, including the elements of "contraction and release". During the course of the semester, students will experience, study, and explore the rhythmical diversity and power of music through their movement. At the conclusion of the semester there will be a studio showing that will include a class demonstration and a dance choreographed by the students.
RIOULT Dance NY, celebrating its 21st Anniversary in the 2014-2015 Season, fast became an established name in modern dance with a reputation for bringing the sensual, articulate, and musical dance works of Pascal Rioult to audiences worldwide. The twelve-dancer company, based in New York City, is led by husband-and-wife team Artistic Director/Choreographer Pascal Rioult and Associate Artistic Director Joyce Herring - both former Martha Graham Dance Company principal dancers. With an established repertoire of over 40 dances that expands each year, RIOULT Dance NY presents an annual New York Season and tours nationally and abroad. In addition, in-school arts education and community outreach have been integral to the company since its inception, introducing students and families to the art of modern dance.
Major supporters of RIOULT Dance NY's 2014-2015 Season include: Shana Alexander Charitable Foundation; The Atlantic Philanthropies Director/Employee Designated Gift Fund; Berkshire Taconic Community Foundation; CUNY Dance Initiative - Kupferberg Center for the Arts at Queens College; Exploring the Arts; Fund for New Works, a Kenneth French Legacy; Gordon & Harriet Greenfield Foundation; The Geoffrey C. Hughes Foundation; Harkness Foundation for Dance; Jana Foundation; Kendall-Parker Associates LLC; LaGuardia Performing Arts Center; National Endowment for the Arts; New York City Department of Cultural Affairs; New York State Council on the Arts with the support of Governor Andrew Cuomo and the New York State Legislature; The Shubert Foundation; Sidley Austin LLP; and TAG Creative.