RIOULT Dance NY to perform at Manhattan School of Music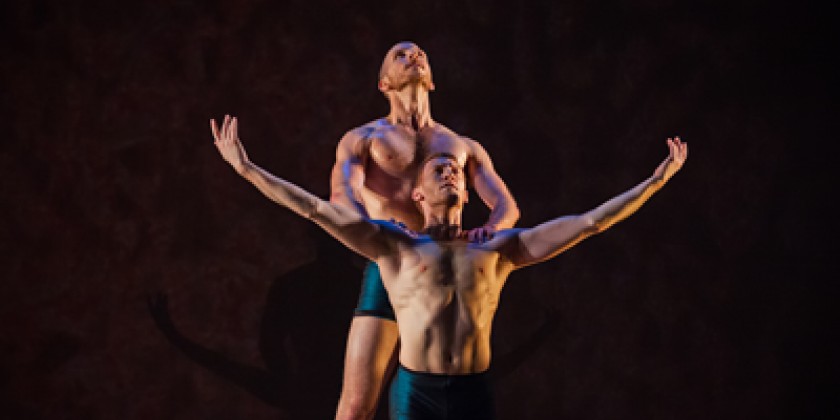 Company:
RIOULT Dance NY
RIOULT Dance NY
 to perform Dance to Contemporary Composers Series
at Manhattan School of Music
January 22, 2015 at 7:30pm
RIOULT Dance NY, a leading American modern dance company with a classic sensibility, will perform the Dance to Contemporary Composers Series with Tactus on January 22, 2015 at 7:30pm at the Manhattan School of Music's Borden Auditorium, 120 Claremont Avenue, NYC.  Tickets are $12 ($7 for students/seniors) and are available online at http://www.msmnyc.edu/Concertgoer/Box-Office, via phone at (917) 493-4428, or at the box office one hour prior to curtain.
In the Dance to Contemporary Composers Series, RIOULT Dance NY commissions new music, collaborates with American composers, and presents dance performance with live music. Consecutive world premieres from 2011-2013 were created through this series, including On Distant Shores a 2011 collaboration with composer Aaron J. Kernis, The Violet Hour a 2012 collaboration with composer Joan Tower, and Iphigenia a 2013 collaboration with composer Michael Torke. These dances reflect Pascal Rioult's support for contemporary classical composers, as well as literary interests in poetry and mythology. 
Iphigenia, conducted by Benjamin Grow,is a dance drama driven by a young girl's transfiguration from innocent child to transcendental heroine. Based on Euripides' Iphigenia in Aulis, it chronicles King Agamemnon's decision to sacrifice his daughter - much to the horror of his wife, Clytemnestra and his daughter's betrothed, Achilles - and Iphigenia's ultimate acceptance of her fate. Through dramatic dance scenes weaved together with a recurring ensemble-the Greek chorus, the part-narrative, part-abstract piece unfolds, reintroducing audiences to this beautifully tragic story.
The Violet Hour set to Joan Tower's "Tres Lent" and the newly commissioned "Catching a Wave" for piano and cello, is informed by images gleaned from T.S. Eliot's The Waste Land.  The Violet Hour evokes the stark beauty and consequent humanity that stems from these images, a time of expectation hovering between darkness and light, reality and dream, memory and desire. 
On Distant Shores, conducted by Kyle Ritenauer, recalls the ancient myth of Helen of Troy. "I always thought Helen got a bad rap," says Pascal Rioult. In this work he sets out to redeem her, imagining she is brought to Troy against her will, where she encounters four god-like warriors though ultimately walks alone as it all fades into a dream.
Bios
RIOULT Dance NY, celebrating its 20th Anniversary in the 2013-2014 Season, fast became an established name in modern dance with a reputation for bringing the sensual, articulate, and musical dance works of Pascal Rioult to audiences worldwide. The twelve-dancer company, based in New York City, is led by husband-and-wife team Pascal Rioult and Joyce Herring - both former Martha Graham Dance Company principal dancers. With an established repertoire of over 40 dances that expands each year, RIOULT Dance NY presents an annual New York Season and tours nationally and abroad. In addition, in-school arts education and community outreach have been integral to the company since its inception, introducing students and families to the art of modern dance. www.rioult.org
Manhattan School of Music (MSM) is deeply committed to excellence in education, performance, and creative activity; to the humanity of the School's environment; and to the cultural enrichment of the larger community. A premiere international conservatory, MSM inspires and empowers highly talented individuals to realize their potential.  MSM takes full advantage of New York's abundant learning and performance opportunities, preparing students to be passionate performers, composers and teachers, and imaginative, effective contributors to the arts and society.Offering hundreds of concert presentations and community events each year, Manhattan School of Music is a vigorous contributor to the cultural fabric of New York City and an important player on the world stage.
Tactus, MSM's cutting edge Contemporary Performance Program (CPP) engages in the music of our time through expert instruction in contemporary performance technique and training in improvisation and composition. CPP students form the core of the School's resident contemporary ensemble, playing a large variety of works written in the last 100 years.  Included has been repertoire by composers such as Webern, Schoenberg, Ives, and Ligeti and very recent music played with the composer present, including Elliott Carter, Richard Danielpour, Steve Reich, Charles Wuorinen and Julia Wolfe.  During its inaugural season, CPP students were featured in a Tactus performance at Carnegie Hall's Zankel Hall.
Aaron Jay Kernis (Composer) Mr. Kernis received the Grawemeyer Award for Music Composition and is among the youngest Pulitzer Prize winners. His music figures prominently on concert programs worldwide and he has been commissioned by many of America's preeminent performing organizations and artists. Recent and upcoming commissions include works for James Ehnes at the BBC Proms, the Seattle Symphony, Orpheus Chamber Orchestra, New York Philharmonic, and Big Ten Band Association. His music has been recorded by Cedille Naxos, Virgin, Nonesuch, and Koch, and a CD of his orchestral works by Hugh Wolff and the Birmingham Symphony Orchestra was a Grammy nominee and winner of France's Diapason d'or Palmares. His "Goblin Market" was recently recorded by The New Professionals for Signum, and an Arabesque CD features the Lark Quartet in his Pulitzer-Prize winning Quartet No. 2 ("musica instrumentalis") and 1st Quartet.  He is director of the Minnesota Orchestra's Composer Institute, served as the Orchestra's New Music Advisor for 10 years, and teaches composition at Yale School of Music. Mr. Kernis collaborated with Pascal Rioult as part of his Dance to Contemporary Composers Series in 2011 to expand upon his 1995 work, "Air" and create a new score, "On Distant Shores" for Rioult's world premiere of the dance by the same.
Michael Torke (Composer) Mr. Torke practically defined post-Minimalism-a music which utilizes the repetitive structures of a previous generation, incorporating musical techniques from both the classical tradition and the contemporary pop world. With his two best known early pieces, "Ecstatic Orange" and "Yellow Pages," written while still a composition student at Yale, Torke cut short his graduate study to begin a professional career in NYC, where he was signed by Boosey and Hawkes. He became an exclusive recording artist with Argo/Decca Records and began his 5-year collaboration with Peter Martins and the NYC Ballet. Torke founded Ecstatic Records in 2003 and most recently the label released "Tahiti" with the Royal Liverpool Philharmonic's "10/10." Mr. Torke collaborated with Pascal Rioult as part of his Dance to Contemporary Composers Series in 2013 to create a new score, "Iphigenia" for Rioult's world premiere of the dance by the same.
Joan Tower (Composer) Ms. Tower is widely regarded as one of the most important American composers living today, with works commissioned by major ensembles, soloists, and orchestras. Tower was the first composer chosen for a Ford Made in America consortium commission of sixty-five orchestras. Leonard Slatkin and the Nashville Symphony recorded "Made in America" in 2008 (along with "Tambor" and "Concerto for Orchestra"). The album collected three Grammy awards: Best Classical Contemporary Composition, Best Classical Album, and Best Orchestral Performance. In 1990 she became the first woman to win the prestigious Grawemeyer Award for her work "Silver Ladders," a piece she wrote for the St. Louis Symphony where she was Composer-in-Residence from 1985-88. Other residencies include the Orchestra of St. Luke's (1997-2007) and the Pittsburgh Symphony (2010-2011). Tower studied piano and composition at Bennington College and Columbia University. She co-founded the Da Capo Chamber Players in 1969 as the pianist, and is currently Asher Edelman Professor of Music at Bard College, where she has taught since 1972. Ms. Tower collaborated with Pascal Rioult as part of his Dance to Contemporary Composers Series in 2012 to create a new score, "Catching a Wave" to add to her 1994 work, "Tres Lent" - both of which serve as the musical accompaniment for Rioult's The Violet Hour.
Benjamin Grow (Conductor) has conducted a wide array of new music ensembles in New York, including the Con Vivo Ensemble, Our Silent Canvas, and Red Light New Music. He has also conducted several recording sessions at The Juilliard School and the studio recording of I Have No Stories To Tell You, a new opera by Opera Philadelphia's Composer-in-Residence, Lembit Beecher. In 2012, he conducted Beecher's oratorio, And Then I Remember, in "an expert performance" (WKCR) at the DiMenna Center. His arrangements and compositions have been performed by the Caravel Quartet, the Toomai Quintet, DZ4 woodwind quartet, Ensemble Counterpoint, and the Strangetet. A dedicated music educator, Mr. Grow was the founding conductor of the 92nd St. Y Youth Orchestra and currently conducts the chamber orchestra at the School for Strings, where he is also a music theory instructor. He received his Bachelor of Music degree at Rice University, was a Fellow at the Conductors Institute at Bard College, and is currently pursuing a master's degree in conducting at the Manhattan School of Music.  
Kyle Ritenauer (Conductor) is pursuing his Masters' Degree in Conducting in the Contemporary Performance Program at the Manhattan School of Music where he serves as Assistant Conductor under Jeffrey Milarsky and David Gilbert for the Percussion Ensemble and Student Composers Orchestra and for the last five years spent summers studying conducting at the Pierre Monteux School in Hancock, ME, serving as Orchestra Assistant since 2012. Collaborating with young composers throughout NYC, he has conducted premieres of over 40 pieces of music and worked with some of NYC's most up-and-coming new music ensembles, such as Nouveau Classical Project, where he lead a performance of Schoenberg's Pierrot Lunaire and in December 2013, he led the filming of a new opera, Cities of Salt, by Syrian composer Zaid Jabri. An active freelance percussionist in NYC, he also serves as Principal Percussionist of the Hudson Valley Philharmonic in Poughkeepsie, NY and is a teaching artist for The Learning Arts, in Adirondack State Park. In October 2013, he commissioned and premiered Paolo Marchettini's Brotherhood's Journey performed with his two brothers, also percussionists in NYC. It is one of five percussion trios commissioned to be recorded as part of their debut album in 2015. 
Manhattan School of Music is located on the northwest corner of Broadway and 122nd Street, and is easily accessible by public transportation. Several MTA bus lines stop within two blocks at Broadway and 122nd Street; the M5 arrives at Riverside Drive; the M4 and M104 arrive at Broadway; and the M60 and M11 at Amsterdam Avenue. By subway taking the No. 1 train, MSM is located between the 116th Street and 125th Street stations. 
Major supporters of RIOULT Dance NY's 2014-2015 Season include: Shana Alexander Charitable Foundation; The Atlantic Philanthropies Director/Employee Designated Gift Fund; Berkshire Taconic Community Foundation; Exploring the Arts; Fund for New Works, a Kenneth French Legacy; Gordon & Harriet Greenfield Foundation; The Geoffrey C. Hughes Foundation; Harkness Foundation for Dance; Jana Foundation; Kendall-Parker Associates LLC; LaGuardia Performing Arts Center; National Endowment for the Arts; New York City Department of Cultural Affairs; New York State Council on the Arts with the support of Governor Andrew Cuomo and the New York State Legislature; The Shubert Foundation; Sidley Austin LLP; and TAG Creative.