Raqs Without Borders MENA Dance Festival 2022 (VIRTUAL)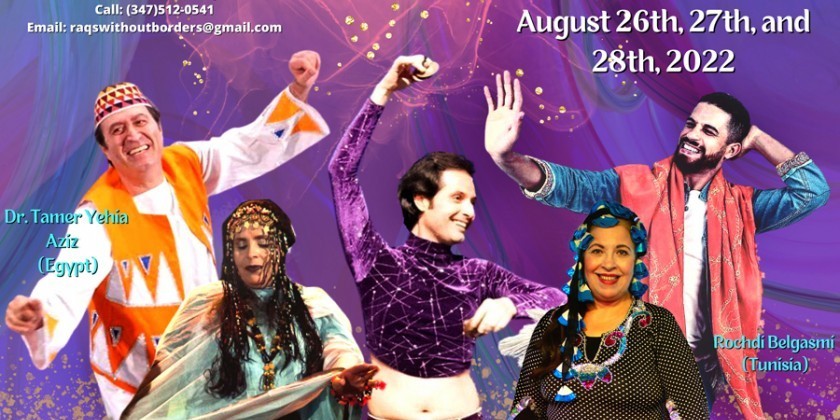 Company:
Torkomada
Raqs Without Borders MENA Dance Festival will host its sixth online edition from August 26th, 2022 until August 28th, 2022: bridging Arab and non-Arab audiences, and building international understanding through the cultural dances of the Middle East and North Africa (MENA) with dance workshops with mini lectures, a dance show, and a lecture-presentation on the folk dances of Egypt.

Our inspiring instructors and lecturers:
Zahra Mujunen (Morocco) teaching Moroccan guedra and sahraoui.
Hoda Ibrahim (Egypt) teaching Egyptian awalim with a veil and gawazee saidi with a stick.
Rochdi Belgasmi (Tunisia) teaching various traditional dance movements from Tunisia.
Dr. Tamer Yehia Aziz (Egypt) presenting a lecture on the folk and traditional dances of Egypt.
Recorded Zoom dance workshops will be available for participants to view as well.

Pricing:
A dance show, presenting a plethora of cultural dances from the MENA region with guest dance artists. Show tickets: senior and student discount:$10-regular admission: $20.
Full package (senior and student discount: $150; full price: $200) includes five dance workshops with short lectures, a dance show, a dance performance of your choice during the show, and a lecture-presentation.
Individual workshops ($50 each) are available as well.
Registration is now available on www.torkomada.weebly.com

Raqs Without Borders 2022 is supported in part by an award from the National Endowment for the Arts, by public funds from the New York City Department of Cultural Affairs in partnership with the City Council, and made possible in part with public funds from Creative Engagement, a regrant program supported by the New York State Council on the Arts with the support of the office of the Governor and the New York State Legislature and administered by LMCC.