Rascals with Altitude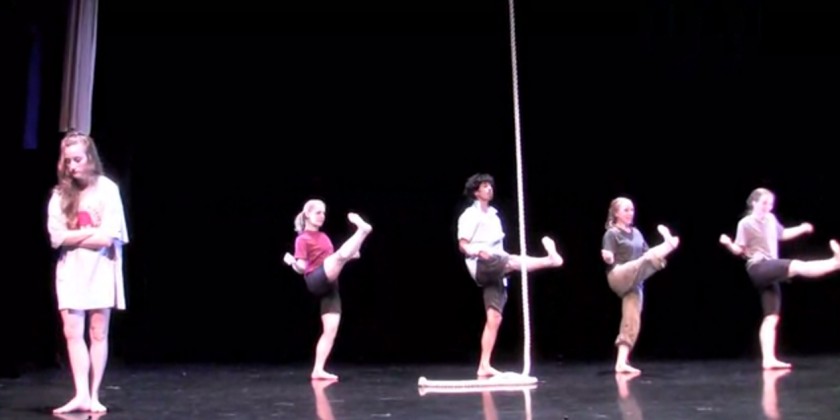 Company:
General Mischief Dance Theatre
General Mischief Dance Theatre presents its spring performance, Rascals with Altitude. Performances will take place from April 25 – May 4 at The Connelly Theatre, 220 East 4th Street, NYC.
Tickets are $20 in advance for general admission ($25 at the door, $15 for students and seniors, $10 to children ten and under) and are available at https://www.artful.ly/store/events/2754 or by calling (212) 714-4694.
Performances: Friday, April 25 at 8pm; Saturday, April 26 at 8pm; Sunday, April 27 at 5pm; Friday, May 2 at 8pm; Saturday, May 3 at 3pm and 8pm; Sunday, May 4 at 3pm.  Appropriate for ages 4 and up.
General Mischief Dance Theatre is dedicated to reinforcing the power that joy and laughter have in communicating ideas.  The company's mission is to create and present theatrical dance works that engage audiences emotionally, socially, and kinesthetically.  Combining aerial work with more earthbound forms of movement, the company removes spatial and physical limits from theatrical dance.
The program includes:
Suite Shel, a one-act suite of dances inspired by the poems of Shel Silverstein, choreographed by Celine Rosenthal, Pushpanjali Sharma, and Emily Smyth Vartanian
Duel, an interactive bungee duet, choreographed by Emily Smyth Vartanian. Duel is a face-off between rival baseball fans (Yankees v. Red Sox).  They appear to have made peace by the time flying balls are added to the equation, but the very end of the dance calls that notion into question.
Buzz, choreographed by Emily Smyth Vartanian Buzz is a multi-part, caffeinated cityscape of a dance.  It shows the dancers slowly waking up in the morning, then features them interacting with various objects typical to the morning commute - coffee cups, books, and cell phones - as well as each other.  The majority of the time, they pass each other by, unnoticed, but as the piece goes on they begin to connect with each other.  The next section, lit only by the dancers' cell phones, takes place late at night and shows the dancers "connected" electronically, but not connected to the individuals they are supposedly spending time with.  
This production will feature performers Jane Abbott, Dare Harlow, Gautam Nima, Pushpanjali Sharma, Andrea Steiner, and Emily Smyth Vartanian, with direction by Celine Rosenthal, and music from Grammy® winning Ozomatli, Led Zepagain, and composer Lizzie Hagstedt. 
"Question: What's the difference between a performance by General Mischief Dance Theatre and entertainment at a child's birthday party? Answer: Nothing. Except that the party isn't just for children, the performers are highly competent dancers, and you go to see them at a theater. And it's much better… Intelligent silliness….entertainingly performed."
— Ballet-Dance