Rebeca Tomas and Company in "Cinco Por Cinco"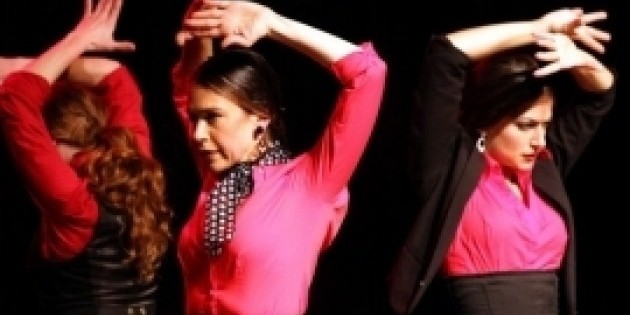 At Theatre 80 S. Marks (May 17-19)
WHAT:
Rebeca Tomás and her A Palo Seco Flamenco Company return to Theatre 80 Saint Marks May 17 to 19 in "Cinco Por Cinco."
WHERE AND WHEN:
May 17 to 19, 2013
Theatre 80 Saint Marks
80 Saint Marks Place, Manhattan
Fri & Sat at 8 PM, Sun at 3 PM
Tickets 5-40. 0 Students/Seniors with valid ID at door. Box office (212) 388-0388 (Mon-Fri 1-5pm)
Online ticketing available at:
WWW.THEATRE80.NET
Artist's website:
www.apalosecoflamenco.com
Runs 1:30; REVIEWERS ARE INVITED to all performances
NEW YORK – With a new program of innovative and edgy repertoire, Rebeca Tomás will bring her A Palo Seco Flamenco Company back to Theatre 80 Saint Marks May 17 to 19 in a new production, "Cinco Por Cinco." Tomás, a fierce and feminine NY-based Flamenco artist, will direct her company of five dancers, two singers and three musicians in a show that promises to be true to her vision of upholding Flamenco's traditions while also pushing its boundaries and giving it a distinctive New York City feel.
The evening will feature the premier of two new choreographies. "Cinco por Cinco," the production's namesake, will feature the cast of five female dancers in a rhythmic call-and-response, each using one of five percussive elements within Flamenco: Zapateo (Footwork), Palmas (Rhythmic Hand-Clapping), El Abanico (the Spanish Fan), Castanuelas (Castanets), and el Baston (the Percussive Cane). The second piece, "La Farruca," which is a typically masculine-style of Flamenco dance, will be set as a duet for two females, clad in high-wasted pants and bolero jackets. The piece will capitalize on the linear nature of this dance style with its heel-turns and musically intricate footwork. Musical accompaniment will include guitar, violin, and a female vocalist who plays an integral role in the choreography.
The name of Tomás' company, "A Palo Seco," is a phrase referring to a bare-bones style of flamenco music, often consisting of singing or percussion alone. The Chicago Reader wrote, "That stripped-down aesthetic characterizes the ensemble's biggest departure from tradition, a solo by artistic director Rebeca Tomás called El Lenguaje del Abanico ('the language of the spanish fan'). Dressed in toreador pants, Tomás snaps her fan open like a switchblade or brandishes it closed. When the musicians fall silent, she exploits the innate drama of near stillness, playing with the sound of a fan lightly tapping, a foot scraping." For the company's May production of "Cinco por Cinco," Tomás has reworked "El Lenguaje del Abanico" from a solo into a trio. The composition departs from all structural norms within a traditional Flamenco piece with the abanico (Spanish fan) taking an unconventional role as both a percussive instrument and a sharp visual punctuation.
More traditional offerings will include a return of Tomás' "El Martinete," rearranged for five dancers from its original form as a trio. Its choreography alternates between canonized movements and sleek synchronicity, with female dancers taking on the strength and poise of the male persona. Often referred to as "cante jondo" (deep song), the Martinete is performed "a palo seco," with stark vocals conveying the raw essence of the art form. The production will also feature conventional solos, including a Tientos-Tangos and an Alegrias de Cordoba, a more soulful version of the typically bright Alegrias de Cadiz, performed with a Bata de Cola (long train dress) and a Manton de Manila (Manila shawl).
Petite yet strong, Tomás is only 5' 1" but appears much larger onstage. . The Kansas City Metropolis called her "a postcard image of the feminine Flamenco dancer." Her performance style is sharp, graceful and clean. "Being small, I have a low center of gravity," she confides. This might be why she can tightly execute a wide variety of turns, from repetitive "heel" turns and pirouettes to the most famous of the female Flamenco turns, the vuelta quebrada, in which Tomás arches her back so completely that she never takes her eyes off the audience. She has also been praised for the musicality of her footwork, which displays an unusual precision of rhythm.
After years of freelancing as a solo dancer and company performer with such companies as Flamenco Vivo Carlota Santana and Noche Flamenca, Tomás' began to create her own work in 2010. That year, her first production as artistic director and choreographer, "A Palo Seco," won her credit as both a performer and experimenter. Presented at Theater 80, it combined traditional Flamenco with such nontraditional touches as Tomás playing Beethoven's "Moonlight Sonata" at the piano and dancing a modern piece to music by Regina Spektor. Jack Anderson (New York Theatre Wire) praised Tomás for both her innovativeness and her strength in traditional forms, writing "Tomás is seeking to develop flamenco in new ways...Experimental new works are welcome in every dance form; otherwise, that form stagnates. Tomás and her company know their flamenco, yet they're willing to play with its conventions." Critic Eva Yaa Asantawaa insisted to readers of her blog, "InfiniteBody," that they see the performance, deeming it a major debut and calling Tomás a "well-crafted explosive device." Lindsay Miller wrote in TheaterOnline.com, "The energy of the performers in this showcase of flamenco dancing and music was infectious – at times, the sold-out crowd of 200 could not help but clap along and give encouraging shouts of 'Olé!'" The evening was summarized as "truly a feast for the eyes and the ears."
That work was followed in 2011 with "A Palo Seco: Rasgos Flamencos," also at Theater 80. The New York Times (Gia Kourlas) wrote, "When she swept onto the stage for her alegrías solo... Ms. Tomás was like a burst of springtime. Wearing a flowing dress in pinks and purples and flicking her long ruffled train like a mermaid's tail, Ms. Tomás contrasted her winsome spirit with a more serious display of prickling footwork that rooted her into the floor with an earthy power." The review commended her ingenuity of brandishing a Spanish fan "like a butterfly knife," her choreographic exactitude in El Martinete, and the company's "excellent musicians, led by Pedro Cortes." Megin Jimenez wrote in NYtheatre.com, "The artists in 'A Palo Seco: Rasgos Flamencos' go far beyond showcasing their great musical and dance talent--they offer the experience of being transported by something deep and powerful stirring inside. It's a level of expression that can't be faked, and that no amount of technical perfection could replace. Melancholy, pride, and raw passion--expression we've become unaccustomed to seeing offered without apology--burst out in wailing song, heart-racing rhythm, and impossibly fast footwork. It's a performance that requires fearlessness, the rendering of body and spirit complete."
Since its inception in 2010, A Palo Seco Flamenco Company has been gaining national recognition for its artistic vision deeply rooted in Flamenco tradition, yet relevant in a modern urban context. Over the past year, they have appeared at the 2012 Chicago Flamenco Festival along with renowned Spanish artists Raimundo and Diego Amador, at Jacob Pillow's 80th season, at the New York City Between the Seas Festival of Mediterranean Arts, and at the Multicultural Center of East Cambridge.
As a dancer, artistic director Rebeca Tomás trained in Granada at Maite Galán's Escuela de Danza Española and later moved to Madrid, where she studied at the internationally renowned Flamenco academy Amor de Dios. There she appeared at various tablaos, including Al Andalus and Las Carboneras. She is a two-time recipient of both the Jerome Foundation's Travel and Study Grant and the Lower Manhattan Cultural Council's MCAF Grant for her company productions. She also received an Artist Fellowship Grant form the CT Commission on Culture and Tourism for the development of new choreography. As a choreographer, Tomás has assisted Tony Award-winning Christopher Gatteli in the Lincoln Center production of "Women on the Verge of a Nervous Breakdown," as well as for his own "Time, Place, Romance, Dance." She was choreographer and personal Flamenco trainer for Yaron Zilberman's indie-drama, "A Late Quartet" (2012), featuring Christopher Walken, Catherine Keener and Philip Seymour Hoffman. She also served as a guest choreographer for Revolución Latina's 2011 Choreographer's Festival and choreographed the group's piece at the Broadway Cares 25th Annual Easter Bonnet Competition. A picture and write-up of Rebeca Tomas can be found in the New York Library of Performing Arts at Lincoln Center's exhibit, "100 Years of Flamenco in New York."
For her company productions, Tomás collaborates closely with guitarist and musical director Pedro Cortes. Gypsy by heritage, Cortes began studying with his father and the esteemed Flamenco guitarist Sabicas at an early age. Touring professionally since the age of 17, he is internationally recognized as a soloist and composer. Cortés has performed and toured with Jose Greco, Maria Benitez, la Farruquita, La Tati, Merche Esmeralda, Manolete and the late Lola Flores. He was guest artist with the St. Louis Opera and the New York Grand Opera and was commissioned by the Guthrie Theater in Garcia Lorca's Bodas de Sangre as Musical Director. He also premiered his work "En la oscuridad de las Minas" at the Teatro Albéniz in Madrid. Mr. Cortés is artistic director of his own Flamenco Fusion group, Amanecer Flamenco De Hoy, as well as Mimbre Y Vareta and Zorongo Flamenco.
The production "Cinco Por Cinco" is conceived and directed by Rebeca Tomás and performed by Tomás and her A Palo Seco Flamenco Company, which includes dancers Sol "La Argentinita," Marina Elana, Leslie Roybal and Laura Castellano. Musicians include guitarist and musical director Pedro Cortés, violinist Alí Bello, percussionist Jose Moreno and singers David Castellano and Bárbara Martínez. Lighting design is by Stephen Petrilli. Some costumes for Ms. Tomás are contributed by Sally Lesser. The company's website is
www.apalosecoflamenco.com
.
A Palo Seco Flamenco Company's "Cinco por Cinco" is made possible in part with public funds from the Manhattan Community Arts Fund, supported by the New York City Department of Cultural Affairs in partnership with the City Council and administered by Lower Manhattan Cultural Council. Some of the pieces in the production are made possible in part by a Harkness Space Grant from the 92nd Street Y Harkness Dance Center.