"R/evolution," the futuristic musical, to premiere at Atlas Theater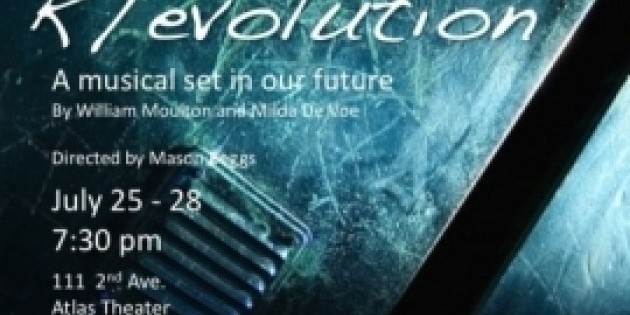 July 2528, 2013 (Four Performances)


"R/evolution," the futuristic musical, to premiere at Atlas Theater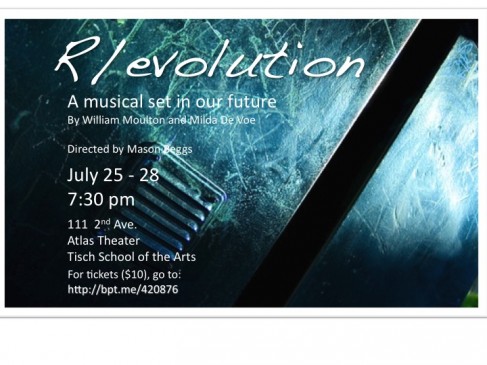 July 25—28, 2013 (Four Performances)
Thursday, July 25 at 7:30 PM
Friday, July 26 at 7:30 PM
Saturday, July 27 at 7:30 PM
Sunday, July 28 at 7:30 PM
Atlas Theater, 111 2nd Avenue
Tickets: 0
Manhattan, NY —

July 16, 2013

— Collaborators William Moulton and Milda De Voe announced that their new show "R/evolution"
will premiere at New York University's Atlas Theater the last weekend in July. "R/evolution" unites the structure of a traditional musical with an electronic score and cutting-edge modern dance choreography to examine the value of human emotions in a technologically advanced society. Featuring direction by Mason Beggs, "R/evolution" illuminates themes of survival and human authenticity that resonate with current political and social concerns.
"R/evolution" depicts a futuristic dystopia in which humans have been systematically disciplined to control their natural impulses. Workers of a massive corporation practice Psychothrobics, a movement methodology that keeps the world safe from emotionally destructive caprices. Blind devotion to this protocol is thrown into question when Abby, an adult woman from the 21st century, is cloned. Two workers, Tech and Preen, enter a chaotic whirlwind of feelings during their attempt to school Abby in their codified behaviors.
Using dance, sound, and multimedia, "R/evolution" layers auditory and visual images to present a stirring portrait of a world gone awry. "R/evolution," incubating for over 10 years, is the result of a recent one-month residency at Tisch School of the Arts. Celebrating the value of the human spirit in all of its lively disarray, "R/evolution" acts as a rallying cry for a passive and disinterested society to challenge emotional sanitation in both public and private spheres.
About the Authors
William Moulton (composer, lyricist, and co-librettist) is the co-director of Dance and New Media and Associate Arts Professor in the Department of Dance, Tisch School of the Arts, New York University. Founder and first president of the International Guild of Musicians in Dance. Cofounder of the contemporary music and dance ensemble Footnote, with performances at colleges and universities throughout the United States. Pianist, composer for dance, and composer, lyricist, and librettist of several Musicals, including "Fatty", "Rimbaud", and "Rum Row".
Milda De Voe (co-librettist) is the author of three novels and numerous short fictions. She lives in New York City with her husband and two children. Ms. De Voe founded Pen Parentis, a membership organization that provides resources to authors who are also parents. The organization hosts an annual Writing Fellowship for New Parents and runs a popular reading series in Manhattan called the Pen Parentis Literary Salons. She has also appeared in many plays including The Marriage of Bette and Boo, A Lie of the Mind, Baby with the Bathwater and The Heidi Chronicles (as the title role). An AFTRA and EQUITY member, she does voiceover work in both Lithuanian and English.