Contribute
Your support helps us cover dance in New York City and beyond! Donate now.
Rosie Herrera Dance Theatre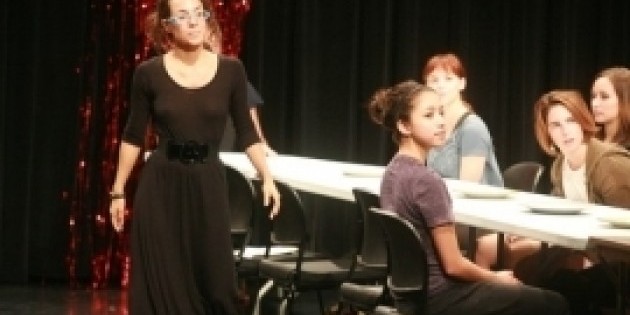 'Dining Alone' at BAC, Apr 18-19, 7:30pm
Baryshnikov Arts Center, American Dance Festival,
and Adrienne Arsht Center for the
Performing Arts of Miami Present
Rosie Herrera Dance Theatre
Dining Alone
(N.Y. Premiere)
April 18-19, 2013
New York, NY, March 15, 2013 — The Baryshnikov Arts Center (BAC) is pleased to announce performances by Rosie Herrera Dance Theatre on April 18 and 19, Thursday and Friday at 7:30pm in BAC's Howard Gilman Performance Space. The Miami-based company recently made its New York debut at the 2013 FOCUS dance festival. With support from American Dance Festival and the Adrienne Arsht Center for the Performing Arts of Miami-Dade County, the company returns to perform at BAC the New York Premiere of Dining Alone, na immersive dance theater work drawing from the drama associated with food and the dining experience.
Rosie Herrera stepped onto the national dance stage in July 2009 at American Dance Festival (ADF) with performance of her first evening-length dance theater work, a commission by Miami Light Project and the Adrienne Arsht Center for Here & Now: 2009. For the up-and-coming choreographer and director, this important performance opportunity led to two additional ADF and Arsht commissions, including Dining Alone—works that have earned Herrera praise as "one of the brightest, most original choreographic talents to emerge from Miami" (The MiamiHerald). A Florida native of Cuban descent, Herrera began her performance career as a cabaret dancer working in a nightclub in Miami's Little Havana, and as a hip-hop dancer in concerts and music videos for various hip-hop and Latin artists. While earning her B.F.A. in Dance Performance at the New World School of the Arts, Herrera performed with a hybrid cabaret performance group called Circ X and trained as a classical opera singer. Drawing from her eclectic performance experiences, combined with her formal education, Herrera has developed distinctive choreographic voice blending movement, music, and theatricality.
"Ms. Herrera is a woman of ideas who draws from cultures, experiences, and training not necessarily commonly are presented in New York," said BAC Artistic Director Mikhail Baryshnikov, who was introduced to Herrera's work by ADF. "Miami is so rich culturally, yet we see little contemporary dance emerging from that region. The performances at BAC will provide an opportunity for New Yorkers to connect with a young and adventurous artist from that part of the country." Herrera's multidisciplinary approach is executed by a group of performers mostly based in Miami who also come from diverse artistic and cultural backgrounds. Her darkly comedic works highlight the subtle ironies in emotional themes, which take shape in a narrative structure. In Dining Alone, a dynamic ensemble performs to music including live performances by a pianist and an opera singer. A series of surreal scenes unfolds incorporating food as a metaphor for loneliness and longing for human connection. An exploration of age, fragility, and isolation, Dining Alone amplifies the bittersweet, private moments of the dining experience with wit and sincerity.
Dining Alone is performed by Octavio Campos, Ivonne Batanero, Leah Verier Dunn, Liony Garcia,a Katie Stirman, Raymond Storms, and Melissa Toogood. Lighting design is by David Ferri. The New York Premiere of Rosie Herrera's Dining Alone will be performed Thursday and Friday, April 18 and 19 at 7:30pm at the Baryshnikov Arts Center's Howard Gilman Performance Space, located at 450 W. 37th Street between 9th and 10th Avenues. Tickets are 0 and can be purchased at
BACNYC.ORG
or 866-811-4111