SALARYMAN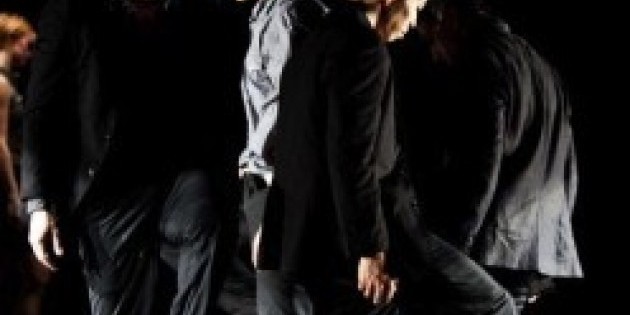 Company:
TAKE Dance Company
TAKE Dance Celebrates the Highly-Anticipated Return of its Popular Evening-Length Production of SALARYMAN
An Enchanting Portrayal of Japan's Culture
http://www.takedance.org/takedance/htdocs/salaryman_video.html
What:TAKE Dance presentsSALARYMAN
When:Wednesday, Feb 8 – Saturday, Feb 11 at 7:30PM
Where:Nagelberg Theater atBaruch Performing Arts Center, 55 Lexington Avenue (25thStreet between Lexington & 3rdAvenue),
Train 6 to 23rdStreet
Tickets:0/5 Students & Seniors. To purchase tickets, call 866.811.4111 or visitwww.baruch.cuny.edu/bpac/calendar
Media Contact:April Thibeault, AMT PR, 212.861.0990,april@amtpublicrelations.com

"mesmerizing… utterly otherworldly"– Backstage

New York City, NY (For Release 1/9/12)–TAKE Dance,the New York City-based contemporary dance troupe led by Artistic Director/Founder Takehiro Ueyama, welcomes back a fan favorite - the evening-length production ofSALARYMAN. After much praise following its 2011 sold-out premiere at Dance Theater Workshop, TAKE Dance reintroducesSALARYMANto New York audiences over a span of four nights (Feb 8-11) at Baruch Performing Arts Center.
Casting a spotlight on Japan's collectivist business culture,SALARYMANtakes audiences through a "day in the life" of over-worked Japanese executives, aka "salarymen" (a term often used for Japanese corporate workers). Choreographed by Ueyama, the piece exemplifies hisEast-meets-West style which theNew York Timeshas described as "a bold tribute to modernity, with just enough originality."
Based on intimate interviews between Ueyama (a native of Tokyo) and varying residents of Tokyo,SALARYMANdepicts Japanese workers' responsibilities, pressures, and emotions through multiple storylines performed by a cast of 11 dancers. Known for having a penchant for multi-media collaboration,Ueyama works closely with two fellow Japanese artists: filmmaker Yuko Takebe and set designer Yukinobu Okazaki.
Inspired by the eponymous song by Japanese rock singer Kiyoshiro Imawano,SALARYMANis set to the ambient sounds of metropolis Tokyo, metronomes, and contemporary works by Michael Gordon and Eve Beglarian, to name a few. "A series of vignettes, handsomely lit and powerfully danced, (depicting) the rat race of modern-day life. The inspiration may come from Japan but the images are universal." (Oberon's Grove Blog)
About TAKE Dance
TAKE Danceis a NYC-based contemporary dance company that explores the integration of expressive and physical movement. Artistic Director Takehiro Ueyama graduated from the Juilliard School before joining the Paul Taylor Dance Company. After eight years touring with the Taylor Company, Take founded TAKE Dance. TAKE Dance has performed in New York at Central Park SummerStage, Joyce SoHo, Dance Theater Workshop, Columbia University's Miller Theater, Judson Memorial Church, The Ailey Citigroup Theater,Cunningham Studio, Joe's Pub and The Thalia Theater at Symphony Space; and, at PS/21 in Chatham, NY for four consecutive seasons. In November 2011, TAKE Dance performed in Italy as featured artists in the Festival Internazionale Nuova Danza of Calgari, Sarnidia. Other festival appearances have included Jacob's Pillow Dance Festival, Downtown Dance Festival, WestFest Dance Festival, DanceNOW [NYC], National Cherry Blossom Festival in Washington DC, SaratogaArtsFest, and San Francisco's WestWave Dance Festival. Additional venues include Dance Place in Washington DC, The Lewis Center at Princeton University, New Noises Festival at Perry-Mansfield in Colorado, Kaatsbaan International Dance Festival, and Nort Maar Fete de Danse. TAKE Dance was recently company-in-residence at Skidmore College, University at Albany, and Randolph College.www.takedance.org
TAKE Dance PresentsSALARYMAN
Choreographer:Takehiro Ueyama
Assistant Choreographer:Jill Echo
Co-creator, visual + sound:Yuko Takebe
Dancers:Kristen Arnold, Brynt Beitman, Jill Echo, John Eirich, Kile Hotchkiss, Gina Ianni, Clinton Edward Martin, Lynda Senisi, Nana Tsuda Misko, Takehiro Ueyama + Marie Zvosec
Music:Joy Askew, Aun, Eve Beglarian, Michael Gordon, George Frideric Handel, Sayuri Ishikawa, Ana Milosavljevic, Eiji Miyoshi, Boban Markovic Orkestar + RC Succession
Musician:Ana Milosavljevic (violin)
Costume Design:Takehiro Ueyama and Dancers
Lighting Design:Jason Jeunnette
Set Design:Yukinobu Okazaki
Film:Tomoyuki Morioka (video), Yuko Takebe (director) + Atsushi Takaoka (lighting)