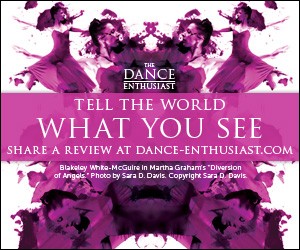 SARA DU|JOUR
Company:
Triskelion Arts
Brooklyn, NY: Don your topknot and join Triskelion Arts as we present Jordan Isadore and Nicole Bridgens as SARA DU|JOUR. Armed with her un-unique style, and a fierce eye for the now and next, SARA has blasted onto the contemporary dance scene remixing dance history and pop culture. She now invites you to immerse yourself in her internet landscape for the New York debut of SARA DU|JOUR: LIVE IN 3D. This user-friendly show will have you following SARA down the rabbit hole as she stumbles through YouTube and shares her Pinterests. Just when you thought the World Wide Web was wide enough, SARA stretches it further. Find out more at SARADUJOUR.COM.
Jordan Isadore is a dancer/choreographer originally from Northern California and received his B.F.A. in Dance from California State University Long Beach in 2009. Jordan has since worked with Los Angeles company BodyTraffic, performing works by Barak Marshall, Alex Ketley, as well as Guy and Roni. Since relocating to New York in 2011 he's performed with Shen Wei Dance Arts, Christopher Williams, Andrea Miller of Gallim Dance, Skybetter and Associates, and Jennifer Edwards.
Hailing from Johannesburg, South Africa, Nicole Bridgens has been teaching, performing and creating new works throughout California and South Africa. Nicole received her B.A. in Dance from California State University, Long Beach. While there, her choreography was chosen to represent CSULB at the American College Dance Festival, and later commissioned to be re-stage for Utah Valley University. Nicole participated in the Choreographic Residency program at San Francisco Conservatory of Dance and has also studied in Tel Aviv, Israel with Batsheva Dance Company. Her work has been shown in New York at the Young Choreographers Festival, in San Francisco at West Wave Dance Festivals, and at The Garage as part of their Resident Artist Workshop (RAW).
Bridgens and Isadore are creators and editors of the blog, SARADUJOUR.COM.

All shows @ 8pm in the Aldous Theater
Triskelion Arts, 118 North 11th Street, 3rd Floor, Brooklyn, NY 11249
Tickets: 5 general admission
For more information, visit www.triskelionarts.org.