SARATOGA SPRINGS, NY: Opera Saratoga's 2017 Summer Program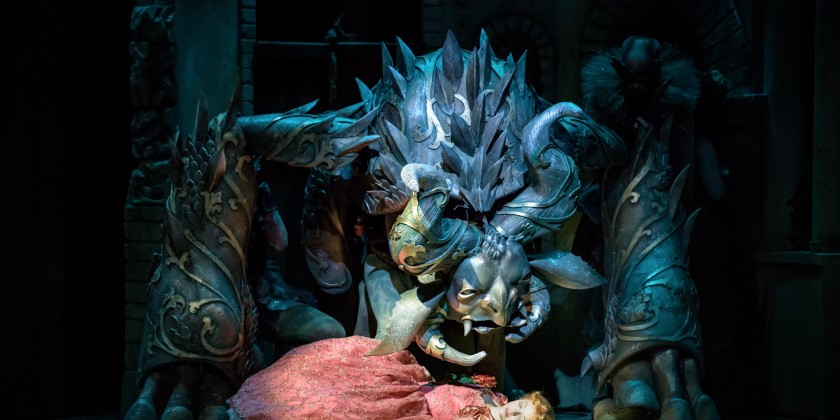 Company:
Opera Saratoga

OPERA SARATOGA ANNOUNCES
COMPLETE CASTING 
AND FULL PROGRAM FOR 
2017 SUMMER FESTIVAL PROGRAM

Falstaff
Music by Giuseppe Verdi Libretto by Arrigo Boito
New Production: Directed by Chuck Hudson; Conducted by Craig Kier
Featuring: Caroline Worra, Emily Tweedy, Vera Savage, Lindsay Ammann, Dominick Corbacio,
Michael Chioldi, and Craig Colclough
July 1 - 15, 2017
 
Zémire et Azor (Beauty and the Beast)
Music by André Grétry; Libretto by Jean François Marmontel
New Production: Directed by James Ortiz; Conducted by Lidiya Yankovskaya
Featuring: Maureen McKay, Lisa Rogali, Katherine Maysek,
Andrew Bidlack, Keith Jameson and Christopher Burchett
July 2 - 14, 2017
 
The Cradle Will Rock
Music and Libretto by Marc Blitzstein
Directed and Choreographed by Lawrence Edelson; Conducted by John Mauceri
Featuring: Ginger Costa-Jackson, Audrey Babcock, Keith Jameson,
Christopher Burchett, Justin Hopkins and Matt Boehler
July 9 - 16, 2017
 
Saratoga Springs, NY - Opera Saratoga's Artistic and General Director Lawrence Edelson announced today complete casting for the three exciting new productions that will comprise the company's 2017 Summer Festival, which will build on the company's commitment to producing masterpieces from the operatic cannon, important American works, and works in which dance plays an integral role. In addition, a wide variety of free and ticketed concert events will be presented from May 28th through July 16th at venues throughout the region.
 
At the center of the 2017 Summer Festival will be a new production of Marc Blitzstein's The Cradle Will Rock, directed and choreographed by Edelson, and conducted by noted Maestro John Mauceri (company debut), who has been responsible for many significant operatic restorations, including Blitzstein's Regina.  The Cradle Will Rock has been almost exclusively produced with piano since its infamous opening night, which was shut down by the Federal Government in 1937. Both an attack on the abuse of political power by the wealthy and a paean to labor and poor people struggling to get by, "Cradle" is as timely now as it was when it premiered in 1937. Opera Saratoga celebrates the 80th Anniversary of Blitzstein's revolutionary American labor opera in a new production that will be performed with Blitzstein's original orchestrations - the first such performances since the 1960 production at New York City Opera.  Featured artists include mezzo soprano Ginger Costa-Jackson  (company debut) as Moll; bass Matt Boehler (company debut) as Mr. Mister; mezzo soprano Audrey Babcock as Mrs. Mister; tenor Keith Jameson (company debut) as Harry Druggist; baritone Christopher Burchett as Larry Foreman; and bass baritone Justin Hopkins as Reverend Salvation. 
 
The first opera production of the season will open on July 1st with Verdi's comic masterpiece, Falstaff, which has not been seen at Opera Saratoga in 26 years. The production will be directed by Chuck Hudson, and will be conducted by Craig Kier (company debut). Featured singers will include bass baritone Craig Colclough (company debut), one of the country's leading interpreters of Falstaff; soprano Caroline Worra in her role debut as Alice Ford; soprano Emily Tweedy (company debut) as Nannetta; mezzo soprano Vera Savage as Meg Page; contralto Lindsay Ammann (company debut) as Dame Quickly; Dominick Corbacio as Fenton; and baritone Michael Chioldi (company debut) as Ford.
 
Rounding out the season will be André Grétry's Zémire et Azor (Beauty and the Beast), directed by James Ortiz (company debut), whose recent critically acclaimed production of The Woodsman was a sensation off-Broadway. Grétry's 1771 opera-ballet - a favorite of Mozart - will incorporate both dance and Ortiz's signature use of puppetry in his opera-directing debut. The production will be conducted by Lidiya Yankovskaya (company debut), and choreographed by Jill Echo (company debut). The cast will feature soprano Maureen McKay (company debut) and tenor Andrew Bidlack (company debut) in the title roles; with soprano Lisa Rogali (company debut) as Fatmé; mezzo soprano Katherine Maysek (company debut) as Lisbé; tenor Keith Jameson as Ali and baritone Christopher Burchett as Sander.
 
In making the announcement today, Edelson reflected on the power of opera to tell vivid and compelling stories through music in very different ways. "The Cradle Will Rock is an incredibly powerful work that I feel has been unjustly neglected by opera companies. It's edgy combination of social commentary and popular culture of the time has influenced writers and works from Leonard Bernstein's On the Town to Lin-Manuel Miranda's Hamilton.  While 'Cradle' has understandably become a favorite of theater companies due to the ability to perform it with just piano, Blitzstein's original orchestration is exhilarating and deserves to be heard. We have put together a cast of some of the country's most exciting singers to provide a fresh look at this American masterpiece that takes on particular resonance in light of the political climate in which we are living in today.
 
"Alongside 'Cradle' we will be presenting Grétry's enchanting version of Beauty and the Beast, which builds on our commitment to present works that incorporate dance each season;and one of the greatest works in the operatic repertoire, Verdi's Falstaff.   In addition to our three opera productions, Opera Saratoga will present a wide variety of free and ticketed concerts throughout the season, including a celebration of the music of Marc Blitzstein; a Gilbert & Sullivan Cabaret; a concert featuring scenes from the final operas by beloved composers from throughout history; and a retrospective of Broadway music from the 1930s. It is season that will showcase incredible music, phenomenal singing, and riveting theater - performed by preeminent artists from the world's great opera houses alongside some of the most exciting emerging artists in the country - providing local audiences and visitors to Saratoga Springs alike with extraordinary experiences in our intimate theater in Saratoga Spa State Park."
 
Subscriptions for the 2017 Summer Festival are on sale now at www.operasaratoga.org.  Single tickets for the 2017 Summer Festival will go on sale February 15th, 2017.

 
COMPLETE CASTING AND SCHEDULE BY PRODUCTION
 
FALSTAFF (1893)
Music by Giuseppe Verdi; Libretto by Arrigo Boito
Sung in Italian with English Supertitles
 
SAT        THU      MON      SAT
JULY   1     /   6    /  10   /  15
7:30pm   7:30pm   2:00pm   2:00pm
 
 
A man of many appetites, the lecherous Falstaff can't resist his favorite vices: food, wine, and women - and not necessarily in that order! Suddenly finding himself broke, he hatches a plot to cure his woes - he sends identical love letters to two married women to get his hands on their wealthy husbands' money. But Falstaff doesn't bank on getting caught, and with the help of some 'merry wives', husbands and supernatural creatures, he gets his due and finds out the joke is on him. Bass-baritone Craig Colclough makes his Opera Saratoga debut with his interpretation of Falstaff, "creating a multi-faceted musical and comical character with an overwhelming sense of fun." - Washington Post
 
Conductor: Craig Kier
Director: Chuck Hudson
Scenic Designer: Martin T. Lopez
Costume Designer: CeCe Sickler
Lighting Designer: Brandon Stirling Baker
 
Sir John Falstaff: Craig Colclough
Alice Ford: Caroline Worra
Ford: Michael Chioldi
Nanetta: Emily Tweedy*
Fenton: Dominick Corbacio+
Dame Quickly: Lindsay Ammann
Meg Page: Vera Savage+
Dr. Caius: Max Jacob Zander*
Bardolfo: Michael Anderson*
Pistola: Jorgeandrés Camargo*
 
* Members of Opera Saratoga's Young Artist Program
+ Alumni of Opera Saratoga's Young Artist Program
 
 
BEAUTY AND THE BEAST / ZÉMIRE ET AZOR (1771)
Music by André Grétry; Libretto by Libretto by Jean François Marmontel
Sung in French with English Supertitles
SUN          SAT       FRI
JULY   2     /    8    /  14  
7:30pm     2:00pm     2:00pm
 
Once upon a time, the merchant Sander and his servant Ali are shipwrecked in a storm and find themselves outside an enchanted palace. When Sander plucks a rose from the palace garden to give to his daughter Zémire, the beast-like Azor appears, demanding that Sander pay with his life for stealing the rose, unless he can persuade one of his daughters to take his place. When she hears what has happened, Zémire agrees to sacrifice her life for her father and Ali brings her to the palace, where she almost faints at the sight of Azor. But Azor proves to be a kind host, and Zémire begins to see beyond his terrifying exterior.  One of the earliest operatic adaptations of the classic story of Beauty and the Beast, Zémire et Azor combines beautiful melodies with enchanting dance music in a fairy-tale for audiences of all ages. Opera Saratoga's new production will be directed by James Ortiz, whose innovative use of elaborate puppetry has been compared to the legendary Jim Henson.
 
Conductor: Lidiya Yankovskaya
Director: James Ortiz
Choreographer: Jill Echo
Scenic and Puppet Designer: James Ortiz
Costume Designer: Shima Orans
Lighting Designer: Brandon Stirling Baker

A Co-Production with Skylight Music Theatre, Milwaukee, WI
 
Zémire: Maureen McKay
Azor: Andrew Bidlack
Sander: Christopher Burchett
Ali: Keith Jameson
Fatmé: Lisa Rogali*
Lisbé:  Katherine Maysek*
 
* Members of Opera Saratoga's Young Artist Program
 
THE CRADLE WILL ROCK (1937)
Music, Book and Lyrics by Marc Blitzstein
Performed in English
 
SUN           TUE        THU       SUN
JULY   9     /    11   /  13   /  16
7:30pm     2:00pm    7:30pm    2:00pm
 
In Steeltown, USA, everything and everyone can be bought - at least that's what Mr. Mister thinks. The greedy businessman uses his wallet to control anyone he wants, including the local newspaper editor, preacher, university president, doctor... even the artists! But Larry Foreman's efforts to unionize local workers threatens to rock the cradle and shift the balance of power out of Mr. Mister's control.  An allegory on corruption and corporate greed both timely and timeless, The Cradle Will Rock's biting humor and brazenness is as impactful now as it was when it premiered in 1937. Blitzstein's eclectic, jazzy score is a propulsive mix of classical parody, popular melodies, and dramatic ensemble numbers, with a smoky flavor redolent of Kurt Weill - but all-American in its raw energy and urgency.
 
Conductor: John Mauceri
Director and Choreographer: Lawrence Edelson
Scenic Designer: Martin T. Lopez
Costume Designer: Anya Klepikov
Lighting Designer: Brandon Stirling Baker
 
Moll: Ginger Costa Jackson
Mr. Mister: Matt Boehler
Mrs. Mister: Audrey Babcock
Larry Foreman: Christopher Burchett
Harry Druggist: Keith Jameson
Junior Mister: Spencer Viator*
Sister Mister: Heather Jones*
Reverend Salvation: Justin Hopkins
Editor Daily: Brian Wallin*
Yasha: John Tibbetts*
Dauber: Scott Purcell*
Doctor Specialist: Jorgeandrés Camargo*
President Prexy: Eric McConnell*
Professor Mamie: Adam Bradley*
Professor Scoot / Steve: Miles Herr*
Professor Trixie/Gus Pollock: Michael Anderson*
Sadie Pollock: Meghan Kasanders*
Ella Hammer: Nina Spinner*
Gent/Bugs: Andy Papas*
Dick: Efraín Solís
Cop: Dylan Elza*
 
* Members of Opera Saratoga's Young Artist Program
 
FREE CONCERTS
 
STARS OF TOMORROW
Saturday, May 27, 7:30pm
Free Concert
Filene Recital Hall at Skidmore College
815 North Broadway, Saratoga Springs, NY
 
The season begins with Opera Saratoga's third annual Stars of Tomorrow Concert - featuring 24 singers from around the country who have been selected from almost 1,000 applicants to be members of Opera Saratoga's prestigious Young Artist Program. Presented in partnership with Skidmore College.  
 
SWAN SONGS
Saturday, June 3, 2:00pm
Free Concert
The Dee Sarno Theater at Saratoga Arts
320 Broadway, Saratoga Springs, NY
 
What do Mozart's Die Zauberflöte, Rossini's Guillaume Tell, Puccini's Turandot. and Bizet's Carmen have in common with Verdi's Falstaff? They were the final operas - the swan songs - of some of the world's most beloved composers. This free concert will feature arias and ensembles from the final operas by composers from Monteverdi to Richard Strauss! Presented in partnership with Saratoga Arts.
 
MARC BLITZSTEIN - A LIFE IN SONG
Friday, June 16, 7:30pm
Free Concert
GE Theatre at Proctors
432 State Street, Schenectady, NY
 
Born in Philadelphia in 1905, Marc Blitzstein achieved nearly overnight notoriety with his 1937 agitprop musical theater work, The Cradle Will Rock. At the time of his unexpected and tragic death in 1964, much of his work was left unfinished and unpublished, leaving behind a legacy that has been largely overlooked in the ensuing decades. On the evening of the 80th Anniversary of the legendary world-premiere of The Cradle Will Rock, Opera Saratoga presents an evening of song by Marc Blitzstein, curated and hosted by bass-baritone Justin Hopkins. The program will include excerpts from Blitzstein's theatrical and operatic works - including The Cradle Will Rock, I've Got the Tune, Juno, No for an Answer, and Regina - as well as lesser known songs that chronicle the life of one of America's most influential composers. Presented in partnership with Proctors. 
 
 
TICKETED EVENTS

WAND'RING MINSTRELS - A GILBERT AND SULLIVAN CABARET
Sunday, June 11, 2pm and 7:30pm
Ticketed Event (Tickets: $60; Subscribers: $54)
The Carriage House at The Mansion Inn
801 Route 29, Rock City Falls, NY
(10 minutes from downtown Saratoga Springs)
 
The Victorian era partnership of W.S. Gilbert and Arthur Sullivan brought the world fourteen of the most beloved operettas of all time. Join Opera Saratoga's "wand'ring minstrels' for a topsy-turvy cabaret where fairies rub elbows with British lords, flirting is a capital offense, gondoliers ascend to the monarchy, and pirates emerge as noblemen who have gone astray. Seating is general admission, at cabaret style tables, and is strictly limited for these two concerts. G&S inspired tapas and drinks - specially concocted by The Mansion Inn's Cordon Bleu trained Executive Chef Rick Bieber - will be available for purchase. Presented in partnership with The Mansion Inn. 
 
BROADWAY IN THE 1930s
Friday, July 14, 7:30pm
Ticketed Event (Tickets: $80/$60/$40; Subscribers: $72/$54/$36)
The Spa Little Theater
21 Roosevelt Drive, Saratoga Springs, NY
 
The '30s were extraordinary years on Broadway, where jazz, classical and popular music intertwined to create some of the most memorable and beloved shows of the 20th century - as well as some fascinating musicals that have been lost to time, but deserve to be better known. Gershwin's Girl Crazy, Of Thee I Sing, and Porgy and Bess; Cole Porter's Gay Divorce, Nymph Errant, Anything Goes and Red, Hot and Blue; Rodgers's Jumbo, On Your Toes, Babes in Arms, and The Boys from Syracuse, Weill's Johnny Johnson and Knickerbocker Holiday; and of course, Blitzstein's The Cradle Will Rock, were all products of this incredible decade on the Great White Way. Members of Opera Saratoga's acclaimed Young Artist Program will be featured in this evening of music that defined a decade and forever changed the course of American musical theater and opera.
 
Share Your Audience Review. Your Words Are Valuable to Dance.
Are you going to see this show, or have you seen it? Share "your" review here on The Dance Enthusiast. Your words are valuable. They help artists, educate audiences, and support the dance field in general. There is no need to be a professional critic. Just click through to our Audience Review Section and you will have the option to write free-form, or answer our helpful Enthusiast Review Questionnaire, or if you feel creative, even write a haiku review. So join the conversation.