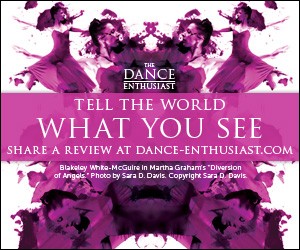 SOAKING WET: Works by Maura Nguyen Donohue, Garnet Henderson, Deborah Lohse, Zoe Rabinowitz, Catherine Tharin
Company:
The Bang Group
Soaking WET
              Works by Maura Nguyen Donohue, Garnet Henderson, Deborah Lohse,
Zoe Rabinowitz, Catherine Tharin
                            

Performances May 21-24 (Thursday/Friday/Saturday at 8 PM; Sunday at 2 PM)
West End Theater, 263 West 86th Street (2nd floor of Church, corner 86th Street & West End)
Tickets: $18
Reservations: 1.800.838.3006 or www.brownpapertickets.com


The Soaking WET series, at West End Theater, returns with a full program of dance expressions by five cutting-edge dancemakers: Maura Nguyen Donohue, Garnet Henderson, Deborah Lohse, Zoe Rabinowitz, and Catherine Tharin, Thursday-Sunday, May 21-24  (Thursday/Friday/Saturday at 8 PM; Sunday at 2 PM).  The innovative Women in Motion (WiM), curated by performance David Parker, has commissioned works by Donohue, Lohse and Rabinowitz.   Soaking WET series welcomes back guests Henderson and Tharin, after their recent successful showings.  

MAURA NGUYEN DONOHUE/inmixed company will perform The Tides Project: North Pacific Gyre (aka "trash vortex"), a scored, improvisational work by Donohue, composer Adam Cuthbert, shakuhachi player Perry Yung, visual artist David Gonville, video artist Lynn Thu Tun, and dancers Kristina Dobosz, Graziella Murdocca, Gilbert Reyes, Max Siegling, and special guest Wang Chou Yeh.  The trash vortex continues Donohue's "Tides Project" investigation of oceanographic phenomena by constructing a constant current of movement circling the audience, which finds itself located in the still center of swelling forces. 

Donohue has been making dance-based performance works in NYC for twenty years.  From 1995-2004, her work was regularly produced by Dance Theater Workshop.   Recently, her work has been presented by Roulette, LaMaMa E.T.C, Danspace Project, Soaking WET and more, and has toured across the U.S. and to Canada, Europe and Asia.   She is a professor in dance at Hunter College and serves on the Artist Advisory Committee for Movement Research and on the "Bessies" Committee.   She loves the ocean and hopes her two children will still have a functioning one in the future.

GARNET HENDERSON will present Don't Lean on Me, which navigates the intricacies and ambiguities of one-on-one interaction.   As the dance becomes progressively more adventurous and complex, so, too, does the emotional relationship between dancers Henderson and Rebecca Hadley.  The duet premiered last February and was described by Christine Jowers as "the picture of ease and no-nonsense eloquence.  We savor the choreographic language as it shifts from conversations of falling weight, to those of spritely steps, to those of directional zig zags, and so on - feels refreshing."   (dance-enthusiast, February 12, 2015)

Henderson, a native of Jackson Hole, Wyoming, graduated cum laude in 2013 from Columbia U, where she danced in works by  David Parker, Faye Driscoll, Kyle Abraham, and more.  Since graduating, she has worked with Mark Dendy and Julie Cunningham, and her own work has been shown in Paris and NYC venues.

DEBORAH LOHSE: choreographed and performed by TruDee (Lohse's alter ego,) Dances for Lovers is a sharing of dance stories of those TruDee has loved, flings she has had, and her never-ending search for the next one to whom she can give her heart (maybe someone in the audience that night!).  Told through dance, amateur yet enthusiastic singing, and over-dramatic theatrical devices, TruDee encourages everyone to take a chance and open their hearts just one more time.

Californian Deborah Lohse is a choreographer/dancer/performer.    Her work has been presented across the U.S., including Joe's Pub, West End Theater and Brookfield Place's Winter Garden.   Deborah has received commissions from Women in Motion, Mantra Percussion, Dancenow NYC and Island Moving Company as well as artist residencies from The Yard, Marble House Project and SILO. 

ZOE RABINOWITZ will perform, with Lena Lauer, the premiere of be-seek-let, a duet for two dancers and two bicycles that examines bodies and bicycles as objects and machines of beauty, power, and precision.   The piece investigates the relationship between human and apparatus in a world that blurs the line between animate and inorganic.   be-seek-let is set to an original score by Galen Bremer, with sound derived from field recordings, modular synthesis, and tape manipulations which mimic the mechanics of a bicycle.

Vermont native Rabinowitz graduated from the Walnut Hill School of the Arts before earning her BFA in Dance from Ailey/Fordham, with additional studies in Holland and Conakry, Guinea.  She has performed with numerous companies, including Urban Bush Women and JoAnna Mendl Shaw/Equus Projects, and is a founding member and Associate Artistic Director of Yaa Samar! Dance Theatre, based in New York and Palestine since 2005.

CATHERINE THARIN will premiere Twice,  for two women with music repeated two times.  The sly, itchy duet plays with the sometimes fraught, sometimes affectionate relationship between sisters.

Tharin performed with the Erick Hawkins Dance Company from 1989 to 1994, and while her movement stems from Hawkins' principles, her style is distinctly her own.   Tharin has taught internationally and currently teaches at the 92nd St. Y, where she is also co-curator of the Y's Fridays at Noon Series.

WOMEN IN MOTION celebrates the work of female choreographers.   WiM commissions new work from a selected group of artists each year and supports them in every step of the process of creation and performance.  WiM has produced a diverse group of over 67 dance artists in its 14 years, and the list of once-emerging, now-established artists goes on.   Our artists come from diverse backgrounds and the work they create is rich and varied, showing influences from theater, puppetry, mask work and performance art.  Since 2012, Women in Motion has been hosting quarterly salons presented in non-traditional performance spaces throughout the city, offering female artists the opportunity to show work-in-progress in a supportive, intimate setting, intended to create a dialogue between artist and audience.

Works by Donohue and Rabinowitz have both been developed with the support of a 2015 Manhattan Community Arts Fund grant from the LMCC and the NYC Department of Cultural Affairs, and a space grant from the Hunter College Dance Program.