STEELEDANCE's 20th Anniversary Season featuring the premiere of "Devastating Beauty"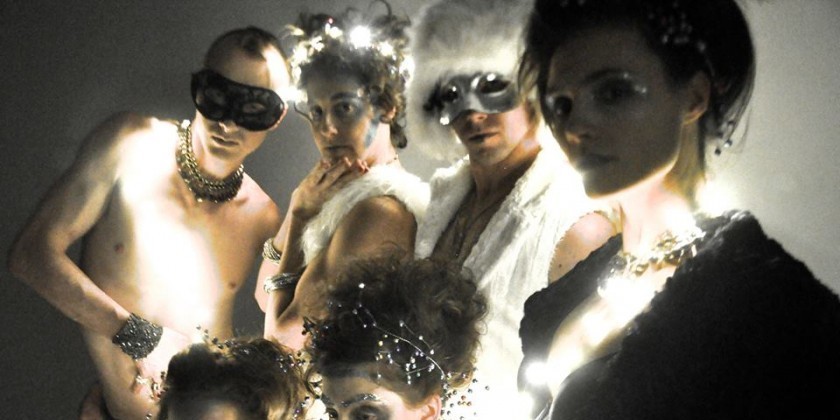 Company:
STEELEDANCE
STEELEDANCE
20TH Anniversary Season
featuring the premiere of Devastating Beauty
May 2,9,10 at the Salvatore Capezio Theater
New York, NY, April 13, 2015--- Steeledance's 20th anniversary culminates in a world premiere, Devastating Beauty, Teri Lee Steele and Oliver Steele's new work. Featuring current steeledancers as well as veteran cast members and new talent – 20 years – 20 dancers.
Steeledance's Devastating Beauty explores themes on human relationships and how people and society relate to and interpret the concept of beauty. This work takes on new challenges for the Steeles as they develop the role of fabric in the work. The fabric layers the vision with a unique tactile component from exorbitant costumes built onto the dancers onstage, to flowing large pieces used to create separate spaces. In this work, the Steele's liken fabric to the skin of one as they age--the perceptions of beauty, the acceptance or defiance of age and the changes it brings. Teri and Oliver explore what it means to maintain and refine beauty in movement as one matures. They play with and discover the idea of forcing oneself into an image not genuine but rather what others want to see or will accept.  
The evening length work features widely recognizable classical music layered with techno undertones mixed by German dj, DJ Heinz, costumes by Nadia Tarr, fashion designer of Butter by Nadia, and lighting design by Brant Murray.
Steeledance dancers are: Zoë Blake, Hollis Bartlett, Jake Bone, Carolyn Cryer, Chris Coates, Meredith Fages, Marc Mann, Amber Morgan, Donnell Oakley, Tamora Petitt-Hendry, Yarden Raz, Jordan Risdon, Alex Dean Speedie, Elizabeth Steele, Oliver Steele, Teri Lee Steele, Natalie Trogdon, Michael Wright, and Leslie Ziff.
Performances will take place at the Salvatore Capezio Theater, May 2, May 9,10 (Saturday May 2: 7pm, Saturday May 9: 8pm, Sunday May 10: 3pm and 7pm). The Salvatore Capezio Theater is located at 126 East 13th Street (between 3rd and 4th Avenue) New York, NY 10003. Tickets can be purchased at http://www.brownpapertickets.com/event/1425933
ABOUT THE COMPANY
Steeledance was founded in 1995 to showcase the unique and imaginative choreography of Teri Lee Steele and Oliver Steele. Together they have self-produced, co-choreographed, directed and performed several full-length concerts in New York City. Today the company is comprised of an array of exquisite dancers who are in high demand in the dance world and also perform with companies as Shen Wei Dance Arts, Heidi Latsky Dance, Doug Elkins Choreography, Sean Curran Company and many others. The Steele's work has been presented by and performed at DTW's Bessie Schonberg Theater, St. Marks Church with Dancers Responding to Aids "The Remember Project", the French Institute, the Agnes Demille Theater at NCSA, the Patricia Nanon Theatre at The Yard, the Tribeca Performing Arts Center, the Battery Dance Company in their Downtown Dance Festival, the Cunningham Studio, the Evolving Arts Theater at Dance Space, the Master's School in Dobbs Ferry as well as Steps' Faculty Showcase, SWEAT and the Elizabeth Pape Memorial Concert. Their choreography has been commissioned by North Carolina School of the Arts, Joyce Soho presents, In the Company of Men 2004, DNA's Gene Pool and the Tappan Zee Dance Group.
LEAD ARTIST BIOS
Teri Lee Steele, born and raised in Los Angeles, has been dancing since she was three years old and graduated from the University of California at Berkeley with a BA in Exercise Physiology. Oliver Steele, born in Romania and raised in Germany, began his dance training at the Iwanson Dance Center in Munich at the age of eighteen and moved to New York in 1992. 
The Steele's have both worked with Andrew Asnes, John Evans, Michael Foley, Milton Myers, Val Suarez, Ray Tadio, Fabrice Herault, David Storey, Nadia Tarr and Kevin Wynn. They have taught at the Julliard School, the University of Utah at Salt Lake City, Rutgers University, Hunter College, the University of California at Santa Barbara, North Carolina School of the Arts, Steps on Broadway, Abizaid Arts, Tappan Zee Dance School and internationally at the Iwanson Dance Center (Germany), Matsuyama University (Japan), Dance Camp Companie Champagne (Italy) and Ketsevhagoof Studio (Israel).
Press contact:
Ariel Lembeck | 847-650-0446 | ariel.artsmanager@gmail.com
Press kits, bios, and digital photos are available upon request