Contribute
Your support helps us cover dance in New York City and beyond! Donate now.
STRASCOURG, FRANCE: ++ MASTERCLASS with LOUISE LECAVALIER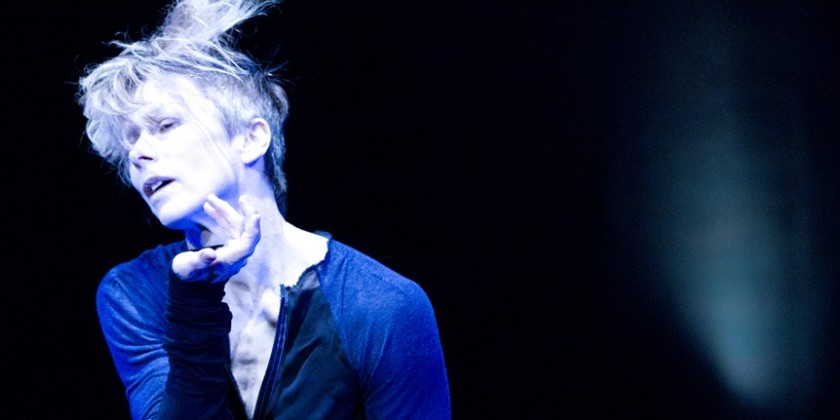 Company:
Ecole de Théâtre Physique
FRENCH:
En partenariat avec Pôle Sud- Centre de Développement Chorégraphique//Me 18 So Blue- jeudi 28 avril + Vendredi 29 à 20H30

Louise Lecavalier, danseuse égérie du grand chorégraphe canadien Edouard Lock, icône emblématique de sa célèbre compagnie La la la Human Steps, virtuose inoubliable dès les années 90 et aujourd'hui encore figure emblématique de la scène chorégraphique internationale, nous entrainera dans ce workshop au travers des principes et approches chorégraphiques de sa création « So Blue ».
Louise Lecavalier, danseuse et comme éternelle, emporte dans son tourbillon tout ce qui passe à sa portée. Sur les musiques de transe techno de Mercan Dede, elle se livre à un époustouflant duo. Avec So Blue, en chorégraphe, elle marie l'engagement absolu du corps et la précision des gestes. En interprète, elle donne toute la mesure à son partenaire. Une fascinante danse de l'excès.
À l'opposé de son image antérieure qui semblait défier les lois de la pesanteur, elle opérait tout en lenteur et déconstruction, avec une présence et une qualité de danse fascinante. Elle est aujourd'hui à nouveau transfigurée, surgissant telle une météorite, sur les sons et pulsations viscérales de Mercan Dede, musicien alchimiste qui fait tourner les derviches jusqu'à la transe.
Et c'est ainsi qu'elle entame l'espace, sur le tranchant des gestes. Périlleuse et sauvage, elle entre dans toute la démesure de sa danse, d'abord seule puis en duo avec son partenaire Frédéric Tavernini.
So Blue est un objet de jeu et de défi offrant un ciel de danses syncopées comme hallucinées.
Infos pratiques:
Sam 30 Avril 2016 de 11H à 13H (Stage de 2H) + Pièce Vendredi 29 Avril à 20h30 (Durée : 1H)
Tarifs/ 50€
Lieu : L' École de Théâtre Physique, 67000 Strasbourg/France
Tram arrêt Broglie ou République (centre)
Inscrivez-vous dès à présent via notre site : http://theatre-physique.com/so-blue-cie-fou-glorieux/
>> Pour + d'infos : 0033 3.69.31.40.69
>> Événement Facebook : https://www.facebook.com/events/779725155492159/
ENGLISH:

In partnership with South Pole Choreographic Development Centre 18 // I'm So Blue- Thursday, April 28 Friday 29 + 20H30

Louise Lecavalier, dancing muse of the great Canadian choreographer Edouard Lock, emblematic icon of the celebrated company La la la Human Step, unforgettable virtuoso from the 90s and still an emblematic figure of the international dance scene, will lead us in this workshop through choreographic principles and approaches of his " So Blue " creation.

Louise Lecavalier, dancer and as eternal, takes into her vortex whatever crosses her path. To the techno trance music of Mercan Dede, she engages in a stunning duet. With So Blue, with choreography, she marries absolute engagement of the body with the precision of gestures. In a nutshell, she gives all her measure to her partner. A fascinating dance of excess.
In contrast to her earlier image that seemed to defy the laws of gravity, she operates with slow deconstruction, with a fascinating presence and quality of dance. Today she has again transformed, appearing like a meteorite on the sounds and visceral pulse of Mercan Dede, musician alchemist who puts the dervishes into a trance.
And so it begins: on the edge of gestures. Dangerous and wild, she enters all the excesses of her dance, first in a solo and then in a duet with her partner Frederic Tavernini.  
So Blue is a game object and a challenge against a sky of syncopated dances like hallucinations.
Practical information:

Sat., April 30, 2016 from 11H to 13H (2H Stage) + Room Friday, April 29 at 20:30 (Duration: 1 H)
Rates / 50 €
Location: The School of Physical Theatre, 67000 Strasbourg / France
Tram stop or Broglie Republic (center)
Sign up now via our website: http://theatre-physique.com/so-blue-cie-fou-glorieux/
Facebook event: https://www.facebook.com/events/779725155492159/