STooPS WELCOMES LES NUBIANS as Culminating Performers!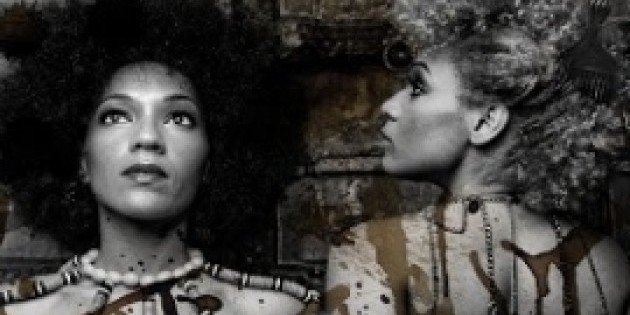 LES NUBIANS AFROPEAN REVOLUTION: THE SOUND OF A MULTICULTURAL NEW WORLD


STooPS
is excited to announce
the GRAMMY-NOMlNATED AFROPEAN SISTER DUO
LES NUBIANS will close our culminating performance

JUNE 23rd, 2013 at The FREEBROOK MANSION.
LES NUBIANS' AFROPEAN REVOLUTION:
THE SOUND OF A MULTICULTURAL NEW WORLD
Les Nubians has its genesis in a small town in the South West region of France where the Paris-born sisters Hélène and Célia Faussart lived as teenagers after returning from several years' residence with their parents in the African country of Chad. With a French father and a Cameroonian mother, Hélène and Célia experienced cultural dissonance in the rural Bordeaux region. After their father's death, Célia joined her sister in Bordeaux and they helped found a cultural collective, Les Nouveaux Griots, a "griot" being a traditional African storyteller and historian, all with the goal of increasing awareness of African and Urban cultures. A chance meeting with jazz legend Abbey Lincoln, who encouraged the sisters to sing, led to the formation of Les Nubians.
Their unique sound led to a recording deal with Virgin Records and in 1998 when their debut album, Princesses Nubiennes, a innovative mix of hip hop, neo soul and African music found an audience in America, "Makeda," the first single from Princesses Nubiennes became an urban radio hit. The video for "Makeda" garnered heavy rotation on BET and VH-1 Soul while a DJ Spinna re-mix generated strong club play. Characterized by a marriage between Sade and Erykah Badu, "Makeda" was the right sound at the right time. Massive media attention, successful tours and a Grammy nomination followed as well as nominations for two NAACP Image Awards and two Soul Train Lady Of Soul Awards; one of which Les Nubians took home as 1999's winner for Best New Artist Group or Duo.
From their latest album "Nü Revolution: Nü for New Universe, this new world as World Citizens that we are. In Revolution, in motion. In the word Revolution, there is Rêve which in French means Dreams. The Evolution of the Dream, of our Dream for a better world, a better Self. In Evolution, there's the evolution through Eve, the woman. We were princesses becoming Queens with Grace, Strength, Responsibilities, Unconditional Love and Care for our Community: The World, The Universe. Full Circle" –Les Nubians
For more information about these and other artists, stay tuned to http://www.stoopsbedstuy.org/culminating-artists.
THE EVENT
STooPS is a community-building event to be held on June 23, 2013
(rain date
June 30, 2013
)
where homeowners, artists, and businesses collaborate to bring the people of Bed-Stuy outside.
15 home and business owners will allow local artists to share interactive music, dance, spoken word, and much more on their STooPS, yards or sidewalks. STooPS will begin with an opening reception at The Freebrook Mansion. STooPS SightSeer Schedules listing all participating STooPS and performances will be available for purchase for 0. From Freebrook, community members will follow their SightSeer Schedules to witness art, enjoy the neighborhood, and get to know their community.
At 4:30pm, the audience will be invited to return to Freebrook for the 5pm culminating performance featuring Brooklyn based artists such as Ase Dance Theatre Collective, Millicent Johnnie, and Afro Mosaic Soul Dance Collective. Following the performance, the audience will migrate to the official After Party at Simplicity Wine Bar & Cafe.
STooPS is just one way to engage, support, and develop the Bed-Stuy community using the arts as our main tool.
The Bed-Stuy community is ever changing, so it takes more effort for this community to remain cohesive. Getting to know neighbors enables the community to realize the resources that currently exist, which makes room for sustainable and supportive partnerships to be built. At the same time, building and maintaining this strong community also makes the neighborhood safer and more attractive.
As STooPS expands, the entire Brooklyn community grows stronger.
For more information visit www.stoopsbedstuy.org