SUBMERGE @ BAX: VOICES UP!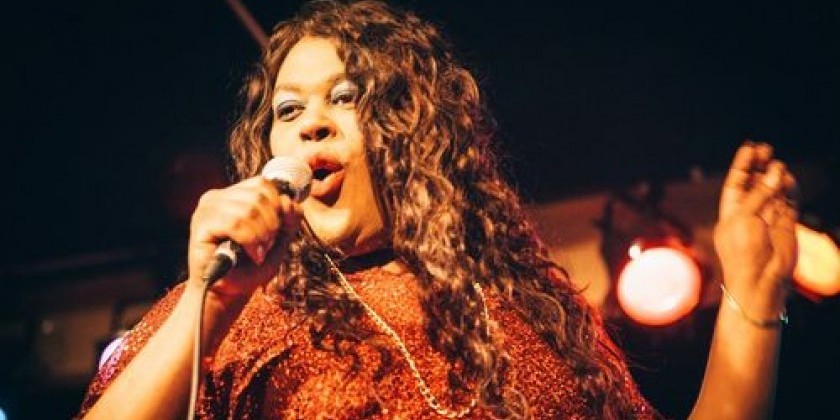 Company:
BAX
BAX | Brooklyn Arts Exchange
is excited to announce  
 
SUBMERGE @ BAX: VOICES UP!
Curated by Maria Bauman
Featuring Ashley Phillips, Ganessa James, 
Monica McIntyre, and Christine King 
 
November 8, 2014 at 8:00 pm
Tickets: General $16 | Low-Income $10
A celebration of the artistic voices of queer and trans people of color, SUBMERGE is an ongoing series of The Helix Queer Performance Networkwhich seeks to shift contemporary paradigms of "queer performance" by uplifting the artists and artistic production most often marginalized within or erased from the legacy and lineage of queer arts in New York City.  This November, BAX/Brooklyn Arts Exchange, as a Helix partner organization, has invited artists Maria Bauman, Zachary Frater & Zavé Martohardjono to each curate a SUBMERGE evening of their own.

In the first evening of the three-night SUBMERGE @ BAX series, curating artist Maria Bauman presents SUBMERGE @ BAX: VOICES UP! Bauman quotes Audre Lorde when creating this curation by saying "...for it is not difference which immobilizes us, but silence. And there are so many silences to be broken." The exciting artists that are part of the November SUBMERGE performances are breaking silences with their work, indeed.
On Saturday, November 8, Ashley Phillips, Ganessa James, Monica McIntyre, and Christine King lift their voices as artists, as healers, as Black women, as queer people piercing through silence with clarity and panache. This show brings the storytelling of the three songwriters in a round robin which offers spontaneous collaboration and a way to weave three very distinct voices together with the common thread of love, spirituality and community.
Visit events.bax.org/voices-up for more information and to buy tickets. 


The three-night SUBMERGE @ BAX series includes:
 

SUBMERGE WEEK 01: "Voices Up!"
curated by  Maria Bauman
featuring work by Ganessa James, Ashley Phillips, and Monica McIntyre
Saturday, November 8 @ 8:00 pm
 
SUBMERGE WEEK 02: "ReduX"
curated by Zavé Martohardjono 
featuring work by Mieke D, DJ Tikka Masala, and Alicia Ohs  
Saturday, November 15 @ 8:00 pm
  
SUBMERGE WEEK 03
curated by Zachary Frater
Saturday, November 22 @ 8:00 pm
   
SUBMERGE VOICES UP!: BIOS

Maria Bauman (Curator) is an artist and a community organizer. She founded MBDance in 2007, created from a desire for equity and a fascination with relationship. Bauman has danced with Urban Bush Women, Nia Love/Blacksmith's Daughter, Adele Myers and Dancers, Angela's Pulse, Mendi + Keith Obadike, and jill sigman/thinkdance, and apprenticed with Bill T. Jones/Arnie Zane Dance Company. She was with Urban Bush Women for eight seasons, recently serving as Associate Artistic Director. Among other honors, she has received a 2014 CUNY Dance Initiative Residency Award, 2013 NY Foundation for the Arts Emerging Arts Leaders Award, and 2012-13 and 2009-10 Harlem Stage Fund for New Work via The Jerome Foundation. Bauman works closely with the People's Institute for Survival and Beyond on Understanding and Undoing Racism workshops for arts communities and is a WOW Café Theatre collective member (theater space by and for women and transgender artists). www.mbdance.org

 
Ashley Phillips is a singer/songwriter/guitarist steeped in the tradition of Soul music. She describes her sound as APSoul: acoustic guitar led, soulful and spiritual storytelling that is both universal and timeless. As a vocalist, her pure tone dances between light and lyrical, earnest and compelling. Her often percussive and rhythm-driven guitar playing creates a full sound that adds depth and supports the delicacy of her delivery. www.apsoul.com
 
Ganessa James is a singer-songwriter, a self taught guitarist and electric bassist whose foremost passion is music. With her guitar, her voice, and a musical sensibility indelibly marked by listening to popular music from all over the world as a kid (soca, zouk, hi-life, hip hop, soul, folk) - Ganessa James sings about love. She delivers these songs urgently, thoughtfully, and joyfully, infusing them with the experiences that have touched her life. Her EP entitled 'Believer' is available on iTunes and CDBaby. She is currently at work on a full length CD.   
Ganessa is also deeply committed to working in collaboration with other artists. From the beginning of her musical career she has worked with artists on the NYC independent music scene, paving the way for play in the studio and on stages with such artists as Toshi Reagon, Saul Williams, Nona Hendryx, Tamar-Kali, and many other incredible talents. She is especially excited to collaborate with fellow songsmiths Ashley Phillips and Monica McIntyre in SUBMERGED. Hear more at www.ganessajames.com    
 
Artist, Cellist, Singer, Lyricist, Wellness Advocate and Healer; these are a few titles which could be used to describe Monica McIntyre.
Living in the city of Brotherly Love, where she was immersed in: Funk, Soul, R & B, Jazz, and World Music; brought her back to her first love, music. In October 2003 she released her debut album 'Blusolaz' - a collection of original songs which fused the genres of Blues, Soul and Jazz. Bars of Gold, her first single, was released in August 2005. Monica has been featured at numerous events throughout the world most notably: Soul Sista's Jukejoint (GA) 2005, The 215 Festival (PA) 2005, Sistahood Celebration (Vancouver) 2008, The Philadelphia Fringe Festival (PA) 2008 & 2009, The Black Women's Art Festival (PA) 2009, Sisterspace (MD) 2009, Ladyfest New Orleans (LA) 2010 & 2011, New Orleans Jazz & Heritage Festival (LA) 2013, and The French Quarter Fest (LA) 2013. Most recently Monica was a featured artist on the online International music show "Balcony TV".
In November 2010, Monica relocated to New Orleans, LA and became immediately involved in the thriving local music community. She joined forces with singer-songwriters Lynn Drury and Margie Perez forming The Honeypots, an acoustic women-led group which beautifully blends genres, original songs and harmonies. Their debut album 'Something Sweet' was released in April 2011 on the ThreadHead Record label. The Honeypots have had immediate success being nominated for The Best of The Beat Awards 2013 and landing coveted spots on the Abita stage of the French Quarter Fest (LA) 2013 and the Lagniappe stage at the New Orleans Jazz & Heritage (LA) 2013.
Her new album 'It Soon Come', October 2014, produced by John Chelew, features Monica's new stripped down earthy sound. For more info on this artist go to www.monicamcintyremusic.com.   
 
Christine King, hails from Michigan, was a resident of New York  City for 20 plus years,  where she preformed with Urban Bush Women for the majority of that time,dancing/acting/singing.  Ms. King now lives in Champaign Urbana Illinois (10month), with her partner of 17 years,  where they met.  Contributed vocals ( "the live band") to the sound score for the University of Illinois dance department November (2013) dance series.  I am currently moving/acting in a creative project leading to a premier performance  of the development in 2015 with Paloma McGregor (Choreographer, & a UBW alumni ), we continue development of her choreographic work 'Building a Better Fish Trap'.  Ms. King spent the spring of 2014 developing movement and vocalizations for a collaborative project with Kirstie Simson (UI Dance faculty), Darrel Jones (Columbia College Dance faculty), other movers and musicians, and a cadre of graduate students from the UI Department of Engineering.


The Helix Queer Performance Network is a collaboration between La MaMa Experimental Theater Club, The Hemispheric Institute of Performance & Politics and BAX/Brooklyn Arts Exchange, seeking to empower queer performers, unite diverse communities and celebrate the legacy and lineage of queer performance in New York City. www.helixqpn.org

SUBMERGE is supported, in part, through a generous grant from the Doris Duke Charitable Foundation. 
ABOUT BAX

Founded in 1991, BAX | Brooklyn Arts Exchange, is a community based performing arts center dedicated to developing artists of all ages, from children to professionals. The organization offers community access to arts and culture, supporting the creation of new work by emerging artists, engaging diverse audiences and providing arts education to youth and families. BAX has intentionally constructed an environment where children study and professional artists create under the same roof. Students are mentored by professional directors and choreographers. The organization's distinct focus on developmental process makes it a nurturing incubator for experimental dance and theater artists and is an important advocate for under-represented voices in the New York City performing arts community. 

For more information about BAX and its programs please call 718-832-0018, email press@bax.orgor visit us on the web at www.bax.org.