Contribute
Your support helps us cover dance in New York City and beyond! Donate now.
SUMMER DANCING WITH DOUGLAS DUNN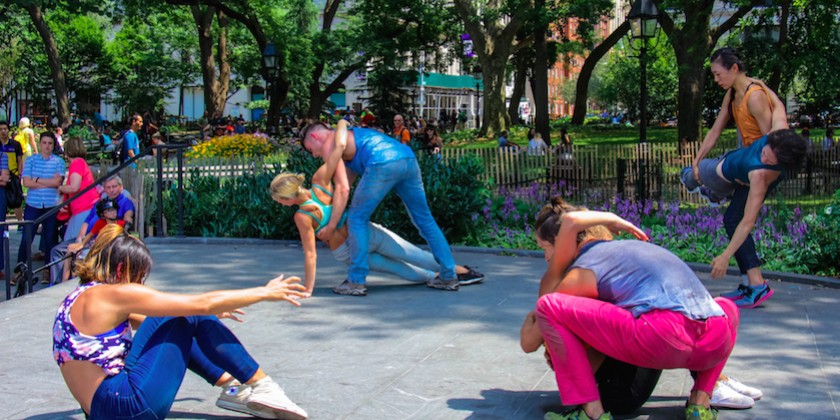 Company:
Douglas Dunn + Dancers
SUMMER DANCING WITH DOUGLAS DUNN
TECHNIQUE CLASSES
&
OPPORTUNITY FOR OUTDOOR PERFORMANCES
ON AUGUST 4 & 5
SEEKING 15 DANCERS
Douglas Dunn will teach Technique Class M/W/F 10am - 12pm, July 2 - July 20
(See details below)

Classes & Workshop are open to people of all stripes, sexual orientations/identities, ethnicities and religious proclivities, including legals and illegals from any country, who are dancers of intermediate to advanced technique in classical forms of Modern Dance and/or in Ballet. That is, you must be able to jump-and-be-still in the air, or at least well along in your work toward such ballon. We are looking for fifteen dancers, no money exchanged in either direction.

The Technique Classes are FREE and may be taken for pleasure. They will also serve as auditions for Douglas Dunn + Dancers' participation in Portal, a project with INSITU. The outdoor performances, four ten-minute runs on each day, will take place on August 4 & 5 in Queensbridge Park, Queens, NY. https://www.nycgovparks.org/parks/queensbridgepark

In order to qualify, you must audition in at least one Technique Class, be available all day on August 4 & 5, and be available for preparatory Workshops as follows:
Any two of these:
Saturday, July 21, 3 – 5:30 pm
Monday, July 23, 5:30 – 8 pm
Wednesday, July 25, 5:30 – 8 pm
Friday, July 27, 5:30 – 8 pm
 
All of these:
Saturday, July 28, 3 - 5:30 pm
Monday, July 30, 5:30 – 8 pm
Wednesday, August 1, 5:30 – 8 pm (at the site)
Friday, August 3, 5:30 – 8 pm (at the site)
Last year INSITU Site-Specific Dance Festival was noted by The New York Times as one of the "24 Top Outdoor Performances to See This Summer."
http://www.insitudancefestival.com

***************************************************

DOUGLAS DUNN TEACHING TECHNIQUE
FOR ITS OWN SAKE & AS AUDITIONS
FOR AUGUST 4/5 INSITU PERFORMANCES
 
MONDAYS WEDNESDAYS FRIDAYS
 
MONDAY JULY 2 THROUGH FRIDAY JULY 20, 2018
10 AM TO 12 NOON
DOORS OPEN AT 9:15
 
541 BROADWAY NYC
BETWEEN PRINCE & SPRING
BUZZER #19
 
BARE FEET OR JAZZ SHOES
TIGHT APPAREL
 
NO CHARGE
 
THE CLASS PROCEEDS THROUGH A STANDING
WARM-UP TO PHRASES OF EXTENDED MOVEMENT ACROSS THE FLOOR & JUMPING
PASSAGES OF PARTNERING ALSO WILL SOMETIMES BE STUDIED
 
PLEASE PASS THE WORD
douglas@douglasdunndance.com
212 966 6999