Santa Domingo Tiene Salsa, El Canario, Michel El Buenon + More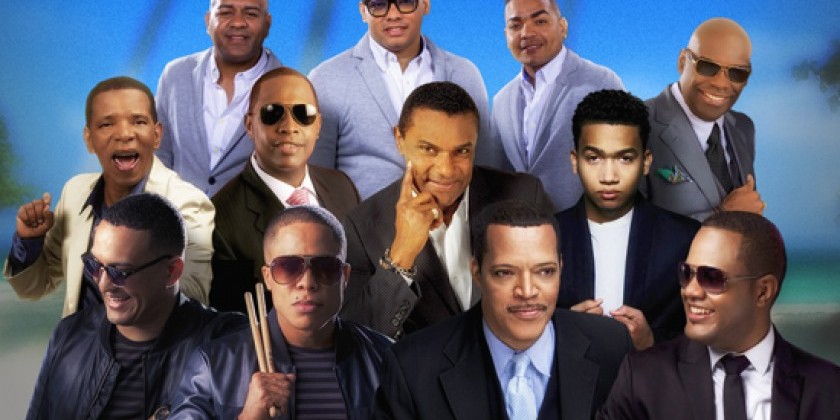 Company:
Lehman Center for the Performing Arts
SANTO DOMINGO TIENE SALSA

Starring: Jose Alberto El Canario, Michel El Buenón, Chiquito Team Band, SexAppeal, David Kada, Victor Waill, Revolucion Salsera, Raulin Rosendo, Alex Matos

Lehman Center for the Performing Arts is proud to present SANTO DOMINGO TIENE SALSA - Dominican Republic's Biggest Salsa Stars together on stage for an exclusive performance on Saturday, October 14th, 2017 at 8pm. Hosted byThe Showman of Salsa JOSE ALBERTO "EL CANARIO", the concert will feature RAULIN ROSENDO ("Uno Se Cura", "Lady Laura"), MICHEL EL BUENÓN ("Extranandote", "Maldito El Tiempo"),  SEXAPPEAL ("Aescondidas", "Mal O Bien"), VICTOR WAILL ("Si Te Hubiera Conocido Ayer", "Me Enamore Como Nunca"), and EL CANARIO ("Muera El Amor", "Te Vas A Saciar De Mi") who will join the new generation of DAVID KADA ("Tu Amor Fue Diferente", "Esto Celos"), ALEX MATOS ("Si Entendieras", "Una Noche No Es Bastante"),  CHIQUITO TEAM BAND ("La Llamada De Mi Ex", "Punto Y Aparte"), and REVOLUCION SALSERA ("La Ultima Noche", "A Falta de Ti") to perform a complete show for all Salsa generations. Produced by Lehman Center and José Raposo.

Lehman Center for the Performing Arts is on the campus of Lehman College/CUNY at 250 Bedford Park Boulevard West, Bronx, NY 10468. Tickets for SANTO DOMINGO TIENE SALSA on Saturday, October 14th, 2017 at 8pm are $125*VIP, $75, $55, and $50 and can be purchased by calling the Lehman Center box office at 718-960-8833 (Monday through Friday, 10am–5pm, and beginning at 12 noon on the day of the concert), or through online access at www.LehmanCenter.org. *VIP Reception: The HAVANA CAFÉ, Havana Club Rum and Lehman Center special VIP pre-concert wine, beer, Havana Club Rum & hors d'oeuvres reception will start at 6:30pm. VIP tickets include the reception and the best seats in the house. At the reception meet other patrons and the staff of Lehman Center. Sponsored by Havana Café Restaurant and Havana Club Puerto Rican Rum. Lehman Center is accessible by #4 or D train to Bedford Park Blvd. and is off the Saw Mill River Parkway and the Major Deegan Expressway. Low-cost onsite parking available for $5.

JOSE ALBERTO "EL CANARIO" is nicknamed El Canario (The Canary) because of his exquisite voice and amazing ability to use his highly melodious whistling skills as a soloing instrument. Now celebrating his 41st year as a sonero, he is one of the most successful and respected artists on the salsa music scene with a recording history that includes 25 albums. Born in the Dominican republic, he moved with his family at age 7 to Puerto Rico, eventually relocating to New York City in the early '70s and sang with several orchestras, receiving international attention in 1977 as the lead vocalist of the ground-breaking ensemble TÍPICA'73 on recordings that include Salsa Encendida (1978), Charangueando con La Típica'73(1980) and Into the 80s (1981). After being featured as a vocalist on Louie Ramirez' 1982 production Noche Caliente, the first album to give popular Spanish ballads an uptempo treatment, Jose Alberto became a major Latin star. Forming his own group in 1983, he recorded three albums on the Sono Max label titled Típicamente (1984), Canta Canario (1985) and Latino Style (1986). He had an international smash-hit album in 1988 with Sueño Contigo and followed up a year later with Mis Amores, also a chart topper. In the 90s, Alberto recorded several hit recordings including Dance with Me (1991) produced by GRAMMY® winner Sergio George in the (then) new Salsa Romántica style, followed by Llegó la Hora (1992) with the world-wide hit tracks "Nada se Compara Contigo" and "Discúlpeme Señora." In 1994 he recorded De Pueblo y Con Clase and in '95, the album On Time, notably featuring a duet with the undisputed Queen of Salsa, Celia Cruz, with whom he frequently toured. His 1997 Tributo a Machito featured guest GRAMMY winners Tito Puente and Dave Valentín. In 2011, Alberto's album Original was nominated for a GRAMMY® award and he won a 2013 Latin GRAMMY® Award as a featured vocalist on Sergio George Presents Salsa Giants. Recent recordings include Intimamente Salsero Live (2012), Romantico y Rumbero (2014) and 2015's Latin GRAMMY®-winning Best Traditional Tropical Album Tributo A Los Compadres: No Quiero Llanto. Earlier this year, he released "Ese Tipo Soy Yo" ("That Guy Is Me"), a salsa version of the 2015 ballad by Roberto Carlos. It is the first single to be released from the new album Alberto is currently working on. Alberto has been nominated for the 2017 Premios Soberanos Award.  

MICHEL "EL BUENÓN" is a singer/songwriter that was born in Baharona, Dominican Republic and started singing at a young age in his grandmother's church choir. Before he was a teenager, he had won first place at many local music festivals, including a competition hosted by Radio Baharona. After moving to Santo Domingo to study music, he begansinging in local bars and hotels. He then began singing méringue with the New York based Tabú Combo, a group from Port-au-Prince. From 1982 to 1987 he performed as part of Johnny Ventura's orchestra The Show Combo, including recording the hit song "Tuyo Más Que Tuyo" before joining Adolfo Chanci's Tabú Combo Superstar Orchestra. Going solo in 1995, Michel released his first solo salsa album Amigo De Qué (1996) which was a Latin American hit and held the #1 spot for 12 weeks on the NYC radio station La Mega. Since then he has released at least 15 albums, solidifying Michel as one of the most innovative salseros alive today. He has won the Premios Casandra/Soberano Award in 2005, 2006 and 2007, was nominated for the award in 2008 and 2011, and is currently up for the 2017 award. Stand outs of his recent album releases include 2013's Reserve Especial – Impeccable, El Insuperable de la Salsa (2014), and Claro Fino Nitido Control Total (2014). In 2016, Michel released his latest album Brindis that contains 2015's hit single "Que Hiciste".

RAULÍN ROSENDO also hails from the Dominican Republic, where he grew up surrounded by the musical rhythms of the local Afro-Antilles culture. At age 12 he started singing with the merengue group El Chivo y Su Banda, and performing with Fernando Villalona, Conjunto Clásico and Los Vecinos. Known as the "Angry Sonero", he made his solo debut in 1990 with the album Salsa, Solamente Salsa. By 1993 Rosendo had moved to New York City to record the album ¡Lo Maximo! that included the hits "Amor en Secreto" and "Santo Domingo". His very popular 1995 album El Sonero Que El Pueblo Prefiere spawned the chart-topping single "Uno Se Cura" and earned Rosendo nominations for both the Cassandra and A.C.E. awards. The subsequent success of albums ¡Simplemente Contrólate! (1997), Llegó La Ley(1998) and Non Stop Double Exitos '99 established him among the biggest salsa performers of the period. He has continued to record successful salsa albums, the most recent being Dame Otra Oportunidad (2006) that contained the hit "Si No Van A Morir Mi Muerte". Rosendo has been nominated for the 2017 Premios Soberanos Award.  

ALEX MATOS was born singing in Santo Domingo in the Dominican Republic. He began writing songs and singing in clubs while he was in college where he studied music - salsa and pop ballads - with Professor Marianela Sánchez. His career took off from the moment he released his first album, the Sandy Jorge produced Ponte en Salsa (2011) with the hit "Si Entendieras". His 2013 follow up, El Salsero De Ahora, reached #8 on the Billboard Tropical Album chart and included the hits "Una Noche No Es Bastante" (#7 Billboard Tropical Singles chart), and "El Cariño Es Como Una Flor". A bachata version of "Una Noche No Es Bastante" recorded with Andy Andy also hit #6 on the Billboard Tropical Singles chart. Matos has been honored as the Salsero del Año by Premios Latino (2011), Premios Casandra (2012), Premios Soberano (2013), Premios Estrella Internacional (2013), the Lo Nuestro Award for Tropical Salsa New Artist of the Year and has been nominated for the 2017 Premios Soberanos Award.  His recent hits included "Que Pena Me Das" (#20, 2013), "Lo Malo Se Va Bailbando" (#22, 2015), "Quién Controla El Amor" (with Yanfourd, 2015), and his latest release "Tú" (2017).
Lehman Center for the Performing Arts, Inc. is supported, in part, with public funds from the New York City Department of Cultural Affairs in partnership with the New York City Council. The 2017-2018 Season is made possible by the New York State Council on the Arts with the support of Governor Andrew Cuomo and the New York State Legislature. Additional funding is provided by Con Edison, the New Yankee Stadium Community Benefits Fund, the Rudin Foundation, the Hyde and Watson Foundation, and the friends of Lehman Center.
For high resolution photos, click these links:
 
Santo Domingo Salsa Stars
http://lehmancenter.org/th_gallery/santo-domingo-tiene-salsa/
 
Jose Alberto
http://lehmancenter.org/th_gallery/jose-alberto-el-canario-3/
http://lehmancenter.org/th_gallery/jose-alberto-el-canario-4/