Sasha Soreff Dance Company at the Performance Project @ University Settlement‏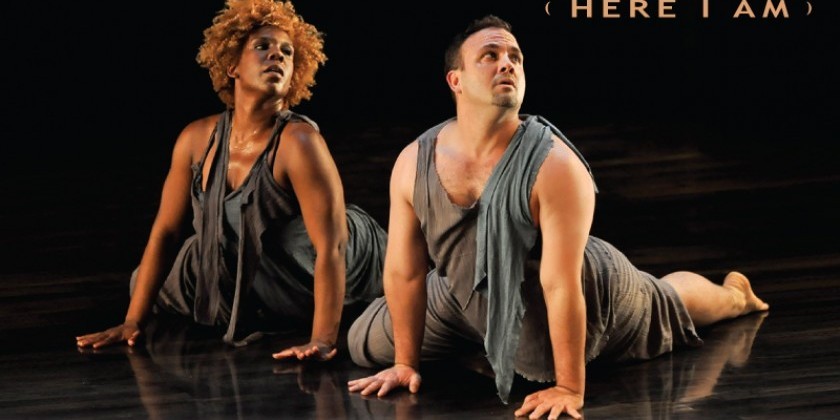 Company:
Sasha Soreff Dance Company
THE PERFORMANCE PROJECT @ UNIVERSITY SETTLEMENT PRESENTS
SASHA SOREFF DANCE THEATER'S HINENI, APRIL 9-12
Hineni (Here I Am)
A Dance and Community Project choreographed and conceived by Sasha Soreff
PERFORMANCES Wednesday through Saturday, April 9-12 at 7:30 PM, Post-show discussion with Rabbi Ellen Lippman, Wednesday, April 9 
TICKETS are $15 general admission, $10 students and seniors; through Brown Paper Tickets http://www.brownpapertickets.com/event/556426
The Performance Project @ University Settlement
184 Eldridge St.
New York, NY 10002
NEW YORK 3/18/14 -- The Performance Project @ University Settlement will present Hineni (Here I Am), a new dance performance from Sasha Soreff Dance Theater.  The performance, which juxtaposes ancient stories of divine calling with our contemporary struggles to be present to the moments that define us, will run fromApril 9-12.
The Hebrew exclamation "Hineni!" ("Here I am!")  Is often uttered as a response to a divine call-to-action in the bible.  It's the phrase Abraham uses when asked to sacrifice his son and Moses uses at the burning bush.  It's the phrase Jonah omits when first called upon as a prophet.  Their responses – willing, conflicted, defiant– inform the dancers' movement vocabulary and relationships to one another.
Through a collaboration with the broader University Settlement community, choreographer Sasha Soreff has developed a piece that asks:  What are the defining moments we face in our lives, to heed a call, to claim our space, to take action?  How do we respond? 
SSDT Dancers Desira Barnes, Nathan Duszny, Ryan Leveille, and Mika Yanagiharawill be joined onstage by participants from The Door, University Settlement's long-standing program for at-risk youth.  An artist-in-residence at University Settlement, Soreff has collaborated with members of the Door to produce "lifemaps" that chart their own personal narratives.  Out of the lifemaps, Soreff and the participants have developed a movement vocabulary that is reflected in the performance.  Often, the movements are executed Eastward, symbolizing a familiar direction of prayer, yearning, and hope.
Set to an original score by Israeli composer Yoav Shemesh that utilizes the tonal qualities of traditional Middle Eastern instruments, Hineni focuses on shared cultural and religious traditions to develop a piece that speaks across ethnic, religious, and language differences.  Hineni also speaks to University Settlement's long-standing efforts to provide artistic and cultural opportunities to at-risk and under-served communities, which has been part of its mission for more than 125 years.
Hineni was created in part at an NEA-sponsored residency through The Field and as an artist-in-residence at University Settlement.
ABOUT THE ARTISTS:
Sasha Soreff Dance Theater (SSDT) has been creating and sharing multigenerational, participatory work on stage and in community settings for more than a decade.  Most recently, SSDT's work has been seen at the Ailey Citigroup Theater, on tour in the North Country of New York State, the Queens Museum of Arts and The JCC in Manhattan.  Other venues include HERE, Dixon Place, the Flea, Long Island University, the Harlem Childrens Society, and WNET television.  Creative Director Sasha Soreff serves on the dance faculty of the 92Y and The International Partner Dance Intensive, and taught modern and student performance workshops at Dance New Amsterdam from 1999-2013.  In 2013, Soreff participated in the first Asylum retreat for Jewish artists.  She danced with Isabel Gotzkowsky and Friends from 1998-2004. A Maine native, Soreff graduated from high school at North Carolina School of the Arts and received a BA from Barnard College. http://www.sashasoreffdance.com/
Yoav Shemesh (composer) works extensively as a composer of concert composition, theater, contemporary dance, movies, and songs.  In 2009 he was awarded second prize and the 'audience's favorite' award for his composition Three Miniatures for chamber orchestra in the Chana Avni-Yaddor's composition competition in Jerusalem. In 2010 he was awarded second prize in the Gertrude Krauss Composing for Dance competition in Jerusalem. His music for film has been screened in over 40 festivals around the world including the Aniwow-Beijing Festival and the 25th Interfilm International Short Film Festival, Berlin. He received his Bachelor of Arts degree in composition from the Jerusalem Academy of Music in 2009, where he studied jazz and concert composition in a multi-disciplinary department. Yoav recently completed his master's degree in Composition, Film Scoring and Multimedia at New York University, winning the Elmer Bernstein Award in Film Scoring and the Carol Bayer Sager Scholarship in Songwriting. http://www.yoavshemesh.com/
Rabbi Ellen Lippmann (post-show talkback, Wed. April 9) is founder and rabbi of Kolot Chayeinu/Voices of Our Lives: Building a Progressive Jewish Community in Brooklyn. Rabbi Lippmann is the former East Coast Director of MAZON: A Jewish Response to Hunger, and former director of the Jewish Women's Program at the New 14th Street Y in Manhattan. Rabbi Lippmann was co-chair and still sits on the board of T'ruah: The Rabbinic Call for Human Rights. She served as the first social justice chair for the Women's Rabbinic Network and has served on numerous boards and advisory councils. She is the founder of the Soup Kitchen at Hebrew Union College-Jewish Institute of Religion in New York, and co-founder of the ten year-old Children of Abraham Peace Walk: Jews, Christians and Muslims Walking Together in Brooklyn in Peace. Rabbi Lippmann was ordained in 1991 by Hebrew Union College-Jewish Institute of Religion, and also received there the degree of Master of Hebrew Letters. She holds a BA in English Language and Literature from Boston University and an MS in Library Science from Simmons College. On March 20, 2013, Rabbi Lippmann was named by The Jewish Forward as one of 36 of America's Most Inspiring Rabbis Shaping 21st Century Judaism.
University Settlement's Performance Project is a public performance project that finds concrete ways to reestablish and articulate the importance of the arts within the education system and the community at large. Performances include established, new and emerging artists. We are committed to creatively incorporating artists into programming at University Settlement, including our after-school programs, The Door, the Houston Street Center and the Beacon. Artists can work with specific programs or age groups and propose participant workshops, professional development trainings, community events or interactive art making experiences. http://www.universitysettlement.org/us/news/PerformanceProject/