Save the Date -- 2015 BAX Arts & Artists in Progress Awards
Company:
BAX/Brooklyn Arts Exchange

SAVE THE DATE
Saturday March 28, 2015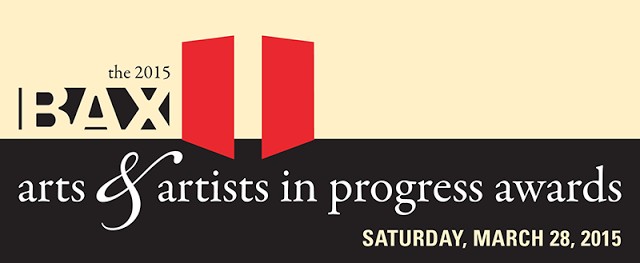 These awards have been designed to honor individuals in the arts who have revealed and transformed our creative world. By instigating and enduring change the have deepened the definition of their field and paved the way for others. 

The BAX arts and artists in progress awards have gone to some of the most talented, generous and creative individuals in NYC dance, theater or performance.

The awards are given in three areas: Performing Artist, Arts Educator and Arts Manager. Nominations for the 2015 awards were sought from over 100 past awardees, presenters and members of the field.

The 2015 PERFORMING ARTIST AWARD will go to
YVONNE MEIER

The 2015 ARTS EDUCATOR AWARD will go to
FABIAN "FARBEON" SAUCEDO

The 2015 ARTS MANAGER AWARD will go to
GINA GIBNEY

The 2015 HONORARY AWARD will go to
MAC WELLMAN
 
Each awardee is asked to "pass it on". The PASSING IT ON AWARD creates a complete cycle where a panel of peers chooses the awardees and the awardees choose someone who demonstrates some of the same qualities that they, themselves, were chosen for.

 
ABOUT THE AWARDEES

YVONNE MEIER is an utterly unique, truly intelligent steadfast spirit, and informed voice participating in and contributing to the contemporary dance culture of New York City and beyond. She has an experienced point of view towards performance and choreography that reflects a dance maker who delivers by grappling with relevant questions such as what is authentic, what is the role of imagery, symbolism, compassion, theater, music, design, and topical sources within the context of a dance. This and her presence, grace, force, beauty, and improvisational know-how -- is just some of what she offers her audiences, dancers, collaborators, colleagues, and students. 

With nearly 15 years in education, FABIAN "FARBEON" SAUCEDO works to develop pedagogy that moves beyond high-stakes testing and bridges the gap between the arts, academics and social youth development. He has taught Poetry, Performance, Song-Writing, Photography & Hip-Hop History and Culture at high schools, universities and community centers throughout the United States and abroad. He has earned the respect and trust of his students and the arts education field with his dedication, enthusiasm and does not only teach excellence in performance; he teaches his students to root for one another and foster their own creative community. 

GINA GIBNEY was nominated for her work in preserving the legacy of 890 Broadway, saving the resources of DNA, as well as the advancement of the organization's mission to include a new presenting venue. Friends of Gibney applauded her for her strategic mind and for helping dancers and performers find their way. Gibney is dedicated to bringing the power of dance - both in performance and in practice - to new audiences and communities and with that has established Gibney Dance Center, two facility resource for training, creation and presentation. Gibney serves on the Boards of Directors of Dance/NYC, and is a former Director of Danspace Project and Dance/NYC. She is a frequent panelist and speaker on the topics of dance, social action and entrepreneurship. 

MAC WELLMAN is a playwright's playwright, poet and professor. He's won OBIES for his writings, as have designers, performers and other collaborators. His work and teaching continues to impact the performing and literary arts in NYC and beyond. Young Jean Lee, Mallory Catlett and Sybil Kempson are some of his recent students who's work is rocking the NY experimental theater scene. He is Distinguished Professor of Play Writing at Brooklyn College.
ABOUT BAX

Founded in 1991, BAX | Brooklyn Arts Exchange, is a community based performing arts center dedicated to developing artists of all ages, from children to professionals. The organization offers community access to arts and culture, supporting the creation of new work by emerging artists, engaging diverse audiences and providing arts education to youth and families. BAX has intentionally constructed an environment where children study and professional artists create under the same roof. Students are mentored by professional directors and choreographers. The organization's distinct focus on developmental process makes it a nurturing incubator for experimental dance and theater artists and is an important advocate for under-represented voices in the New York City performing arts community.

For more information about BAX and its programs please call 718-832-0018, email press@bax.org or visit us on the web at www.bax.org.

Digital photos available upon request.
 
FUNDING CREDITS

PUBLIC FUNDS

The National Endowment for the Arts (NEA), Art Works Grant (Artist Communities) * New York City Department of Cultural Affairs, in partnership with the City Council * New York State Council on the Arts, with the support of Governor Andrew Cuomo and the New York State Legislature * Council Member Brad Lander and the NYC Department of Youth & Community Development.

PRIVATE FUNDS

Astoria Federal Savings * The Jerome Robbins Foundation * The Bay and Paul Foundations * Lambent Foundation * The Brenner Family Foundation * M&T Charitable Foundation * Capezio Ballet Makers Dance Foundation * The Andrew W. Mellon Foundation * Con Edison * Mertz-Gilmore Foundation * The Copper Beech Foundation * Park Slope Civic Council * Corcoran Cares * The Pritchard Family Foundation * Doris Duke Charitable Foundation * The Scherman Foundation * Foundation for Contemporary Arts * Stonewall Community Foundation * The Harkness Foundation for Dance * Sustainable Arts Foundation * Houlihan Lokey * TD Banknorth Charitable Foundation * The Jerome Foundation
And our GENEROUS INDIVIDUAL CONTRIBUTORS