Save the Date for LMCC's Arts Center at Governors Island and River To River‏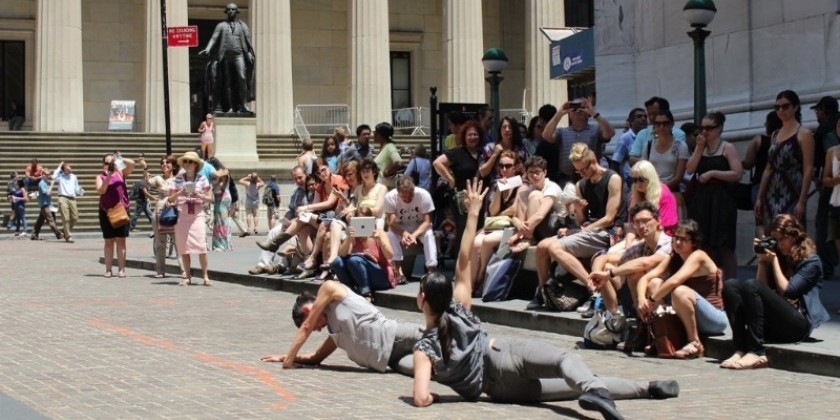 Company:
Lower Manhattan Cultural Council
Maria Hassabi presented by LMCC as part of the River To River Festival 2012 - Photo Credit: George Kontos
Save the Date for LMCC's Arts Center
at Governors Island and 
River To River Festival 2014

Happy May! Over the course of the next few months, LMCC will be presenting a bevy of exciting public programming. There is much to explore with LMCC this spring and summer, and we'd like to make sure you're aware of two upcoming initiatives heading your way.

The first is that LMCC's Arts Center at Governors Island is opening for the public season May 24–26. Throughout the weekend, audiences will have an opportunity to experience all kinds of exciting events in our Arts Center. We'll unveil our 2014 gallery show that highlights the work of Trisha Brown, we'll visit the studios of 20 artists-in-residence who have been working on the island since March in various mediums, and we'll see rehearsals by two choreographers, Tere O'Connor and Joanna Kotze.  

For more details, please visit Arts Center. 

The second is that we have announced the line up for River To River 2014! This year, the Festival spans 11 days from June 19–29 and features 35 projects, and 90+ artists. We invite you to experience intimate and provocative dance, music, visual art, and new media projects in public parks, in historic landmarks, on Governors Island, and along the waterfront. All events are free, but some do require RSVP.

For more details, and to learn more about the artists participating in the Festival, please visit River To River.

We look forward to seeing you on Governors Island and at upcoming River To River events!



EVENTS



ARTIST RESOURCES



DONATE


VOLUNTEER


River To River is made possible by:
Leadership Support provided by: Alliance for Downtown New York, American Express, The Lower Manhattan Development Corporation with funding from the U.S. Department of Housing and Urban Development, The Port Authority of New York and New Jersey, Westfield World Trade Center, and in part by the New York City Department of Cultural Affairs in partnership with the City Council.
 
Lead Media Partners: THIRTEEN, WNYC and WQXR.
 
Major Support provided by: Conrad New York, Goldman Sachs, and The Howard Hughes Corporation, as well as CBRE, Century 21 Department Store, The Moody's Foundation, and New York State Council on the Arts with the support of Governor Andrew Cuomo and the New York State Legislature.
 
Friends of the Festival: LaunchLM, Lure Group, Merchants Hospitality, NY Waterway, Old Seaport Alliance,  TheaterMania, The Trust for Governors Island, and Zipcar, as well as 55 Water Street Corp., The Battery Conservancy, National Parks Service, NYC Department of Parks & Recreation, Silverstein Properties, and Trinity Wall Street.
 
Additional support provided by: Ameriprise Financial, The Andrew W. Mellon Foundation, Consulate General of Finland, and Mertz Gilmore Foundation. This program is also supported as part of the Dutch Culture USA program by the Consulate General of the Netherlands in New York.

A listing of supporters for all of LMCC's activities can be found on LMCC's Supporters Page.