Scenic Route 3.0: The Anacostia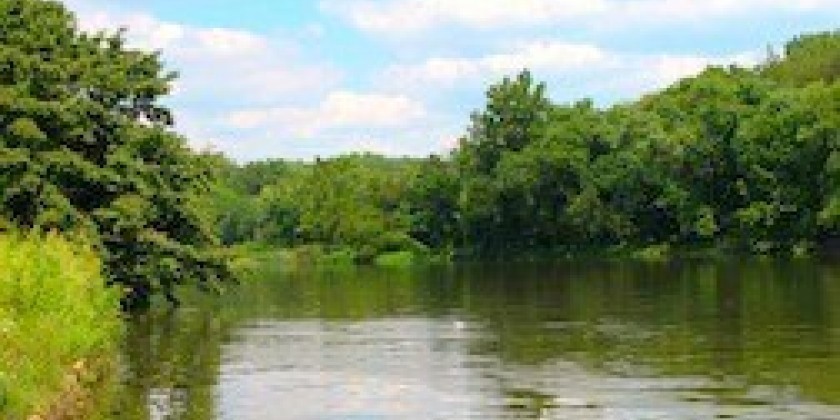 A 3-hour Performance Event in which the audience canoes to a site-specific performance in an undisclosed location
Improv Arts, Inc. presents

Daniel Burkholder/The PlayGround's

Scenic Route 3.0: The Anacostia
A 3-hour Performance Event in which the audience canoes to a site-specific performance in an undisclosed location.
Presented in cooperation with the Anacostia Watershed Society.
October 19 & 20, 2013 @ 7:30 a.m. (yes, a.m.)
meet @ the Bladensburg Waterfront Park
Who: Daniel Burkholder/The PlayGround
What: Scenic Route 3.0: The Anacostia
Where: Bladenesburg Waterfront Park
4601 Annapolis Road, Bladensburg, MD 20710
When: October 19 & 20, 2013 @ 7:30am
Tickets: Sliding Scale - -00, tickets go on sale October 1st
Daniel Burkholder/The PlayGround presents the third iteration of Scenic Route, along the Anacostia River October 19 & 20, 2013 in cooperation with Anacostia Watershed Society. Scenic Route 3.0: The Anacostia is a site-specific performance in which The PlayGround leads 15 audience members on a hike with movement-based performances along the way. For these performances audience members will meet The PlayGround and representatives from Anacostia Watershed Society at the Bladensburg Waterfront Park to canoe 45 minutes to and from the performance site, which will remain undisclosed until the audience arrives. Scenic Route 3.0 is directed by Daniel Burkholder and created in collaboration with Stephanie Yezek Jolivet and Carrie Monger.
In preparing for each iteration of Scenic Route, The PlayGround spends time on-site developing performance material ranging from tightly choreographed vignettes to structured improvisational statements. In building Scenic Route, The PlayGround takes into consideration the site in which it will be performed through sensory research, historical considerations, and their intuitive, visceral responses to the site. The work plays with audience/performer relationships (casual/formal), perspective (close/far performances), and the transformation of movement to a natural, or non-theatrical setting. This work continues The PlayGround's, and Artistic Director Daniel Burkholder's, interest in work in nontraditional settings, blurring audience expectations, and creating an immediate and direct experience for both performers and audience members.
To see a video representation of a previous performance of Scenic Route, follow the link:
*This video was created by video artist Brian Harris, camera work and edits are his.
For more information on this or other activities of Daniel Burkholder/The PlayGround contact us at daniel@danielburkholdertheplayground.org or 202-709-3797.
---------------------------------------------------------------------------------------------------------------------------------------------------
Daniel Burkholder / The PlayGround
is a movement based performance group engaging audiences on multiple levels through dynamic work combining the formalism of choreography with the spontaneity of improvisation. By layering movement ranging from highly athletic to subtle gestures with theater, live music and video the company considers multiple perspectives as it presents accessible, yet complex performances works. The company presents work throughout the Mid-Atlantic and Metro/DC region at venues as varied as The John F. Kennedy Center for the Performing Arts, Dance Place, The Clarice Smith Performing Arts Center, Transformer, Carter Barron Amphitheater, on the sidewalk in front of the Martin Luther King Library, Bladensburg Waterfront Park along the Anacostia River, The H Street Playhouse, and Warehouse Theater as well as performances in New York City and nationally. In 2005 Daniel Burkholder/The PlayGround was awarded a Local Dance Commissioning Project from The John F. Kennedy Center for the Performing Arts and in 2006 was awarded a Metro DC Dance Award for "Outstanding Performance by a Group in a Dance Production". Recent projects include:
Scenic Route
, a 3 hour hike interspersed with site specific performances along the Potomac River;
Primary/Scale
, an all day performance installation at the Northern Virginia Fine Arts Festival; and,
Worship/Home
, an evening length work exploring concepts of home, leaving home and creating home through unique audience interactions, live video feeds, and the company's signature physicality
.
In January 2011 Daniel Burkholder/The PlayGround became the dance company in residence at Georgetown University Hospital offering dance and movement sessions to patients, nurses, doctors, administrative staff and support personnel. Daniel Burkholder/The PlayGround is a project of Improv Arts, Inc.
Photo by Jennifer Boyer.