Contribute
Your support helps us cover dance in New York City and beyond! Donate now.
Second annual BDF/Gibney Connect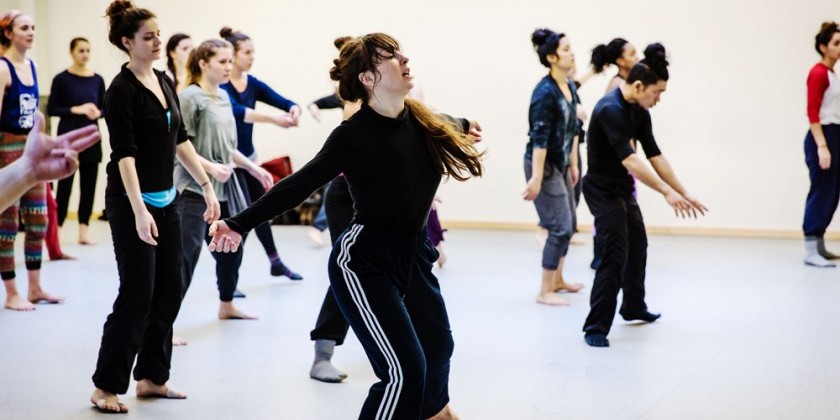 Company:
Gibney Dance
Gibney Dance is partnering with Bates Dance Festival for our second annual BDF/Gibney Connect, a three day intensive that will feature morning technique classes taught by Kendra Portier, member of David Dorfman Dance and founder of bandPortier; and midday classes by Dante Brown of Dante BrownIWarehouse Dance, Amy Miller, Associate Artistic Director of Gibney Dance Company, and Jennifer Nugent, former member of Bill T. Jones/Arnie Zane Dance Company. BDF accompanist Glen Fittin will play for both morning and midday classes. Kate Weare, Artistic Director of Kate Weare Company, will teach the afternoon session "Choreography: Where the Mind and the Gut Meet."
Focused around inspired dancing and creative exchange, this intensive is designed for intermediate and advanced dancers and will include various seminars and discussions with these teachers and other professionals of the field.
Intensive Schedule
10:00 am – Noon
Technique with Kendra Portier
Accompaniment by Glen Fittin
Noon – 2:00
Technique with Danté Brown (January 5)
Technique with Amy Miller (January 6)
Technique with Jennifer Nugent (January 7)
Accompaniment by Glen Fittin
2:00 – 3:00
Break for lunch
3:00 – 5:00
Choreography: Where the Mind and the Gut Meet with Kate Weare
This class explores facets of compositional technique as a path to finding a unique and personal choreographic voice. Utilizing concepts of improvisation, spatial and rhythmic awareness, editing and structural analysis, and a discussion of the various phases of development and process, this class explores composition in light of Weare's belief that choreography is ignited by specificity, originality, feeling and form. Participants will create raw material and work with it as the source for experimentation.
About Bates Dance Festival
The Bates Dance Festival brings together an international community of choreographers, performers, educators and students in a cooperative community to study, perform and create new work. The Festival offers a supportive atmosphere aimed at fostering a creative exchange of ideas, encouraging exploration of new ground and providing opportunities to experience a wide spectrum of dance/movement disciplines. Artists, students and audiences share their knowledge and inspiration through workshops, jams, discussions, informal showings and performances.
Rates
Early-Bird Rate, Before November 27 – $100
After November 27: $150
Drop-ins for individual classes welcome