Shannon Hummel/Cora Dance presents COMMON DANCES - A collection of 18 public dances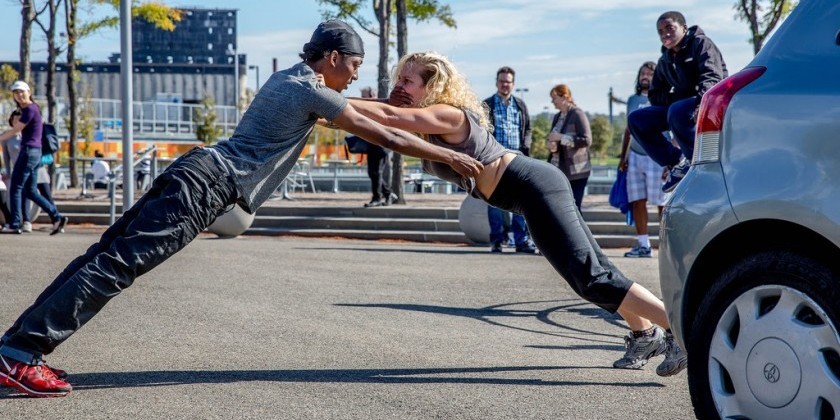 Company:
Shannon Hummel/Cora Dance
Photo by Tod Seelie of Solomon Goodwin and Nadia Tykulsker performing CAR at DTE's Dance on the Greenway
COMMON DANCES: PREMIER
SATURDAYS, SEPTEMBER 19TH & 26TH, 3-7PM
LOCATIONS THROUGHOUT RED HOOK, BROOKLYN
ADMISSION IS $25 OR PAY-WHAT-YOU-CAN (MINIMUM $3)
TICKETS AVAILABLE AT THE DOOR ONLY


This collection of 18 short dances is part walking tour, part scavenger hunt, with each dance serving as the key that opens a home, business or other private space to audience members. Inspired by the important everyday moments of love, loss, struggle, surprise, and regret we all share, COMMON DANCES takes place in intimate locations where people live and work: living room couches, bus stops, park benches, dining room tables, church pews, bars, restaurant booths, and even inside of cars. From the hallways and apartments of public housing to the breathtaking waterfront, audiences explore the entire Red Hook community up close and personal through its people, their work, their homes and their stories.
Admission is $25 or pay-what-you-can (minimum donation $3) and includes a neighborhood guidebook, map and itinerary. Box office opens at 2:30pm at Cora Dance @RHMinistries, 72 Van Dyke Street at the corner of Richards. Purchase tickets at the door. Opening night post-show Lawn Party Benefit tickets will be sold separately prior to the event.