Short Form Weave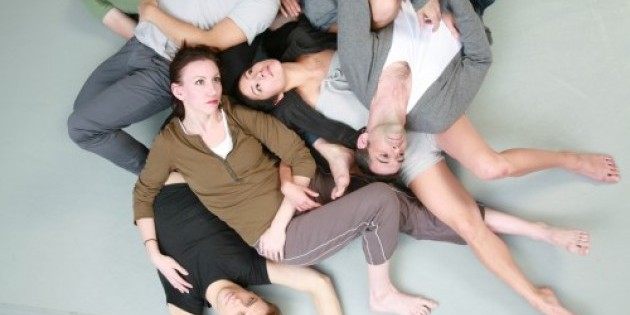 Company:
Gibney Dance and David Parker and The Bang Group
Symphony Space has invited Gina Gibney and David Parker to weave together an evening of dances at Peter Norton Symphony Space from March 5-6, 2010, thus inaugurating Symphony Space's Short Form Weave Series. Collaborating on a similar theme with the same composer, the two choreographers juxtapose radically different kinetic and aesthetic worlds to create connecting spaces. Friday, March 5 and Saturday, March 6 at 8pm at Peter Norton Symphony Space, 2537 Broadway at 95th Street, NYC. Tickets are 5 (members 0; students, dancers, seniors, children and groups 5) and can be purchased at

www.symphonyspace.org

or by phone at 212-864-5400. Appropriate for ages 10 and up.
"Short Form Weave was conceived as a way for two choreographers from the same dance "world" to juxtapose short works against each other so that audiences can experience their similarities and differences," said Kay Cummings, Curator for Dance, Symphony Space.
Both choreographers worked with Ryan Lott, recently named NPR's Best New Artist of 2008. For Gibney Dance, he has composed original music for a chamber ensemble. For Parker, he has taken one of the rhythmic lines of the dance, which he will perform. The original score for Gibney Dance will be performed live by yMusic, who have toured and recorded across genre lines with artists such as Jay-Z, Bjork, Yo-Yo Ma, Meredith Monk, David Byrne and the New York Philharmonic.
Gibney Dance presents the World Premiere of concrete mechanique, which explores movement as a vehicle for communication and physical interaction while examining how bodies fit together and interplay physically. How similar and different are we? How do we fit in or stand out? How are we noticed or overlooked?
Choreographed by Gina Gibney. Performed by Natsuki Arai, Courtney Drasner, Michael Novak, Joshua Palmer and Hannah Seidel. Original Music by Ryan Lott/Son Lux performed live by yMusic: Rob Moose (violin), Nadia Sirota (viola), Mike Block (cello), Alex Sopp (flute), Hideaki Aomori (clarinet) and CJ Camerieri (trumpet). Lighting design by Kathy Kaufmann.
David Parker and The Bang Group presents the World Premiere of Other Arrangements, a robust, post-tap dance for five barefoot people negotiating time with their minds, hearts, voices and feet. The dancers share time with composer Ryan Lott's commissioned score which deconstructs laughter and crying into vivid rhythmic events.
Choreographed by David Parker. Performed by Terry Duncan, Jeffrey Kazin, Marissa Paley, Nic Petry and Amber Sloan. Original Music and Live Electronics by Ryan Lott/Son Lux. Lighting design by Kathy Kaufmann.