Signatures 08: A Mix of Old & New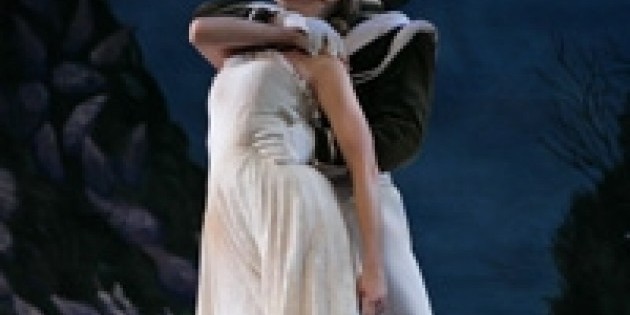 Company:
New York Theatre Ballet
Celebrate Antony Tudor's Birthday April 4 with New York Theatre Ballet
as Company Repeats Acclaimed Performance
NYTB PRESENTS A MIX OF CLASSIC & NEW BALLETS APRIL 11 -12
New York, NY – Back by popular demand, New York Theatre Ballet reprises its critically acclaimed Signatures 08 performance – and on Antony Tudor's actual birthday, April 4 – at 7:30 pm at Florence Gould Hall, 55 East 59th Street. Celebrating the centenaries of both Tudor and Jose Limon's births, the program opens with Limon's Mazurkas, staged by Sarah Stackhouse. Jardin aux Lilas, Little Improvisations and Judgment of Paris are staged by renowned Tudor interpreter Sallie Wilson. NYTB has also added Tudor's bedroom pas de deux from Romeo & Juliet, staged by Airi Hynninen, to the program.
The Signatures 08 February show garnered many glowing reviews, from Alastair Macualay at The New York Times to other notable dance critics. Here are a few sample reviews:
http://www.nytimes.com/2008/02/11/arts/dance/11limo.html
http://www.voiceofdance.org/v1/features.cfm?f=1523
http://www.danceviewtimes.com/2008/02/signatures-08-a.html
The following weekend, Friday & Saturday, April 11 & 12 @ 7:30 pm, NYTB returns to Florence Gould Hall with Limon's Mazurkas, Tudor's Jardin aux Lilas, and the pas de deux from Romeo & Juliet, along with Le Combat. Le Combat, originally staged in London in 1949, is a dramatic tale that centers on a young woman not recognized by her lover, who then kills her in a duel. Le Combat was choreographed by William Dollar and is staged by Paul Sutherland.
The program also features the world premiere of Game Two created especially for New York Theatre Ballet by Matthew Neenan, co-founder of Philadelphia dance company BalletX. The ballet, an ensemble work performed as a series of duets and trios, is set to Georges Bizet's Jeux d'Enfants.
Tickets are 0 and can be purchased at www.nytb.org or by calling Ticketmaster at 212-307-4100. Tickets can also be purchased at the Florence Gould box office (212-355-6160) Tuesday through Friday from 12 noon – 7pm and on Saturday from 12 noon to 4pm.