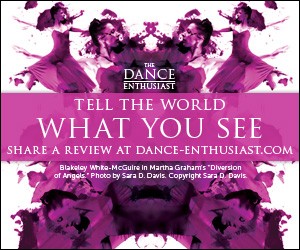 Sixth
Company:
TrioDance Collective
TRIODANCE COLLECTIVE
presents
Sixth
New Works by Barbie Diewald and Emily Jeffries
February 8 and 9, 2013 at 7:30pm
New York, NY. January 9, 2012- TrioDance Collective Presents Sixth on February 8 & 9, 2013 at 7:30pm at CPR- Center for Performance Research.
Join TrioDance Collective for an evening of new works by Co-Artistic Directors Barbie Diewald and Emily Jeffries. Throughout its six seasons of presenting accessible dance performance, TrioDance has cultivated the processes of exciting emergent choreographic voices, and developed a company of dancers with marked presence, generosity and integrity. Premiering at this performance are Barbie Diewald's Wake and Emily Jeffries' 6/20/12-2/9/13.
Wake is a highly collaborative ensemble work that sifts through lost memories and the stories we tell over and over that become benchmarks in our personal histories. The work sets formal, codified movement alongside everyday gesture to create a richly layered map of ambiguous memories. This intimate work is at once harsh and familial; romantic and straightforward; elegant and stammering. Wake was developed in collaboration with the dancers, dance dramaturg Pele Bauch, and composer Tristan McKay who created the original score for this work.
6/20/12-2/9/13 is structured by time. This work is a process oriented examination of ritual and effect. By combing movement, space, and props life is recorded in day to day sequencing. The shift between effecting and being effected is felt through the dancers focus and fills the room with a sense of understanding coupled with curiosity. Gentle and undeniable presences of the dancers transcend levels of personal and communal awareness.
Featuring:
Allison Beler, Britney Falcon, Colleen Hoelscher, Carly Fox Horton, Emily Jeffries, Cara McGaughey, Sarah Moore, Carmella Ollero, Susan Philipp, and Sachiko Takimura.
Performances will take place at CPR- Center for Performance Research February 8 & 9 at 7:30pm.
Tickets are 5 online at http://www.brownpapertickets.com/event/317547 and are available for 0 at the door.
All tickets are general admission.
Event Website: http://www.cprnyc.org/events/triodance-collective-presents-sixth/
Company Website: www.triodance.com

CPR- Center for Performance Research is located at 361 Manhattan Avenue (Between Jackson and Withers), Brooklyn, NY 11211.
Closest Subway: L Train to Graham Avenue (3rd stop in Brooklyn)
About TrioDance Collective
TrioDance Collective seeks to champion the individual dance artist within the support of a group structure. The company has performed the work of Artistic Directors Barbie Diewald and Emily Jeffries since its inception in 2010. TrioDance Collective has produced full seasons of Ms. Diewald and Ms. Jeffries' work at The 92nd Street Y, The Cunningham Studios, Mark Morris Dance Group, and Triskelion Arts. In addition to fully realized performances, TrioDance presents Open Dialogue, a studio series which invites the audience into an intimate studio showing for the sharing of new works in progress. TrioDance Collective also curates a spring performance evening, GREEN LINE, enriching communal support and establishing a unique platform that fosters artists' interaction. Through its diverse processes and programs, TrioDance Collective challenges its artists to explore, create and evolve.
About The Directors
Barbie Diewald is a New York based dance artist born and raised in Chicago. She began dancing at the School of the Chicago Festival Ballet, and continued her training with Midwest Ballet Theatre and Lou Conte Dance Center (Hubbard Street Dance Chicago). She holds a BFA in Theatre and Minor in Dance from Millikin University. Additionally, she has studied Viewpoints and the Suzuki Method extensively on scholarship with Anne Bogart's SITI Company. She develops her projects within the Framework of TrioDance Collective, which she co-founded with Emily Jeffries in 2010. In addition to presenting six seasons of work with TrioDance Collective, Barbie's choreography has been presented at by the Field at The Kitchen, Sarah Maxfield's THROW at the Chocolate Factory Theater, Newsteps at Chen Dance Center, Brooklyn Arts Exchange's Upstart Festival, Underexposed at Dixon Place, Dance Conversations at The Flea Theater, Take Root at Green Space, WAXworks, Dumbo Dance Festival, and Dance New Amsterdam. Barbie has also developed new work through two Dance NOW[NYC] SILO Residencies, The Field's Fieldwork Intensive, and The Field's Emerging Artist Residency. She was a selected choreographer for Dance Theater Workshop's 2011 Bessie Schonberg Lab in Composition with Gwen Welliver, as well as SUMAC headed by Susan Marshall in 2012. She is a 2012-2013 Emerging Leaders in New York Arts (ELNYA) Fellow.
Emily Jeffries co-Founded TrioDance Collective in 2010, and continues as Co-Artistic Director, running performances, open discussions, artist development, and company programming. She hails from Ohio and obtained her Bachelors in Fine Arts from Kent State University under the direction of Andrea Shearer. She received training at Orlando Ballet under Fernando Bujones, BalletMet, and with Laura Alonso at Canton Ballet. Her choreography has been presented in The Cunningham Studio, Gibney Dance Center, 92Y Harkness Dance Center's Buttenwieser Hall, Mark Morris Dance Group, The Ailey Citigroup Theater, Dance New Amsterdam, and in Triskelion Arts. As a choreographer she maintains a close relationship to process oriented work alongside practice based research which has been reviewed fondly by Dance Europe Magazine. She has had the pleasure of collaborating with composers, Roman Rofalski and Dorian Wallace, as well as dramaturg Pele Bauch. Emily currently dances with Oren Barnoy, Tribeca Performing Arts Resident, and AreaDance. Recently, she entered an apprenticeship with Anabella Lenzu and had the pleasure of performing her Ilusiones de Percantas. Additional performance credits include: Cirque Du Soleil, Danzare Dance, Judith Jacobs of Urban Bush Women, Karesia Batan, Off-Broadway in the play "Neither Heaven Nor Earth" directed by John Hansen-Brevetti and Gabriella Pinto, and as a Soloist with BalaSole Dance Company. She is a founding member of the Access2DANCE Program, which provides free dance classes to financially disadvantaged children and a Dancing Through Barriers Instructor with Dance Theater of Harlem.
Barbie Diewald's Wake was developed in part through Chen Dance Center's Newsteps Choreographer's Program made possible by The New York State Council on the Arts and The New York City Department of Cultural affairs in partnership with the City Council.
Emily Jeffries' 6/20/12-2/9/13 was created in part through The Field's Summer Fieldwork Intensive, supported by the Lambent Fund of the Tides Foundation.