Sleeping Beauty & the Beast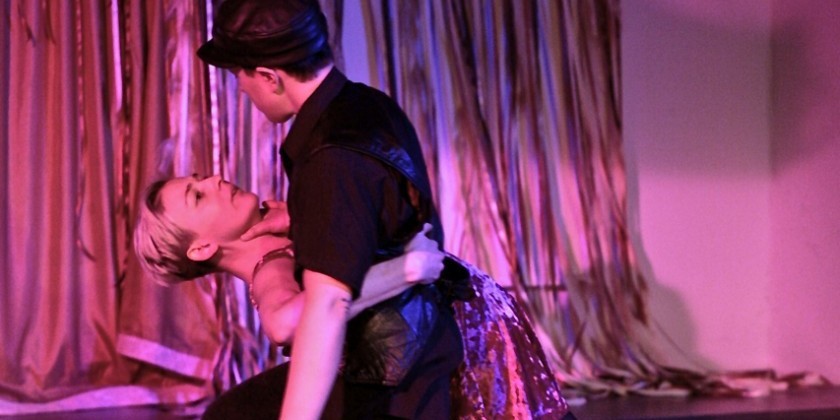 Company:
Katy Pyle with Jules Skloot and the Company
Sleeping Beauty & the Beast
Choreographed by Katy Pyle with Jules Skloot and the Company 

Directed by Katy Pyle
Assistant Director Jules Skloot 
Friday-Saturday, April 10-11, 2015 @ 7:30 pm
Tickets: $16 General, $10 Low-Income [Buy Tickets]
 
Sleeping Beauty & The Beast is a two-act, two-theater "Ballez" (a queered form of ballet developed by Pyle that prioritizes the lineage and histories of lesbian, queer and transgendered peoples), united by a participatory, time-shifting, street protest march across the Lower East Side, that canonizes the work of lesbian activists: the striking Lower East Side garment workers of 1893, and the AIDS activist dykes of 1993. Featuring the Queer Urban Orchestra's live performance of Tchaikovsky's "Sleeping Beauty," this new work upholds the Ballez's mission to insert the histories of lesbian activists into the ballet canon.
The first act, set in 1893, follows a spoiled LES garment factory princess, Beauty, as she falls for a lesbian fiber artist who is organizing a union to strike against her father's factory. When Beauty swoons at the touch of the fiber artist's spindle, the benevolent Violet Faerie puts the whole scene to sleep for 100 years, in hopes that they'll wake up in a less homophobic time. The Queer Urban Orchestra, will play excerpts of Tchaikovsky's score "Sleeping Beauty," originally written in 1890. This hour long Act will feature 4 Faeries, gay men who play the garment designers working for Beauty's father and 7 lesbian factory workers. Their stories will be told through a choreographic vocabulary of repetitive, pedestrian movements inspired by factory operations and gestures of labor, along with the appropriation of ballet and folk dance vocabulary and staging. The First Act will conclude with Beauty pricking her finger in the middle of an uprising in the factory, and as performers take to the streets, they will take the audience with them.
The entr'acte will take the audience out into the streets to witness and participate in a protest march. This will place all the audience members within a choreographed re-enactment of the 1893 Garment Workers of America's 10k person strike, that transitions into a 1993 dyke protest march, via the timing of the shifts of the individual protesting groups.
Coming back inside for Act 2, the time is now 1993. Audiences will encounter a butch bartender who will invite them to have a drink as they enter a Dyke club, reminiscent of the Clit Club. Our factory-worker heroines from Act 1, coming to the end of their 100-year slumber, awaken to the crisis and radicalization of the AIDS pandemic, and it's associated political and personal activism. Beast, a leather-clad stone butch, opens Beauty's eyes to a new world of sexual identity and liberation. But as Beast becomes the primary caretaker for the Violet Faerie, who is dying of AIDS, she experiences her own transformation as her heart breaks open with the impending loss of her best friend. Music for this Act will be composed by DJ JD Samson (of the bands Le Tigre and Men), who is creating a score based on early 90s House music. Dances will draw movement vocabulary from the non gender-binaried partnering style created and practiced at that time by artists such as Jennifer Monson and John Jasperse, whom Pyle has performed for and with.
This project is a continuation and evolution of the work of Ballez, founded by Pyle in 2011 with the mission to re-define ballet for an activist, queer community. In spring 2013, Ballez premiered its first full-scale production, "The Firebird, a Ballez," at Danspace Project at St. Mark's Church. The project was developed for several years through workshops, community classes, and work in progress performances in Brooklyn and Manhattan through Movement Research, CATCH, Brooklyn Arts Exchange, and Danspace Project, and developmental residencies at Mount Tremper Arts, Abrons Arts Center, and Brooklyn Arts Exchange. A similar long-term, engaged research and development process will be applied to the creation of this new work. Over the past year, Pyle has launched her research at the Lesbian Herstory Archives and conducted interviews with activist dyke artists who were prevalent in the scene in New York in 1993.
"Sleeping Beauty and the Beast" seeks to uphold the Ballez's aim to queer classical ballet, both in form and content, but to also expand the vocabulary from which our process draws by engaging more deeply with the personal and professional histories and training of the individual performers.
Pyle is inspired as an artist to rewrite archetypal tales that tell the history of her own queer/dyke communities and lineages. With "Sleeping Beauty and the Beast," she and her company pursue explorations of queer/dyke histories, celebrate the virtuosity of complexly gendered people, and engage the grandiose container of ballet for their presentation. Danced by modern queer bodies, Ballez seeks to create a timely, fantastical, inspiring communal experience with this new work that celebrates the lives and histories of their lineages.
To learn more about Katy Pyle and The Ballez, visit artistservices.bax.org/katypyle.
Photo by Sari Nordman.